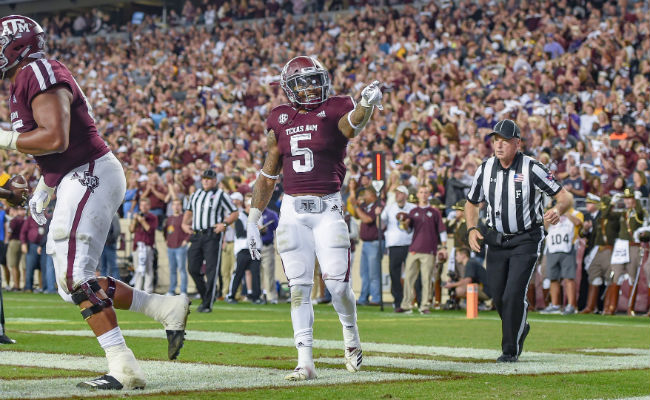 The perceived marquee games of Saturday night's late slate were the rivalry games featuring Notre Dame and Clemson trying to finish off perfect seasons against a pair of USCs — Southern California and South Carolina, respectively. While those games were relatively drama-free and the favorites won, an absolutely bonkers game broke out in College Station between LSU and Texas A+M. By the time things ended, the Aggies came out on top. It took seven overtimes, and the final score was 74-72.
The best place to start this game is at the very end. The Aggies were driving while down 31-24 and needed a touchdown to force overtime, and after getting into LSU territory, the team was able to stop the clock with one second left. On the final play of regulation, Kellen Mond fired a dart to Kendrick Rogers for six.
Prior to this, though, LSU thought it had won, as Mond was picked off. However, it was determined that Mond was down before he threw the ball, meaning the play was reversed. The issue was that, because the Tigers thought they won, we got a celebratory Gatorade bath that washed over Ed Orgeron.

As a brief aside, this was not the only time during the game's waning stages where Da Coach O got covered in some kind of liquid.
Let's get back to the game, which required a whole lot of overtimes to decide a victor. Seriously, here is what the overtime drive chart looked like before we got to the end. Also as a reminder: This stupid game went into overtime tied at 31.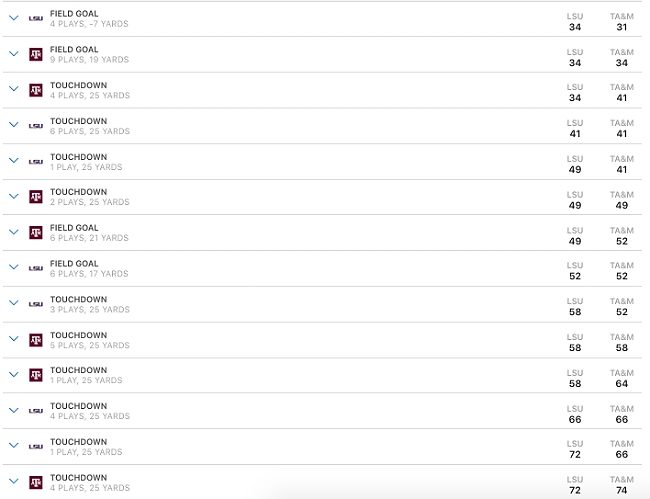 That second touchdown for the Aggies very well might have been college football's catch of the year. Mond threw what looked to be a rather ill-advised pass into the end zone, but Rogers made an absolutely bonkers play to force the game into its fourth overtime.
Both teams went for broke, as the game dragged on, including LSU running back Clyde Edwards-Helaire throwing a touchdown pass to fullback Tory Carter in the fifth overtime. That wasn't able to decide a winner, though, and the festivities continued, because SEC football involving Jimbo Fisher and Ed Orgeron does not believe in the concept of time.

But all good things must end, and in the seventh overtime, the game came to a close. LSU scored a touchdown on a 10-yard run by quarterback Joe Burrow, but were not able to succeed on their two-point conversion try.
Texas A+M got the ball, and on a third-and-14, Mond found Quartney Davis for six.

The Aggies failed in their two-point conversion try, but a pass interference and subsequent unsportsmanlike conduct by Tigers cornerback Greedy Williams gave them one more shot on the doorstep. That was until an A+M offensive lineman committed a false start, backing the Aggies up. The extra space might have helped, though, as Mond found Rogers on the conversion for the win.
Mond was outstanding, going 23-for-49 with 287 yards and six touchdowns. He chipped in another 20 carries for 42 yards and a score on the ground. Trayveon Williams ran the ball for 198 yards and two scores, while Davis, Rogers, and Jace Sternberger all hauled in two receiving touchdowns. On the other side, Burrow had three passing and three rushing touchdowns, but it was not enough.
Oh, and by the way, at 146 total points, this was the highest-scoring game in FBS history, and at seven overtimes, it was tied for the longest game in history. Now if you'll excuse me, I — along with everyone who watched, coached, and especially played in this game — need to go to bed.