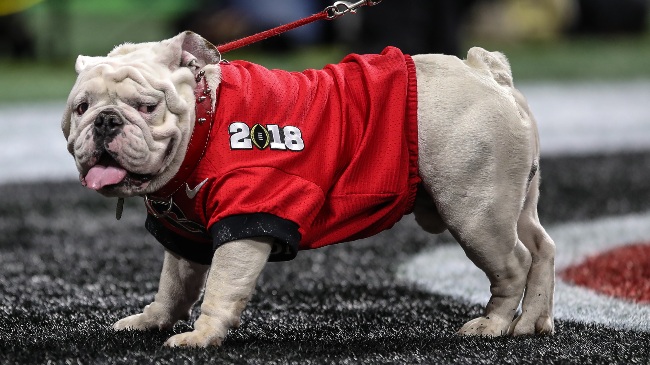 Even with the College Football Playoff stealing most of the headlines in the sport, New Year's Day is still majestic in many ways. The Rose Bowl paints the perfect scene with the backdrop of Pasadena and, in the nightcap, the Sugar Bowl pits SEC and Big 12 powers in New Orleans.
The 2019 Sugar Bowl has all the makings of a quality match-up, with Georgia and Texas facing off in a battle of blue blood programs. Before kick-off, though, fireworks began as the mascots (yes, the mascots) for the two teams got into something of a fracas.
In short, Bevo, the longhorn steer, went after Uga, the bulldog, in a photo op that almost went horribly wrong.
Thankfully, nothing actually flew off the rails here despite the potential for something awful happening, as Bevo is a large and powerful animal. There was enough personnel in the area to prevent full-fledged disaster and that is a very good thing for all parties involved.
If nothing else, though, this sets the stage for a game that will hopefully live up to the considerable hype. Fans of the Georgia Bulldogs have been crowing quite a bit about how they should have been a part of the four-team playoff and Texas will be looking to play spoiler.