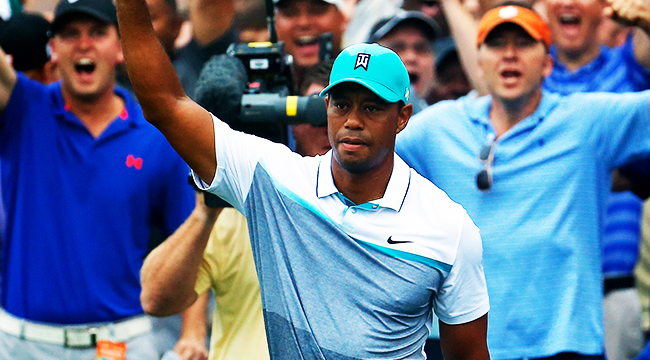 LOS ANGELES — Thousands gather along the ropes, waiting and hoping to see what was once taken for granted. Tiger Woods is back.
Not like last year, though. He's really back this time. The murmurs and groans that so often followed Woods' shots in his previous comeback attempts have turned back into those majestic roars that were once seemingly ubiquitous at any tournament he was in. The pained looks, grimaces and gingerly pace Woods walked with for the past two years has been replaced by that familiar strut.
Fans showed up at the Genesis Open at Riviera wanting confirmation that this was different, and while Woods failed to make it to the weekend in Los Angeles, it was a very different missed cut than the one a year ago at Torrey Pines. There were still clearly some kinks to be worked out. The long game still needs work, as he fought the dreaded drill sergeant miss. "Left, right, left right."
However, the touch is back in the short game. The old Scotty Cameron putter is back in the bag and looks like it hasn't gathered any rust since it was last in play for a full season in 2010. Most importantly, though, his confidence is growing.
We've seen the Tiger Woods comeback story many times before, and in many different forms. He's come back from swing changes, knee and Achilles injuries, personal drama and more. And after three back surgeries and at 42 years old, there were many who thought the greatest golfer of the past 30 years (and arguably ever) would never truly return.
Even Woods began to question whether a return to the course was in the cards, noting after his most recent back surgery, a spinal fusion, his main goal was to be able to be pain free while watching his kids grow up. However, as 2017 pressed on, Woods began posting clips of him working on his game. First with half shots, then full swings with his TGR irons and eventually video of him bombing his TaylorMade driver. The comeback was officially on, and it was simply a matter of "when" not "if" we'd see Woods back on the course.
The questions lingered. We'd seen this act play out one year ago to ultimately disastrous results. He showed up at his own tournament, the 18-player Hero World Challenge for the second straight year, but unlike in 2016 his swing looked fluid and his confidence in his body and his simplified swing were much higher. Two months later at Torrey Pines, Woods made his first cut and earned his first top 25 finish in two and a half years.
That result was enough to kick Tiger-mania back into full gear. Fans who had grown wary of his comebacks needed only that one tournament to fully buy back in. It's almost impossible not to. Few needed their arm twisted to be all-in on a Woods comeback, they just needed some signs of life. Tiger Woods is an icon. He's the reason the majority of golf fans under the age of 40 are golf fans. He's the rare golfer that transcended what can be at times a niche sport and brought it to the masses, making golf at once cool and athletic. He's why golfers now look like athletes rather than looking your dads friends. He's why courses are longer, technology is better and golfs arms race heated up to where it is now.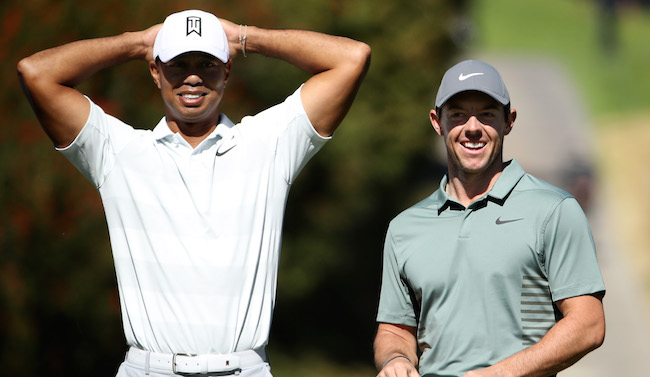 Rory McIlroy is one of the most popular golfers on the PGA Tour and is currently Tiger's "teammate" (in a fashion) with TaylorMade, as both made the jump from Nike when the apparel giant stopped making clubs. McIlroy plays in front of massive galleries as a marquee name at every event, but the star from Northern Ireland with four major titles, 13 PGA Tour wins and 13 European Tour wins was taken aback when paired with Woods and Justin Thomas at the Genesis Open. After their first round, McIlroy couldn't believe the atmosphere that followed Woods around the course and noted that he thought Tiger was giving away two strokes per tournament simply because of the raucous crowds.
"It might've been like this during the whole Tiger-mania, but I swear, playing in front of all that, he gives up half a shot a day on the field," McIlroy said. "Like it's two shots a tournament he has to give to the field because of all that that goes on around. So whether that calms down the more he plays and it doesn't become such a novelty that he's back out playing again because it's tiring. I need a couple Advil. … I've got a headache after all that."
Two weeks later, Woods returned to the course at PGA National in Palm Beach Gardens, Florida for the Honda Classic where he finished 12th and continued to get more dialed in and more comfortable. Patton Kizzire, who has two PGA Tour wins already this season, was in Woods' group the first two days and failed to make the cut, feeling the nerves of being under the white-hot spotlight that comes with playing with the Big Cat.
"I was probably more nervous on the first tee that at any point in either one of my wins," Kizzire said after the first round.
The atmosphere around Tiger is already crazy and will only continue to build to the crescendo at Augusta National in April when he tees it up at the Masters for the first time in three years. Woods will play two more times before then, at this week's Valspar Championship and at Bay Hill for the Arnold Palmer Invitational a week later. At each of those stops, you can bet Woods will still be making tweaks and adjustments as he works to find a happy place with his game.
Woods is playing the TaylorMade M3 driver, like many of their top pros are, and you can see him beginning to get more comfortable with it. At Torrey Pines and Riviera, Woods was struggling to find fairways, but at the Honda he found better success especially when falling on an old favorite, the high cut. Woods, like so many, is most comfortable when he can work the ball left to right and the 10th hole at PGA National was where he could put that M3 on display with some massive drives.

While still a work in progress, you can see the potential Woods has with the big stick in his hands when he's comfortable over a shot. He still has to find that comfort working the ball right to left, where he's had a tendency to overcook it at times into the left rough, but it's getting there. At each stop Woods has shuffled things around, from a shaft change to tweaking the loft ("three-quarters of a degree up" at Riviera) to shifting the movable weights around ahead of the Honda trying to find that comfort level.
Woods signed with TaylorMade in January 2017, but after spending most of that year on the shelf he's been playing catch up a bit with testing and getting everything set up. He's put the M3 into play, telling PGATour.com's Jonathan Wall that he was drawn to the new Twist Face technology because of how well it worked with his comfortable "miss" which is off the low-heel.
"When they first introduced the Twist Face and what that looks like, obviously the beginning model, it was like this is crazy," Woods said. "It looks like a [Ruffles] potato chip, you know? It looked awful. But in the playing position, you don't even see it, it's so subtle. Obviously, the mockup that they gave me is just to exemplify what they're actually doing. But in the playing position, you don't even notice it. I would try and hit a couple shots off the heel because that's where I always miss it. …
"I like the Twist Face because I'm hitting that spot, that shot with a little bit more oomph to it. It doesn't quite bleed out like it used to do. So that to me is already promising, but I've still got to do a lot of testing on the range and then obviously bring it to the golf course and put a lot of work in on it."
That's the basic idea of the Twist Face technology, rather than the "bulge and roll" of traditional drivers, the face twists (I know, shocking given the name) to provide more forgiveness to the high-toe and low-heel misses, which are the most common among all golfers. TaylorMade had Uproxx Sports and other media outlets join them in L.A. to test their new M3 and M4 drivers around the Genesis Open, and the technology certainly works in being more forgiving to those mishits, although as Tiger can attest given his driving stats this year, it is far from a cure-all that will guarantee you hit every fairway.
Driver aside, Woods is still in the testing process when it comes to irons, which players have far more trepidation when it comes to putting new equipment in the bag. Woods has always played blades and is working with TaylorMade on prototypes while he continues to play his "TGR" branded irons until they can get him into a set that are comfortable and have the feel he wants, something so important for irons that makes them more difficult to swap in and out compared to woods.
Woods has also found himself leaning on TaylorMade's stable of stars for help with his equipment transition as well, noting he's discussed club details with McIlroy, Jason Day and Dustin Johnson, the latter two have been with the company for years while McIlroy joined around the same time as Tiger from Nike. Where Tiger is as dialed in as any player on Tour when it comes to what's in his bag and as thorough in testing as anyone — as Brian Bazzel, VP of Product Creation for TaylorMade put it, adding a club to the bag is an "intimate process" for Woods — the opposite is the case for Johnson.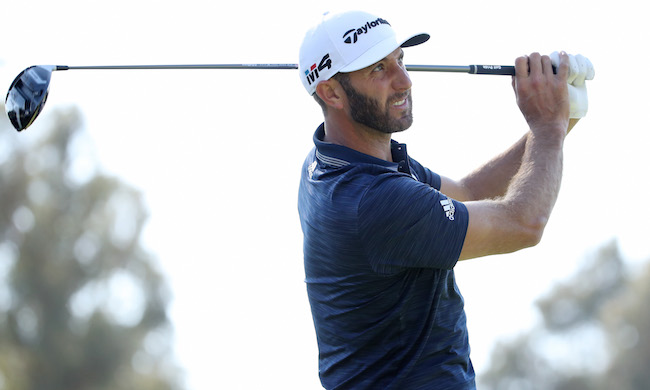 The world's top-ranked player has a far more laissez-faire approach to equipment and swapping things in and out of his bag. I had the chance to walk a practice round with Johnson as he was testing different golf balls at Riviera, and we talked about the process of ball testing, club testing and putting something new in the bag.
Johnson pulled driver on the tight 11th hole at Riviera and pummeled a ball down the left side. He smirked and looked back at the TaylorMade rep holding the laptop that was gathering the real-time Trackman data, asking what the ball speed was on that.
"184 [mph]," the rep replied.
"I like that one," Johnson said. "What number was that?"
And so goes the ball-testing process for the world's No. 1 player. No one will be surprised that there isn't a lot of conversation going on when Johnson's testing. He's a man of action, not words, and while his facial expression rarely changes, subtle gestures let you know what he's liking or not liking. After a wedge shot doesn't bite like he wants on the green, he shakes his head.
That's not the one.
As we walk down the 13th fairway, I ask Johnson what he's looking for in ball testing and where some players will go deep on everything they need the ball to do and to see it react to, Johnson keeps it simple.
"I like the ball we've got," Johnson says. "So, something similar, but obviously if you can get any kind of speed with the driver's going to be good and more spin around the greens. In a perfect world, that's what you're looking for. So, even if it's just a little bit, it all helps."
As for equipment testing, it doesn't take long for a new club to get introduced to the bag, provided it's an improvement over what he's got in there.
"It usually doesn't take very long, especially as far as equipment," he says. "As long as it's performing then, yeah, it's pretty easy. Obviously, the first thing I do is get on Trackman and hit it, and get numbers to see what's going on."

Every player looks for different things on Trackman, which tracks everything from ball speed and distance to the club path, launch angle and more. For Johnson, he doesn't need a ton of information when working with something new, he just wants the basics.
"Ball speed, spin rate and carry distance," he replies. "That's what I'm looking at, for me. As far as launch angle and all that I can see that when I hit it. Most of the time, I don't really even need to look at the numbers, just more watch it."
Johnson waits for his playing companions to hit, then lumbers ahead another 30 yards to get to his tee shot, as is so often the case. He fires a few irons into the 13th green, checking to see how each different ball reacts. It is at once casual but focused, little-wasted effort and little-wasted conversation. His brother and caddie, Austin, lugs his bag around — today it weighs 63 pounds due to the added weight of all the different balls for testing — dreading the eventual climb up 18 back to the top of the hill.
Three holes away, McIlroy is wrapping up his practice round. The course is quiet, empty aside from players, a handful of media and the grounds crew making final preparations. McIlroy hopefully soaked up those peaceful moments, because soon he'd be locked in the madhouse for two days, playing 36 holes with Tiger Woods.
The fans didn't take long to come back in droves. Woods wouldn't make the cut, but he gave them just enough glimpses of vintage Tiger to keep them happy. A twirl here. A fist pump there. The roars were few and far between, but still present enough to remind you of how different a golf tournament is with Tiger Woods in the field.
(Ed. Note: TaylorMade provided travel and accommodations to Los Angeles for this story)