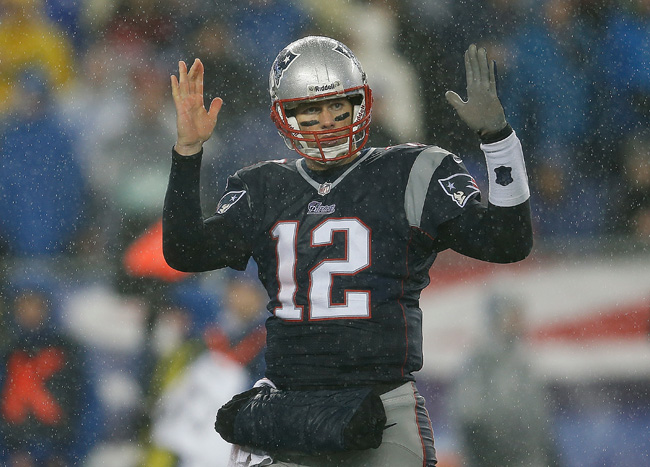 Tom Brady is losing a little bit of his touch with the people, at least he is according to a new poll. According to Celebrity DBI, Brady's endorsement value is low enough to earn him some dubious company, including Bill O'Reilly, 50 Cent, and rival Bill coach Rex Ryan. The reason behind it is simple according to the Boston Globe:
The day after Boston's Super Bowl parade, before the Patriots' football-deflation saga swept the nation, a survey showed that Tom Brady's consumer appeal remained typically robust. He ranked with international luminaries such as Leonardo DiCaprio, Meryl Streep, and Jack Nicklaus.

Three months later, Brady's numbers have plummeted, placing him closer to celebrity's Skid Row, with an image-challenged lot headlined by Billy Bob Thornton, Martha Stewart, and Dane Cook…

"This all relates to Deflategate,'' Delzell said. "Brady hasn't been playing and hasn't been in the news for any other reason between the polls.''
That's right, Deflategate has hurt the pristine image of the multi-Superbowl winning QB and face of the Patriots franchise. People can't seem to stand him or they don't want much to do with him, as a person. According to Bloomberg, they will still take his life over their own:
In February, Brady ranked 2,843rd in appeal, a measure of how much consumers like him. However, he ranked 117th in aspiration — how much consumers wanted his lifestyle. He is married to supermodel Giselle Bundchen, who ranked 56th last year on Forbes's list of most powerful celebrities.

"On one hand people were saying they didn't like the guy but on the other hand they said, 'he's got a pretty awesome life,"' said Delzell. "There's some jealousy in there. People probably didn't like him because of the reasons they desired to be like him."
Where does that leave us? Back at square one, but with Tom Brady a little lower on some third party list. He's still rich, still leads an amazing life, and still suspended over deflating footballs. Football is weird.
(Via Bloomberg / Boston Globe / Sports Grid)