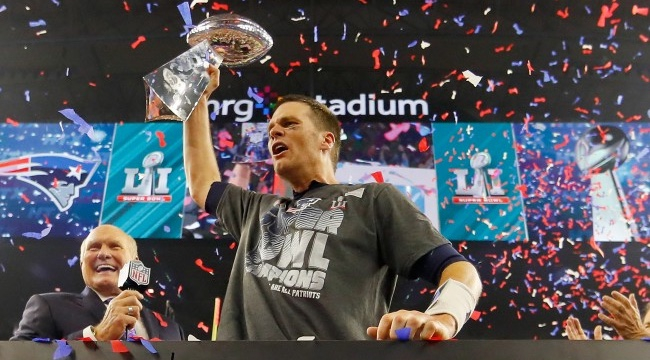 There's a strange misconception that Super Bowl LI was the best Super Bowl ever played. It's not even the best Super Bowl involving the Patriots (pick either loss to the Giants or the win against the Seahawks) and it's not even the best Super Bowl of the past 20 years (hello, Rams-Titans). But we live in the now to a fault, and Patriots-Falcons just happened, so it's the best. Such is the world.
In an attempt to capitalize on this idea, a book and movie about Tom Brady rallying his team from a deficit (that he helped create) is in development, according to Deadline. The people involved are the ones that helped bring you Patriots Day, so we're closer to a movie where Mark Wahlberg plays Brady, which I'm sure is a thought Wahlberg has become fully aroused over for no less than a decade.
The writers already have cultivated several sources inside the Patriots locker room to provide a first-hand look at what went on behind the scenes in a Super Bowl that had everyone on the edge of their seats. The game, which the Patriots won 34-28, drew comparisons to other iconic moments in sports history such as Muhammad Ali's win over George Foreman in the 1974 "Rumble in the Jungle."
Puke yet? Who is comparing a 40-year-old boxing match where Ali intentionally let his opponent punch himself to exhaustion to a football game where one team choked so hard that Kyle Shanahan had to be revived after the game? And who wants to watch a movie where the bad guys overcome all odds to defeat the heroes? Imagine the end of Return of the Jedi. Luke takes off Vader's mask and before he dies, Vader jams a light saber through his son's stomach and says, "I never loved you." That's this Super Bowl movie.
Here's my movie pitch: It's Indiana Jones, but the Nazis win. I'm available for interviews, Deadline. Call me.
(Deadline)