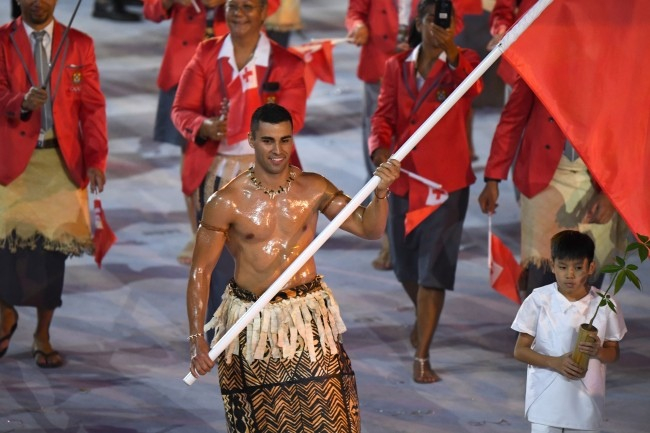 Forget the Zika virus, Giselle Bündchen's fierce catwalk or even the constant commercial interruptions, the real person who stole the show during the Olympics Opening Ceremony was Tonga's flag bearer Pita Taufatofua.
The taekwondo athlete was selected by his country to hold the flag for the South Pacific nation of Tonga during the Opening Ceremony. He made a pretty grand entrance by appearing shirtless, oiled up and grinning ear-to-ear in front of one of the biggest television audience of the year. Viewers may have had to turn their contrast down as Taufatofua greased up body may have impacted their view:
https://twitter.com/BBCSport/status/761739237502783488/
But the little known taekwondo athlete had the Internet exploding Friday night, with some even forgetting the Olympics were on:
If you could wipe the steam from your computer screens for a bit, you should know the 32-year-old Australian born athlete has had a tough road to the Olympics. He has broken a number of bones over the years, spent three months in a wheelchair because of injuries, and was even relegated to crutches for a year and a half. It has been his dream to become an Olympic athlete telling a New Zealand radio station earlier this year the adrenaline of competition was fueling him:
"There's nowhere else in life I can experience the same challenge that taekwondo gives me. Getting onto the mats; getting into the ring to fight somebody you don't hate and whose sole purpose is to kick you in the head and your purpose is to kick them in the head."
He's taking this pretty seriously and seems willing to take down anyone who gets in his way of Olympic glory. To add even more awwwwsss to his Olympics story, Taufatofua tried to self-fund his journey to Rio, but as of Friday his goal of $100,000 was only around $6,000. Chances after his glistening performance at the Opening Ceremony, that number will go up.
Oh, and did we mention he has an Instagram? Enjoy!
(Via USA Today & The Wall Street Journal)