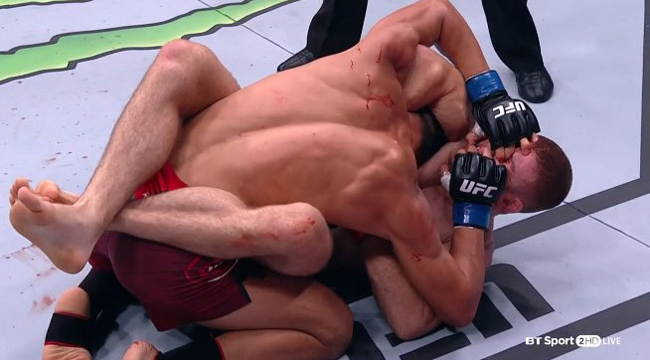 Eye gouging was one of the few rules incorporated into early UFCs because dear lord, you can't just have people sinking their fingers into the soft gooey sockets of their opponents. And while there's no shortage of accidental eye pokes in MMA due to the open fingered gloves worn by fighters, you don't tend to see a lot of legit intentional gouging going on.
Which just makes the case we just witnessed at UFC 221 in Perth, Australia all the worse.
The incident happened during a fight between Jake Matthews and Li 'The Leech' Jingliang. Matthews was dominating the fight in the first, catching Jingliang with a series of shots that dropped him to the canvas. It was only by holding onto Matthews' gloves that Jingliang managed to survive the first round. In round two, Matthews once again got Jingliang into a bad position, catching the Chinese fighter in a guillotine choke. A desperate Jingliang reached up and stuck two fingers right into Matthews' eye.
It's crazy enough that Jingliang did that to escape a deep submission. But what's crazier is the ref saw it and did nothing more than slap at his hand a bit. There was no point taken in the moment, and once the incident had passed the ref was left warning Jingliang that he'd take a point if it happened again.
Rules get broken all the time with impunity. Fighters take numerous kicks to the crotch from reckless opponents, and you can pretty much hang onto the cage as much as you want depending on the referee. But it's pretty unbelievable that Jingliang got away with that eye gouge.
Fortunately, it didn't stop Matthews from putting the stomp on Jingliang across the rest of the fight. In the end, the judges saw the fight 30-26, 30-26, and 29-28 for Jake Matthews in what was a Fight of the Night performance. The question we have now: can the UFC really hand out the $50,000 bonus that comes with that distinction to a fighter that eye gouged their opponent?