It's time for another set of outstanding MMA predictions! UFC Fight Night 61 is on Sunday, and the fights kick off at 5:00 PM ET, so let's not waste time and jump into the fight picks from the smartest, funniest, most accurate and wonderfully charming set of prognosticators ever assembled.
Important Standings of Note:
Jessica: 329-198-3 (62%)
Burnsy: 327-199-4 (62%)
Vince: 168-104-1 (62%)
Danny: 161-77-1 (67%)
Spilled: 76-56-2 (57%)
Sydnie: 16-12 (57%)
Chris: 30-10 (75%)
NY Ric: 36-26-1 (57%)
Ghost: 6-7 (46%)
Seth: 32-15 (68%)
Biss: 32-25-1 (56%)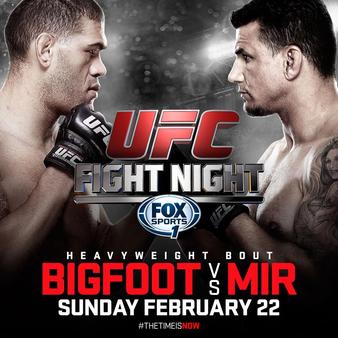 Lightweight – Ivan "Batman" Jorge vs Josh Shockley
Jessica: Both guys are coming off losses, but I think Rodrigo Damm, who beat Batman, is a better opponent than Saggo. Plus I will not abide a white dude with dreads. Jorge should knock Shockley around and submit him in the second round.
Biss: Okay no crazy names to use for my prelims picks… I'm going with Shockley because he looks like he has less to lose. Look at that hair.
Burnsy: I've never been much of a Batman guy when it comes to my comic book favorites, but I like the effort. I'd be shocked if Ivan loses. Get it? I'm the best.
Bantamweight – Douglas "D Silva" Silva de Andrade vs Cody "The Renegade" Gibson
Jessica: Another pair of guys coming off loses. Gibson got choked out by tiny, angry, Manny Gamburyan, while Doug was decisioned by the mighty Chechen warrior, Zubaira Tukhugov. I'll give the nod to Silva on that end, plus he's got a ton of knockout wins, which I'm a fan of. Douglas Silva de Andrade is going to punch Gibson in the face a lot and finish him with a third round TKO.
Biss: D'Silva coming off his first loss, a 3-round decision. Before that he was a flurry of mostly KOs. Cody Gibson has never been KO'd. I think we are going to the cards again… Douglas Silva de Andrade.
Burnsy: Yeesh, it's like we went nickname shopping in the bargain bin. I can't give a guy credit because he calls himself by his first initial and last name, so I'll take the dude who pays tribute to Lorenzo Lamas.
Welterweight – Wendell "The Machine" Oliveira vs T.J. "The Modern Day Warrior" Waldburger (CANCELED due to a fainting Waldburger.)
Jessica: Guess what, both guys are coming off losses here, too! I'm going to give an edge to Waldburger because I remember a cool fight he had five years ago, if you want an insight into my thought process behind these picks. Waldburger will do a tremendous grappling to Oliveira, but won't get the submission. TJ takes a UD.
Burnsy: I like Modern Day Warrior (I'm going all nicknames for this one, in case it's not obvious) because it makes me think that he's more stylish than, say, a classic warrior. Like, maybe he has some wicked awesome racing stripes and a laser beam that shoots out of his nips.
Featherweight – Tiago "Trator" dos Santos vs Mike "El Cucuy" De La Torre
Jessica: De La Torre should be at two losses in a row, except Brian Ortega was full of drugs. Dos Santos is the first guy on the card to actually be coming off a win, so I'm going to say he keeps that going. Mike tends to lose by submission, and Tiago is decent enough at those, so that's what I'm going with. TdS submits MdlT in the second round.
Biss: 145 is championship weight, boys. Going Trator, I think he will be more active, which will open something up.
Burnsy: Trator doesn't mean that he's like Benedict Arnold, but it sounds like it, and that makes me think he'll do whatever it takes to be on the winning side. I respect that.
Welterweight – William "Patolino" Macario vs Matt Dwyer
Jessica: Aaaand we're back to both fighters having lost their previous contest. Patolino (Which means Daffy Duck) fell to NEIL MAGNY, while Dwyer got head kicked to oblivion by Albert Tumenov. Both guys are solid strikers, with the majority of their wins (Or, in Dwyer's case, all) coming by T/KO. I think Macario's a better technical striker, though, and will land some good shots on Dwyer, putting him away. Macario wins by first round knockout.
Biss: This is Patolino's fight to lose. I don't think tonight is that night.
Burnsy: Matt Dwyer sounds like the guy who is here to sell you industrial strength soap. "Mr. Burns, there's a Matt Dwyer here to see you about Steel Suds, says he has an appointment…" Nah, I don't have time for that. I'm buying Patolino's soap.
Bantamweight – Jessica "Bate Estaca" Andrade vs Marion "Belizean Bruiser" Reneau
Jessica: This is the People's Main Event, and it's only the second fight where both fighters are on win streaks, which is kind of sad. I've been really impressed by both fighters recently, especially Reaneau against Alexis Dufrense. Of course, when I found out that Alexis mostly fought cans, it didn't look as great. Reneau will have a reach advantage and is maybe a little better in terms of technical boxing, but Andrade is quick enough to get under Marion's jab and work in close. It's a tough toss-up, but I'm going with my fellow Jessica. Andrade wins by unanimous decision.
Biss: Andrade has age and experience in her favor. Up the rankings she goes.
Burnsy: I like to mix things up, so I'm taking the Belizean Bruiser because it sounds like an amazing menu item at Texas de Brazil.
Welterweight – Santiago "Gente Boa" Ponzinibbio vs Sean "Tarzan" Strickland
Jessica: Strickland's got a good reach advantage, so I think he'll hurt Santiago on the feet and then cinch up victory on the ground. Strickland wins by second round submission.
Biss: This could be a very good card, everyone jokes we don't know these South American fighters but there are some solid match ups here. I'm picking Strickland but I'm not solid on it.
Burnsy: Gente Boa sounds like a passive snake, like instead of choking you to death before he eats you, this snake wants to talk about how you feel about that. Meanwhile, Tarzan's as plain as Batman, unless Strickland is willing to fight in a loincloth. I'll take the gentle snake, though.
Bantamweight – Iuri "Marajo" Alcantara vs Frankie Saenz
Jessica: Alcantara is a really good fighter. I'm taking him because I think he's beaten a better crop of fighters compared to Saenz. Alcantara wins with a second round TKO.
Biss: Saenz don't stand a chance here, hoping for at least a game effort. Pure cannon fodder. Iuri Alcantara.
Burnsy: I won't pick against Alcantara, because of that KO he scored against Vaughan Lee back in September. I want more of that tonight.
Lightweight – Rustam "Tiger" Khabilov vs Adriano Martins
Jessica: This feels like a warm-up fight for Khabilov. Martins is okay, but he's a huge step down for Rustam. Khabilov will slam Martins around and get a first round knockout to help put the Dagestani Knucklegame Cartel back in good standing.
Biss: I don't know why, but I love Russia vs. Brazil MMA. It may be Nog vs. Fedor nostalgia… Rustam Khabilov.
Burnsy: I'm picking Tiger, because at least one athlete should have that name and be a winner. That's right, I just got golf jokes mixed up in your MMA.
Middleweight – Cezar "Mutante" Ferreira vs "Smile'N" Sam Alvey
Jessica: One dude is Vitor Belfort's weird pal and the other won his last fight by virtue of his opponent being a f*ck up. It's really tough, but I'm throwing analysis out the window for this and saying Cezar wins because I don't like Alvey's face. Ferreira wins by third round TKO.
Biss: All logic points to Ferreira, but my gut and 'Merican pride is begging me to pick Uncle Sam Alvey.
Burnsy: MUTANTE! MUTANTE! MUTANTE! I love chanting that in like five different ways. It's important for nicknames to have elasticity.
Lightweight – Edson "Junior" Barboza vs Michael "The Menace" Johnson
Jessica: Johnson is a good wrestler with a solid punch that can knock most of the division stupid, which is certainly a big weakness of Barboza's. On the flip side, Edson is one of the best suppliers of leg kick based destruction, so I'm going all in with him. Barboza wins with a third round Leg Kick TKO.
Biss: At UFC fight night in Austin everyone hyped up Bobby Green and Barboza handled him, also Edson Bar-Boza is the name I think of most when I think of Mike Goldberg coming up next segments. Edson Barboza.
Burnsy: I won't pick against Junior, regardless of nicknames.
Heavyweight – Antonio "Bigfoot" Silva vs Frank Mir
Jessica: Frank Mir hasn't won a fight since 2011. I just don't see that changing against Silva. Bigfoot is off TRT and his chin might be in question, but I don't think Mir's the guy to seriously test it. Silva is going to out-big Frank and punch his face to mush, getting a second round TKO.
Biss: Both these dudes need a win in the worst way, I feel like I trust Bigfoot the least. Mir has to have just a little ankle lock magic left, if not he might be all out of ammo. Frank Mir.
Burnsy: Let me go on record by saying I hate this fight as a main event, but I hope it goes 5 just so we can make fun of these guys for falling asleep on top of each other in the third. Whatever, Bigfoot wins and gets another strong matchup that he'll probably win, and then he'll somehow get another Top 3 fight and lose gloriously. (I'm not a fan anymore, if that's not obvious.)
Performance of the Night
Jessica: Khabilov, Macario
Biss: Barboza and Macario
Burnsy: Ferreira and Alcantara
Fight of the Night
Jessica: Andrade vs Reneau
Biss: Silva de Andrade vs Gibson
Burnsy: Barboza vs Johnson