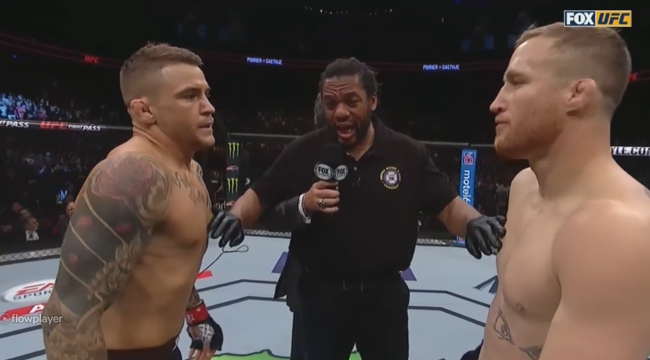 The UFC traveled to Glendale Arizona with a top shelf card headlined by a guaranteed slobberknocker between home state boy Justin Gaethje and Dustin Poirier. And the fight delivered in spades, going back and forth before ending with Poirier hurting Gaethje and attacking him to a stoppage 33 seconds into round four.
Gaethje relied on his chin to carry him through the earlier parts of the fight as he attacked Poirier relentlessly with leg kicks that left Poirier limping back to his corner. He even seemed to have Poirier nearly defeated in the third round off a big left, but an eye poke from Gaethje that resulted in a point deduction gave Poirer time to recover. In the end it was Poirier who capitalized in the fourth round when he clipped Gaethje and then poured on the pressure, forcing the rubber legged Gaethje across the cage and finally to the canvas for a stoppage.
In the co-main, Alex Oliveira emerged victorious in a back and forth battle against a game Carlos Condit by catching him with an upkick and then choking him out against the fence. Hot prospect Israel Adesanya continued to show promise but couldn't finish his fight against Marvin Vettori. And Michelle Waterson was given a gift decision after getting out-muscled on the feet and the ground by Cortney Casey.
There was tons of great action on the prelims. After months of seeing fights fall out due to last minute silliness and weight issues, all fourteen matches for UFC Glendale went ahead without issue and there were a lot of finishes. Take a look at all the action and full results from the card:
Alex Oliveira defeated Carlos Condit via submission (guillotine), 3:17 of Round 2
Israel Adesanya defeated Marvin Vettori via split decision (29-28, 28-29, 29-28)
Michelle Waterson defeated Cortney Casey via split decision (29-28, 28-29, 29-28)
Antonio Carlos Junior defeated Tim Boetsch via sub (rear-naked choke), 4:28 of Round 1
Muslim Salikhov defeated Ricky Rainey via KO (punches), 4:12 of Round 2
John Moraga defeated Wilson Reis via unanimous decision (29-28, 29-28, 29-28)
Brad Tavares defeated Krzysztof Jotko via TKO (punches), 2:16 of Round 3
Gilbert Burns defeated Dan Moret via KO (punches), 0:59 of Round 2
Lauren Mueller defeated Shana Dobson via unanimous decision (29-28, 29-28, 29-28)
Yushin Okami defeated Dhiego Lima via unanimous decision (30-26, 30-26, 30-26)
Adam Wieczorek defeated Arjan Bhullar via sub (omoplata), 1:59 of Round 2
Alejandro Perez defeated Matthew Lopez via TKO (strikes), 3:42 of Round 2
Luke Sanders defeated Patrick Williams via unanimous decision (30-27, 30-27, 29-28)