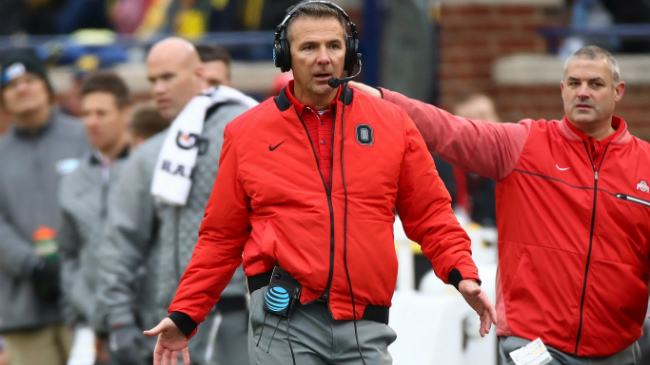 As is always the case, the final week of the regular season featured a matchup between Ohio State and Michigan. The two traditional powerhouses played a game that wasn't always pretty, and by the time things came to an end, the Buckeyes walked out of the Big House with a 31-20 victory.
Ohio State managed to do this despite the fact that J.T. Barrett left the game in the third quarter with a knee injury. While his backup, redshirt freshman Dwayne Haskins, performed admirably in his absence, it was still unfortunate to watch Barrett leave his final game against the Wolverines with an injury.
Urban Meyer was especially unhappy Barrett had to leave the game, because as he told the media, the injury that sidelined the veteran quarterback didn't happen during the game. Instead, it occurred during warmups, when Barrett collided with a cameraman.

Speaking to reporters following the game, a clearly agitated Urban Meyer said Barrett was injured by a cameraman on the sideline before the game.

"That was a non-football injury," Meyer said after the game. "Too many damn people on the sideline, and a guy with a camera hit him in the knee. I'm going to find out who. I'm so angry right now."

…

"I look on the sideline, and he's down," Meyer said. "I'm like 'What happened?' And he's so tough, he went out there and played."
Barrett struggled in the air against the Wolverine defense (3-for-8, 30 yards, a touchdown), but orchestrated the Buckeye rushing attack well, as he carried the ball 15 times for 67 yards and a score. He discussed the injury after the game, saying that he's been dealing with a sore knee all year and that he plans on playing in next week's Big Ten Championship Game against Wisconsin.
Additionally, there was an allegation that Barrett was injured intentionally, but he told the press that he did not believe that was true.
It's sad that Barrett's first and last starts against Michigan ended with him getting injured, but he has at least two more games left in his Buckeye career. Hopefully this injury doesn't flare up again and he's able to get through the postseason as close to 100 percent as he possible can.