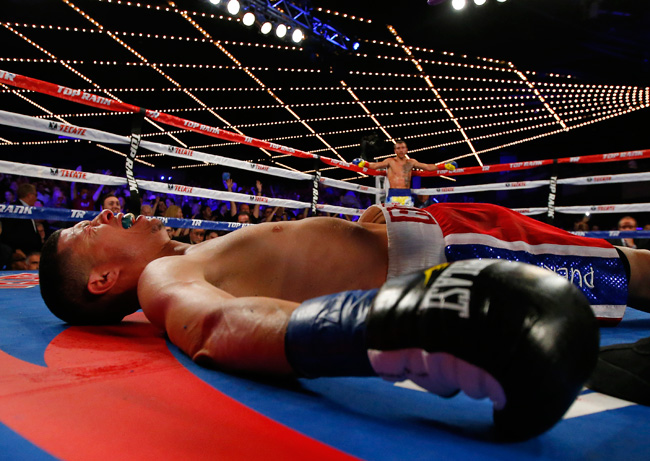 Two-time Olympic gold medalist Vasyl Lomachenko took the WBO super featherweight belt off Roman "Rocky" Martinez last night in stunning fashion with what may be one of the biggest boxing knockouts of the year. It was an uppercut right hook combo in the fifth round that put Martinez down, earning the Ukrainian Lomachenko his second world title. At 6-1, he also holds the WBO featherweight championship.
What he lacks in pro experience though he makes up for with amateur accolades. His amateur record is a staggering 396-1 and includes gold medals from the 2008 Beijing and 2012 London Olympics. After London he went professional and signed with Bob Arum's Top Rank. Arum isn't shy about talking up the 28 year old boxer.
"I've never seen a fighter as good as he is," Arum said after Lomachenko's victory. "I mean, he is the best fighter I've ever seen since Muhammad Ali. He's like an absolute artist in the ring. Technically, I've never seen anybody do what he does in the ring."
It's a bit early for the Ali comparisons, but you can't deny Vasyl Lomachenko's unorthodox talent. Take a look at a few more highlights from the fight.