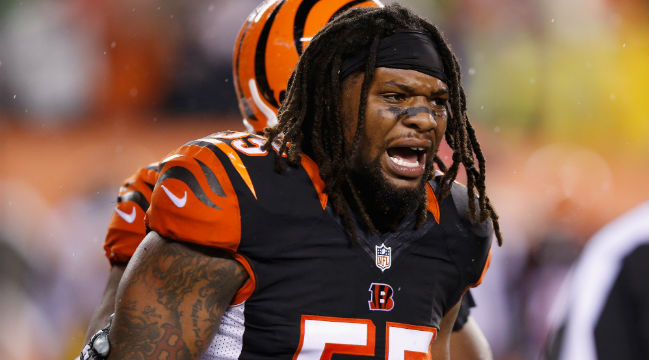 Vontaze Burfict is going to get disciplined for his actions at the end of Saturday night's AFC Wild Card game between Cincinnati and Pittsburgh. The former Pro Bowl linebacker hit a defenseless Antonio Brown in the head with his shoulder pad, which knocked the Steelers' wide receiver out cold on the field. While one of Burfict's teammates claimed that Brown flopped, it was reported that Brown suffered a concussion and his status for next week's game against Denver is up in the air.
Burfict could also be in trouble for the hit that knocked Steelers QB Ben Roethlisberger out of the game. The hit itself was fine, as it was your standard takedown of a quarterback. However, after the play, it looked like Burfict made it a point to get an additional shot in on Roethlisberger by kneeing him in the throwing shoulder.
Now, the NFL is reportedly looking into a suspension for Burfict. According to ESPN's Adam Schefter, there is a possibility that Burfict could be suspended more than one game, and part of that stems from the last time the two teams played. Burfict was fined $69,454 in December for committing a face mask, a roughing the passer, and an unnecessary roughness in the same game.
As for the length of a potential suspension, that's an interesting subject. While Schefter reports that it could be more than one game, there haven't been too many multi-game suspensions for on-field incidents. The most recent multi-game suspension for something like this came in August of 2014 when then-Redskins safety Brandon Merriweather went helmet-to-helmet on a defenseless receiver in a preseason contest and got two games. As for 2015, both Giants wide receiver Odell Beckham Jr. and Broncos cornerback Aqib Talib were suspended for on-field incidents, but both only got one game.