The Chicago White Sox have an extensive uniform history. Prior to their current style, which has gone nearly unchanged since 1991 (my apologies to the costume-designer from Straight Outta Compton), the franchise would rarely go longer than a decade or so without trying something new. In fact, from 1969 until 1982, the team went through four different styles.
Subjectivity aside, it's nearly unanimously agreed-upon that the most hideous of the four were the uniforms they introduced in 1976, commonly referred to as the collared pajama-top. To "honor" this uniform's place in baseball lore, the current White Sox are planning to wear them for their home game on Aug. 27 against the Mariners.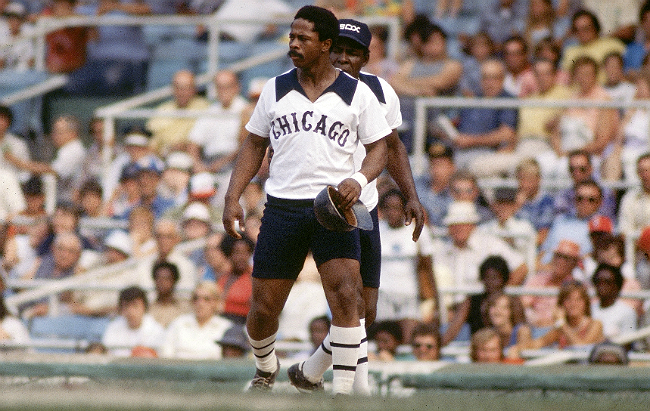 Notice that there's no buttons on the front. Instead, players pulled them over their heads and wore them pajama-style and untucked.
It's tough to imagine how the style ever made it past the concept stage, but perhaps it was just a sign of the times. In fact, the White Sox' owner at the time, Bill Veeck, had nothing but flattering things to say. "The White Sox are not going to be dressed like a bunch of peacocks," he said. "There is a difference between color and elegance, between style and class. You will be awed. Comiskey Park will replace Paris and New York as the fashion center of the World."
It's impossible to know now if that quote was said with a straight face, but it's certainly fun to imagine that it was. It's important to note that Comiskey Park did not, in fact, replace Paris and New York as the fashion center of the world, but Veeck did not have the luxury of dealing in hindsight.
Former White Sox Harold Baines, who wore the uniform for the first two years of his career, said that they were the most comfortable uniform he ever wore, but he's just glad he didn't have to wear the shorts.
He was, of course, referring to three different games in 1976 where players inexplicably wore shorts instead of pants. Here's what that looked like:
Thankfully, the White Sox do not plan on wearing shorts for their upcoming game next Thursday. Nobody needs to see a grown man's bruised-up knees.
(via MLB.com)