Well, would you look at that? There's a World Cup starting on Saturday! I know FIFA's had a rough go of it lately, but that just means the 2015 Women's World Cup is coming at just the right time to remind us why anybody cares about Sepp Blatter's hideous corruption carnival (besides those who just like watching train wrecks). When it's actually being played in stadiums rather than being ruined/saved in boardrooms, soccer is great on its largest stage. Tuning into the World Cup will be far more enjoyable than following a corruption scandal (and, one could argue, even more fun than watching a John Oliver rant about said scandal).
Not convinced? Here are the biggest reasons why you should tune in:
USA! USA! USA!
That's Abby Wambach, who has scored more goals for a national team than any player in soccer history, male or female. She's the one in the good old red, white and blue.
In soccer, the U.S. Men's National Team is pretty good, but never a contender to win it all. They're about on the same level as Switzerland, only with less star power (thanks to Xherdan Shaqiri). That's not a comfortable position for most American sports fans. Well, the women are, if not dominant, reasonable contenders to win the World Cup. After all, they won the last top-level global tournament — those 2012 Olympics — and they've won a World Cup before. The year 1999 may have been before your time, but I'm sure the name Mia Hamm means something to you. And I'm even more sure that this moment still rings a bell:
That tournament was the first time most Americans took notice of the USWNT (partly because the 1999 World Cup was on American soil), and World Cup wins must have seemed like a birthright for casual fans after that. But even though the team has advanced to the semifinal in each of the three World Cups since then, they've finished third, third and second in those tournaments. That's an even bigger shame when you consider that in 2011, the USWNT had one of the most heroic performances you'll ever see in their quarterfinal match against Brazil. Down to 10 players after a red card 65 minutes into the game, the U.S. also went down a goal in overtime. They were shorthanded for nearly a full hour of play, and they were losing for nearly half that. That's when Megan Rapinoe and Wambach became legends:
Wambach tied the game and sent it to penalty kicks, where they would advance. At the time, it was the latest goal ever scored in international soccer, at 122 minutes in. I still get chills watching it. Wambach deservedly won armfuls of awards for the moment and her great performance at that cup, but they came up short in the final. I thought it was the best soccer game I'd ever see. Then, the Olympics happened a year later, and the U.S. faced Canada in the semifinals, and I was proven wrong.
Canada's version of Abby Wambach, Christine Sinclair, scored three times to put Canada ahead of the U.S. Three times, the U.S. came back, and Alex Morgan beat Wambach's late-goal record by winning the game in the 123rd minute. The game had everything you could want… comebacks, lots of scoring, late drama, USA winning, Canadians losing, etc. If that doesn't get you pumped up for the World Cup — did I mention it's in Canada? — then you truly do not have a pulse.
The path to the trophy won't be any easier this time around, but it feels like they're due. Most of the players were kids when the 1999 tournament happened, and many of them credit the USWNT's win for inspiring them to play soccer in the first place. It's all come full circle now, and the pressure to perform is immense.
The tournament is being held in Canada, which is close enough for American fans to flood the stadium each time their team plays, performing their patriotic duties by wearing red, white and blue and hollering until they're hoarse. You can do your part from home, or your closest bar with a television. Do your country proud.
The Women Are Tougher Than The Men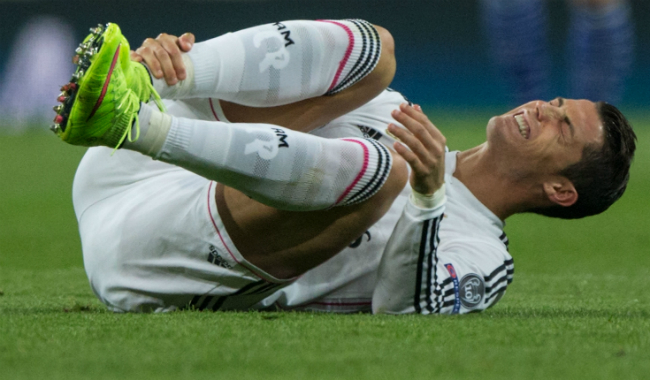 That's Cristiano Ronaldo, balled up in the fetal position, acting like he's been shot after a routine tackle, like he does multiple times every game. One of the best two male soccer players in the world routinely whines like a baby at the slightest provocation, and it can get pretty annoying. One of Americans' favorite gripes about soccer is the theatrical flopping, and the even-more-theatrical yowling in fake pain and carrying on. It's a microcosm of what hot-takers like PFT Commenter (the best there ever was) consider the wussification of sports. If you agree with that set, I have good news! According to a 2011 study (released to coincide with the previous Women's World Cup), women fake injury roughly half as much as men do at international tournaments. Wambach doesn't have time for that:
So, if the soccer you've seen doesn't have enough toughness for you, try the Women's World Cup.
Abby Wambach's Last Ride
It's hard to put Abby Wambach in proper context for casual fans. As mentioned above, she's the best goal-scorer that soccer has ever seen in international competition (meaning that club goals don't count). She's 35 now, and for a forward in soccer, that's like being a 33-year-old NFL running back — well past when she should have fallen off. Even though she's still far more effective than any player her age has a right to be, this will in all likelihood be her final World Cup, and possibly her final international competition. That's sad because Wambach is as badass as any who's worn the stars and stripes. The only way this Colombian player could slow her down in the 2012 Olympics was by sucker-punching her:
She still scored later in that game. The stunner she scored against Brazil in the 2011 World Cup helped her win the 2012 FIFA Women's Player of the Year award, the first time an American had done it since Mia Hamm in 2002. Abby's achieved everything a soccer player can at the international level, except play on a World Cup-winning team, and this is her last chance to erase that blemish on her record and join the ranks of Hamm and Chastain.
She was just a couple years too young to be on that 1999 team (her first national team appearance was in 2001), and as the bulk of the USWNT core is entering their peak (Alex Morgan, Sydney Leroux, Tobin Heath and Lauren Holiday all are between 25 and 28), Wambach is solidly in her career's twilight. She won't be able to go all 90 minutes of the seven games (if the U.S. makes it to the final), and she won't be able to carry the offense. Luckily, she won't need to do, either.
Forward is the U.S.'s deepest position, and Alex Morgan and Sydney Leroux are now their most dangerous players. Even though they both have more speed than Wambach, neither can match her in size — they're both 5-foot-7, and she's 5-foot-11, and the greatest header of the ball that women's soccer has ever seen. Because of that, Wambach's still as good a bet as any to find the scoresheet in Canada, but legitimate questions remain about how much she can give this team.
Because of her legendary position in the game, rest assured that the U.S. women will be gunning to win this World Cup for Abby. If they do, it will be a moment for the ages. And that's why you should watch.
(Via YouTube)