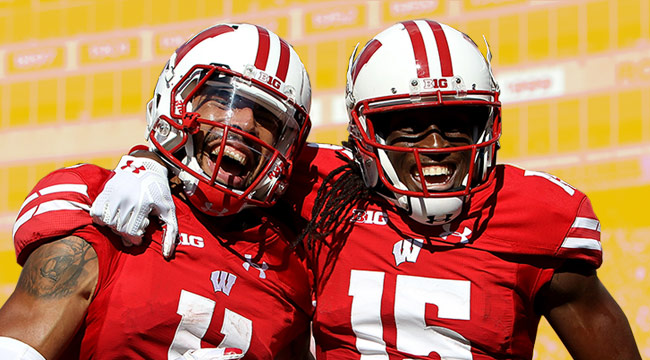 With most teams a third of the way through their season already, it's time for a reality check. How much of what we've seen so far can we really trust to hold up?
It's safe to assume, for example, that the early malaise at LSU isn't going to be lifting anytime soon. But what about the equally sobering starts at USC and Oregon? At Notre Dame? On the better end of that conversation, the narrative tends to break between two categories, the proven commodities — your Bamas and Buckeyes — and the pleasant surprises.
Then there's Wisconsin, the only team to date that qualifies as both.
In defiance of every preseason forecast, the Badgers have emerged as the most upwardly mobile outfit in the country, vaulting from outside of the polls altogether on opening day all the way to No. 8 following upset wins over LSU and Michigan State, the latter coming in a thorough, 30-6 romp on the road. Put those triumphs together, and it also makes the Badgers arguably the most accomplished outfit through the first four weeks. They're the first Big Ten team to vanquish two Top-10 opponents in September since 1999, and the first from any conference to do it after opening the season unranked since 2000.
So if somehow you (and pretty much only you) had Wisconsin down this summer as the surprise 4-0 hit of the early season, congratulations: The Badgers are for real. Enjoy your winnings, or your smug sense of superiority, or whatever your unique foresight has yielded. Now for the real question: Are you willing to go double or nothing that they can extend the surge?
If so, again, you're on your own — not because people haven't been paying attention, or don't respect what Wisconsin has done so far, but because the October schedule makes the September slog look like a mere preliminary heat. This week: The degree of difficulty maxes out at No. 4 Michigan, where the Badgers are listed as 10.5-point underdogs. Say they shock the world again in Ann Arbor — great! Next up is a home date with No. 2 Ohio State on the other side of a bye.
After the Buckeyes, it's on to Iowa to face the overwhelming preseason favorite to repeat as Big Ten West champ. Get past the Hawkeyes, and here comes Nebraska, currently ranked 15th and (based on its own, less daunting schedule over the coming month) virtually guaranteed to arrive in Madison with its perfect record intact. If the Cornhuskers show up with a single-digit ranking, as well, that means Wisconsin will have faced as many Top 10 opponents in the first eight weeks of this season (five) as it saw in its previous six regular seasons combined.
In that context, just how much did the Badgers' eye-opening September really move the needle? Hardly at all: According to ESPN's Football Power Index, their chance of winning out against the remainder of the schedule now stands at a whopping 0.1 percent. The resounding win in East Lansing improved their chances of winning the Big Ten to just 5.6 percent. (By contrast, the league's other two Top 10 teams this week, Ohio State and Michigan, are each listed at 40.9 percent.)
In another year, against a different schedule, you'd expect those numbers with wins over LSU and Michigan State already on the résumé to be significantly higher — in a lot of years, in fact, those would have been touted as the most daunting, must-win games on the schedule, by a mile. In a year when Rutgers and Maryland rotate off the conference slate and the Buckeyes and Wolverines rotate on, though, the odds adjust accordingly.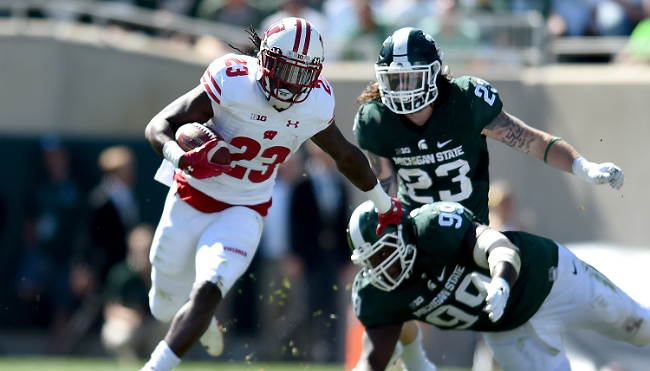 – – –
Still, the Badgers have defied those odds so far. And if they're going to go on doing it, it's going to be on the strength of a legit defense that's allowed just three touchdowns in the first four games. In venerable Wisconsin fashion, it's a motley crew in terms of raw talent; with linebacker Vince Biegel reportedly on ice this week following foot surgery, not one of Saturday's projected starters against Michigan earned higher than a three-star rating as a recruit.
There were also well-founded concerns coming into the season over the unit's continuity in the wake of coordinator Dave Aranda's departure for Baton Rouge. Under Justin Wilcox, though, the D has looked nearly identical, and as feisty as ever: A month in, the Badgers are back among the top 10 nationally against FBS opponents in total defense, scoring defense, rushing defense, third-down defense, and takeaways. Against LSU, they largely bottled up Leonard Fournette for 60 minutes and didn't allow a touchdown outside of a short-field drive following a turnover. Against Michigan State, they held the same offense that dropped 36 points on Notre Dame out of the end zone entirely while racking up four sacks, three interceptions, and a fumble returned for a touchdown.
Offensively, the numbers are less persuasive, and there's no above-the-fold headliner like Montee Ball or Melvin Gordon. The line, a perennial strength, is a somewhat makeshift group this time around consisting of four sophomores and a transfer from a Division III school. (Although, to be fair, the D-III transfer, junior Ryan Ramzyk, is already beginning to earn rave reviews from scouts in his first season as a starter at left tackle.) As a whole, the offense was stale enough in a 23-17 scare against Georgia State to persuade coaches to bench senior quarterback Bart Houston for the MSU trip in favor of the whimsically named Alex Hornibrook, a redshirt freshman.
But it's safe to say they won't be looking back: In Hornibrook's first career start — on the road, opposite the most reliably competent defense in the Big Ten — he connected on 16 of 26 passes for 195 yards, including five chain-moving completions on third-and-10 or longer. It was exactly the kind of efficient, unspectacular, play-within-the-offense kind of performance Wisconsin quarterbacks have been delivering for years en route to 10-win seasons and Rose Bowls, and Hornibrook fits the mold like a glove. By season's end he'll be essentially indistinguishable from the likes of Brooks Bollinger, Scott Tolzien, and Joel Stave, and considering all three of those guys led the Badgers to at least one Big Ten title as a starting quarterback, that's just fine.
Will "efficient and unspectacular" be good enough to get them past a truly dominant Michigan defense this weekend, or a typically loaded Ohio State outfit in two weeks? Maybe not, and almost definitely not according to Vegas. If the defense holds up its end of the bargain, though, an upset in either of those games would leave Wisconsin in position to control its own destiny in the Big Ten race, and with more than enough respect nationally to remain in the playoff race if it's able to run the table down the stretch against the rest of the Big Ten West Division.
The upside of such an absurdly front-loaded schedule is that the back end is extremely manageable; if the Badgers can take three of the next four against the meat of the schedule, the November docket (featuring Northwestern, Illinois, Purdue, and Minnesota) offers a direct route to an 11-1 finish and a spot in the Big Ten title game against (presumably) the winner of the all-defining Ohio State-Michigan tilt in the East.
From there, who knows? Even with a loss, Wisconsin's hypothetical playoff résumé would look far better than either of the last two Big Ten champs, Ohio State in 2014 and Michigan State last year, both of which made the final four with 12-1 records despite a loss to an unranked team.
Even if a serious, sustained playoff run remains on the far end of plausibility, the fact that it remains within reach at all is proof enough that the Badgers can't be counted out. On, Wisconsin indeed.