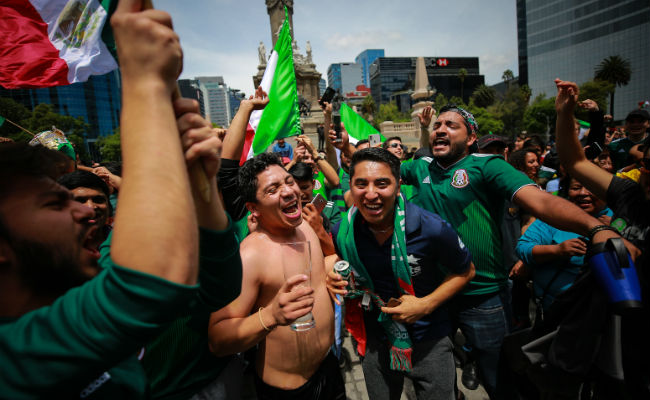 With the United States not in the World Cup, many brands and some former American soccer players pointed to Mexico as the team to root for in Russia this month. It's not an easy ask for a lot of people who have grown up with the rivalry between the States and El Tri.
Still, if you were rooting for Mexico you had a very good Sunday despite their inclusion in the dreaded Group of Death. Mexico's World Cup started against defending champion Germany on Sunday, but the result was better than even the most optimistic Mexico fan could have imagined.
Chucky Lozano's goal proved to be the difference in the match, and the 1-0 win over Germany is a huge boon for a team hoping to escape the group phase. And that goal proved to be, well, a seismic event. Check out the reaction from a watch party in Mexico City when he scored the goal at about 11:32 local time in Mexico City.

You can see the camera shake a bit, and that's not the only thing that got to shaking. Just imagine an entire city of nearly 9 million people all doing the exact same thing. According to a seismological center in Mexico, the reaction to Mexico's goal caused a man-made earthquake in the capital city.
A roughly translated version of that tweet is as follows:
"The #sismo detected in Mexico City originated artificially. Possibly by massive jumps during the Goal of the selection of #Mexico in the world. At least two sensors inside the City detected it at 11:32."
It's a pretty wild reaction, but one that matches the enormity of the result in the soccer world. Mexico now controls its own destiny in the group, and if they can manage a result against Sweden or South Korea they will almost certainly advance to the knockout round.