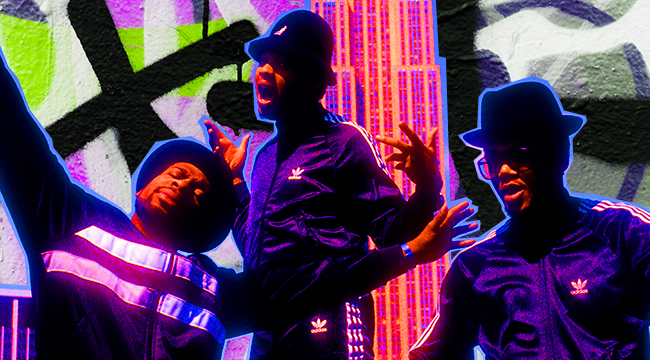 If you want to level up your style game and elevate your own personal wardrobe, who better to look to for inspiration than the true arbiters of cool: the voices of hip-hop? Since its origins in the late 1970s, hip-hop culture has always concerned itself with the pursuit of the freshness. That hunger for the cutting-edge gave birth to the genre's unique style aesthetic — a mix of functional, eye-catching, and fashion-forward.
You want to understand streetwear? Just follow the history of rap music, from Run DMC to Yeezy. Musicians will always be modern culture's tastemakers, and right now the genre that dominates the zeitgeist isn't up for debate.
"If we smoked out hip-hop is going to be smoked out, if we doin' all right, hip hop is going to be doing all right… We are hip-hop. Me, you, everybody. We are hip-hop so hip-hop is going where we going. So the next time you ask yourself 'where is hip-hop going' ask yourself, 'Where am I going, how am I doing?' And you'll get a clear idea."

— Mos Def, Black on Both Sides
Since its nascent days in NYC, hip-hop has successfully blossomed from its DIY street-party origins to being at the forefront of cultural influence. Streetwear is right there with it, dominating the industry and demanding the attention of Italian and French fashion houses. Both mediums are continually evolving; their respective histories running parallel to and made greater by one another.
In order to to help you elevate your look, we've created a compendium of hip-hop artists who've successfully made their mark on the world, both in music and in streetwear. We've also laid out exactly what you can take away from their respective examples, and how to apply these lessons to not just what you wear but how you wear it.
1988 — Run D.M.C. x Adidas
Simply put, Run D.M.C. started it all. They're the first hip-hop group to directly align themselves with a brand thanks to their anthemic single "My Adidas," which would eventually lead to a million-dollar endorsement deal between the sportswear brand and the rap group, a first of its kind. Written as a response to the law enforcement discrimination felt by b-boys and b-girls simply for the clothes they wore and the color of their skin, My Adidas is ultimately a song about personal empowerment.
"We slay all suckers who perpetrate, and lay down law from state to state. We travel on gravel, dirt road, or street, I wear my Adidas when I rock the beat / On stage front page every show I go — it's Adidas on my feet high top or low."
After Run D.M.C.'s manager invited Adidas executive Angelo Anastasio to the group's concert at Madison Square Garden in 1986, Anastasio was taken aback when the group called on the audience to hold their own Adidas in the air during the song. The response was enough to convince Anastasio to deliver the message to Adidas — Run D.M.C. was the future of the brand.
The partnership between the two entities would lead to four Run D.M.C. related Adidas sneakers — The El Dorado, Fleetwood, Brougham (named for the group's favorite cars), and the Ultrastar, a modified take on the Superstar with an elastic tongue that made wearing the shoes laceless (a style-choice popularized by Run and a nod to prison life) easier.
To this day, Adidas Originals still shows love to the Run D.M.C. line, occasionally updating the silhouettes, meanwhile, the Adidas original silhouette — the Superstar — will forever be associated with Run D.M.C. and streetwear.
How "My Adidas" Can Help You Level Up
Run D.M.C. made it cool to drape yourself in one brand. In an era where mix and match is the thing, you can make a bold statement by keeping it classic from time-to-time and rocking all the same brand when you step out. While everyone is mixing their swooshes and stripes you'll stand out from the crowd for your appreciation of symmetry and the classic brand of cool that started it all.

1995 — Wu-Wear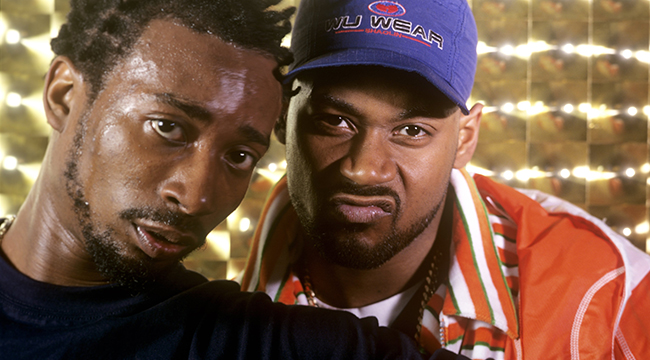 While not technically a brand collaboration, the Wu-Tang Clan's Wu-Wear line saw the legendary hip-hop collective channel their influence into a full-blown lifestyle brand that would eventually go on to collaborate with other brands and retailers, like ALIFE, Nike, and New Balance. Started by American entrepreneur, close Wu-Tang associate, and executive producer Oliver "Power" Grant, Wu-Wear began with simple 90s staples like denim shirts, graphic tees, and bandanas before teaming up with exclusive retailers like ALIFE on varsity-style jackets and snapbacks.
In 2019, the Wu-Wear brand is still going strong, though it's less ubiquitous these days. The company website sells a range of apparel from outerwear, shoes, bottoms, sweatshirts, and a variety of fashion accessories. Their most recent brand collaboration was a collection of zebra-printed Wallabees with Clarks Originals.
How Wu-Wear Can Help You Level Up
Wu-Tang made history because they cut their own lane. They're upstream swimmers — fusing kung-fu, street culture, science fiction, and comic books in an era when marketability was all about how easily a magazine could define you. If Wu-Wear teaches us anything, it's to invest in your own personal aesthetic and style and to indulge in your interests without giving any thought to what is and isn't mainstream.
In short: You want to be fly? Be fully you, first.
1998 — Sean John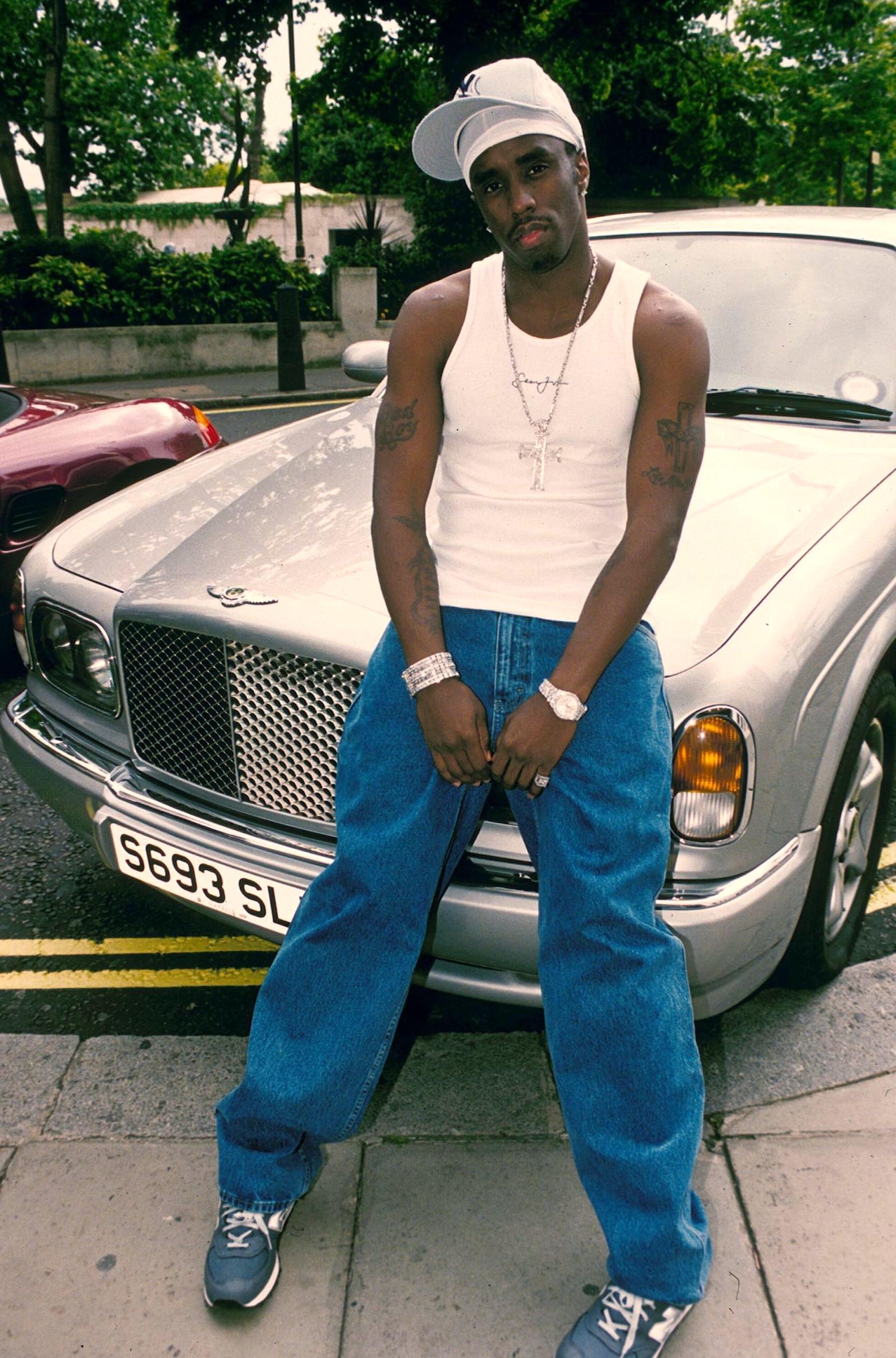 Taking a cue from the Wu-Tang Clan (though we know he'd never admit it), P. Diddy — then known as Puff Daddy — launched his own successful fashion line, Sean John, in 1998. Anytime you see a photo of P. Diddy in which he isn't wearing a suit, he's probably rocking some Sean John. The brand released its first official collection for the spring of 1999, featuring men's sportswear that ran parallel with what the hottest names in hip-hop were rocking at the time. That meant a lot of cursive script, oversized jeans, and logo-heavy outerwear. Remember, this is still well before 'Ye hit the scene and changed it up by embracing pink polos and backpacks.
Since its debut, Sean John has expanded to include fragrances, women's wear, and other fashion accessories, and has been worn by the likes of Penélope Cruz, Naomi Campbell, and Channing Tatum. As of now, Sean John has a distribution agreement with Macy's, and several vintage pieces can be found hidden in thrift stores across the country.
How Sean John Can Help You Level Up
As we said, Sean John still exists. But unless you're grabbing a vintage piece straight from the late 90s or early 00s, or you're from that era and updating your look, it's just not going to hit right. Instead, we'll look to Sean Combs himself for inspiration. Because if there's one thing we know about P. Diddy, it's that his presence is always accompanied by an air of cool.
Why is Diddy so stylish? Because the man always knows exactly how to dress to stand out. He picks the right times to dress in streetwear and the right times to wear a suit — often going against expectations with his choices. We're living in a casual age, sure, but never underestimate the power of elevating your style to match the occasion. Better yet, be like Puff and flaunt your steez when people aren't even expecting it.
1999 — Rocawear
Rocawear began in 1999, soon after Diddy launched Sean John. We can't say for sure if this was the result of influence or just parallel thinking, but Rocawear has gone on to become one of the most successful hip-hop clothing brands of all time, far surpassing Sean John. While not currently as popular as it once was, Rocawear had annual earnings that hit $700 million in the past, likely resulting in more money in Jay-Z's pocket than his entire catalog of music. These days, the brand is still active and has just released a new Spring/Summer 2019 collection.
Created by Shawn "Jay-Z" Carter and Damon "Dame" Dash, Rocawear's success stems from launching with a large market in mind, selling in both children's and adults lines and branching out to everything from socks, sandals, and handbags, to fur outerwear, big and tall sizes, and leatherwear.
How Rocawear Can Help You Level Up
Rocawear has modernized but their most recent Spring/Summer 19 collection still holds the spirit of its late 90s and early 00s New York hip-hop origins. We're on the precipice of a new decade and the spirit of 90s streetwear has seen a resurgence. Want to be ahead of the curve? Look to the past. The days of tight fitted pants is coming to an end, look towards the looser cuts they were rocking in Jay-Z's golden age, with updated lines.
2003 — G-Unit Clothing Company
Once upon a time in the decade known as the 00s, almost nobody knew how to dress themselves. It was for this reason that the G-Unit Clothing Company was a thing. The brand was created in partnership between 50 Cent and fashion designer Marc Eckō of streetwear label Eckō Unltd. While it was able to generate $100 million in retail sales at its launch, today it can only be found online or piling up on random thrift store racks.
During the height of its popularity, G-Unit Clothing was stylistically minimal, oftentimes featuring only G-Unit written in a cursive font. The goal was clearly to continue the tradition of successful hip-hop artists pivoting to fashion, but by playing everyone else's game, the company couldn't sustain itself as effectively as the labels that came before it.
How G-Unit Can Help You Level Up
It can't. Sadly, this one is more of a cautionary tale than anything else. Always remember that no matter how bright you shine, it's the legacy of what you do that lasts longer than the shine of your moment — and never, ever, rock a cursive font on your clothes. Ever.

2003 — Billionaire Boys Club and ICECREAM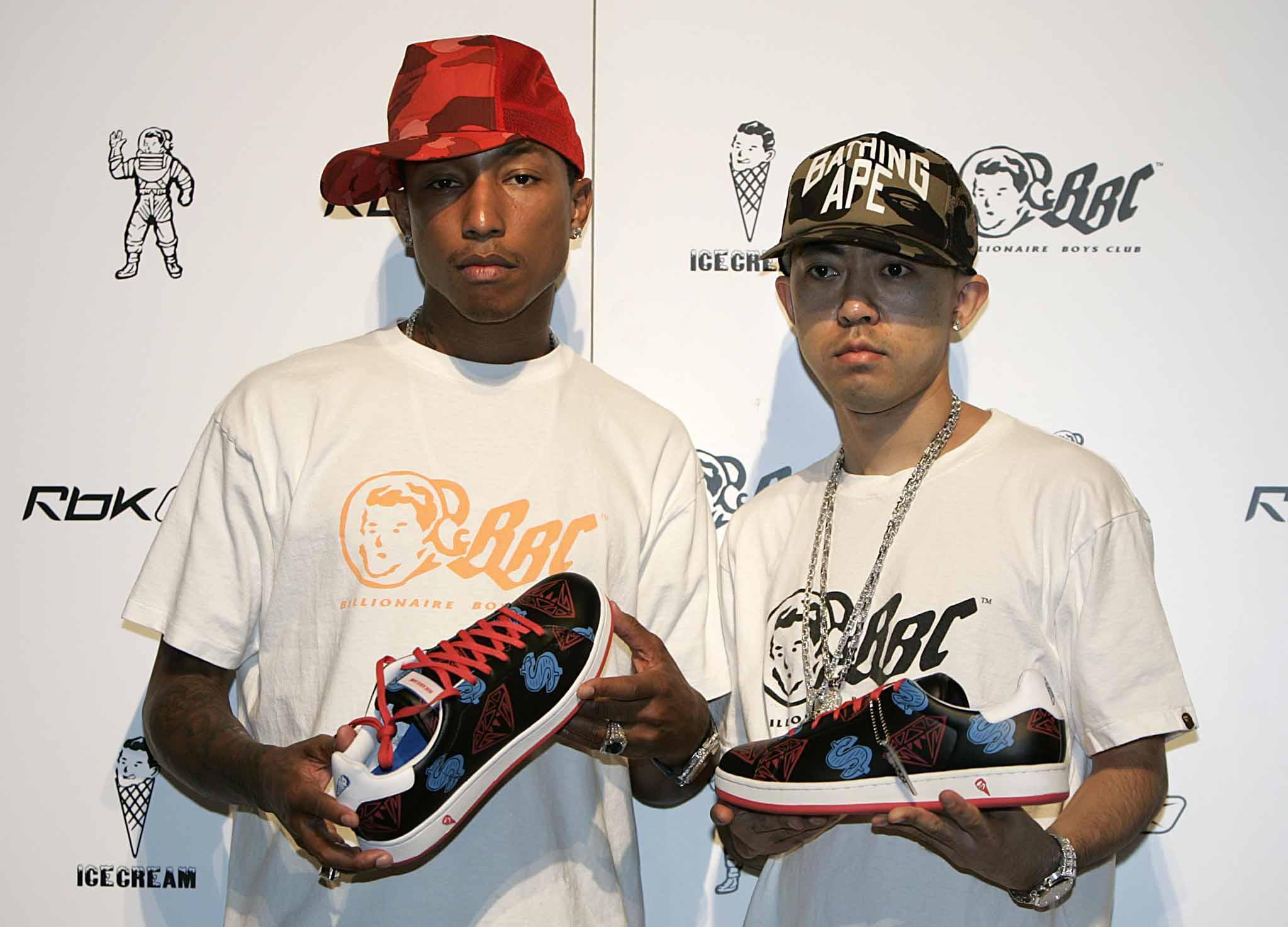 Back in the early 00s, before Pharrell Williams would become the superstar he is known as today (and before people realized he'd found the fountain of youth) he was one half of a production duo known as The Neptunes, who got their start producing songs for Clipse, Snoop Dog, and Jay-Z. Pharrell would go on to become a key architect of the sound of the 00s and 2010s music, and evidence of his forward-thinking genius is exhibited in his decision to team up with A Bathing Ape mastermind NIGO for his first foray into the world of fashion.
Today, the best streetwear collaborations come directly from Japan. But back in the early 00s, the idea of Japanese streetwear was a novelty favored amongst a new generation of hip-hop producers who embraced anime, cultures outside of America, and brought the world of skateboarding into hip-hop.
Nigo and Pharrell's partnership led to the creation of the fashion label Billionaire Boys Club and the skate shoe brand ICECREAM. Today, the Billionaire Boys Club is a globally recognized label with physical stores in Tokyo, London, and New York. New releases of the ICECREAM shoes have since ceased, though pairs regularly fetch high prices on eBay.
Pharrell hasn't given up on designing shoes though, he now works primarily with Adidas, focused on his custom Solar Hu silhouette.
How Pharrell Can Help You Level Up
If you watch Pharrell's career closely you'll notice it's one of synthesis. Pharrell makes something new by mixing and matching his interests to form a unique whole, greater than the sum of its parts. We live in an aesthetically free age, so fuse your interest in punk, hip-hop, street style, skate culture, basics, prep, and whatever else you're passionate about. Let your interests define you, not the store you shop at.
2005 — Eminem Air Jordan 4 Encore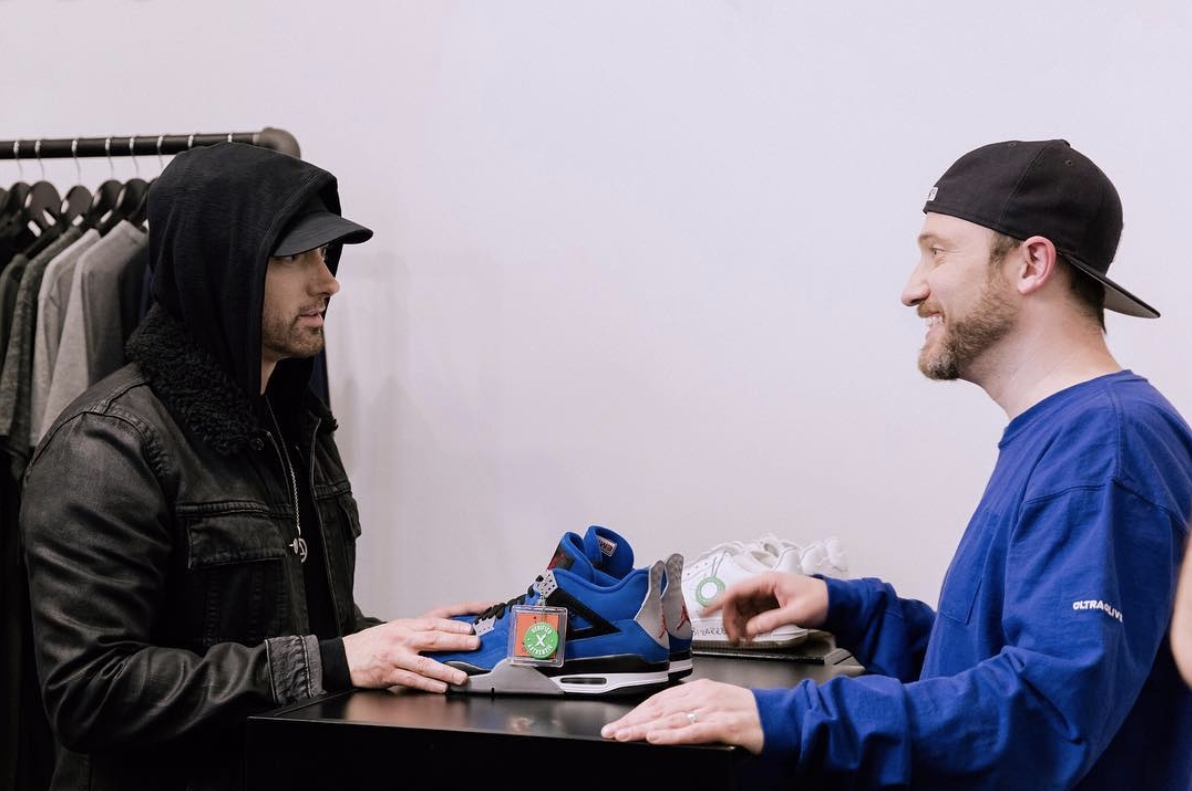 At some point in the mid-00s, fashion labels (and the public at large) started to wake up to the fact that rapping wasn't just a fad. The genre was not only here to stay, but it was also beginning to dominate culture in a way that rock music just wasn't anymore, taking its place as the voice of youth culture. In 2005, the loudest of those voices was Eminem and the Air Jordan brand was all ears — leading the brand to partner up with the rap legend on what would become the most coveted sneaker collaboration of all time, The Air Jordan 4 Encore.
Named for his 2004 album of the same name, The Air Jordan Encore sported a blue suede upper with grey, black, and red accents that recalled the album's cover. While Encore would go on to become one of Eminem's most polarizing albums, it did inspire one suburban Los Angeles rapper who would soon redirect the trajectory and look of hip-hop once more for the coming decade. More on that soon.
The original Air Jordan 4 Encore still fetches bids in the $20,000 range on eBay, with several re-releases and special iterations also featuring high price tags, like this pair made in collaboration with Carhartt that fetches $12,300. The most recent re-release dropped in 2017 with a small run of just 23 pairs.
How The Air Jordan Encore Can Help You Level Up
Own a pair — seriously. These sneakers are the sneakers, if you own a pair you'll be rocking the coolest sneakers where ever you go, no matter who's in the room. No, we aren't saying drop $10,000 on a pair on eBay or anything crazy like that, but Eminem is still popular, these shoes are legendary, and they will re-release again. Watch for them, you won't be the only one.
If you can't get these or they aren't your vibe, find your own statement piece. An investment that you love and are proud to rock.
2011 — Golf Wang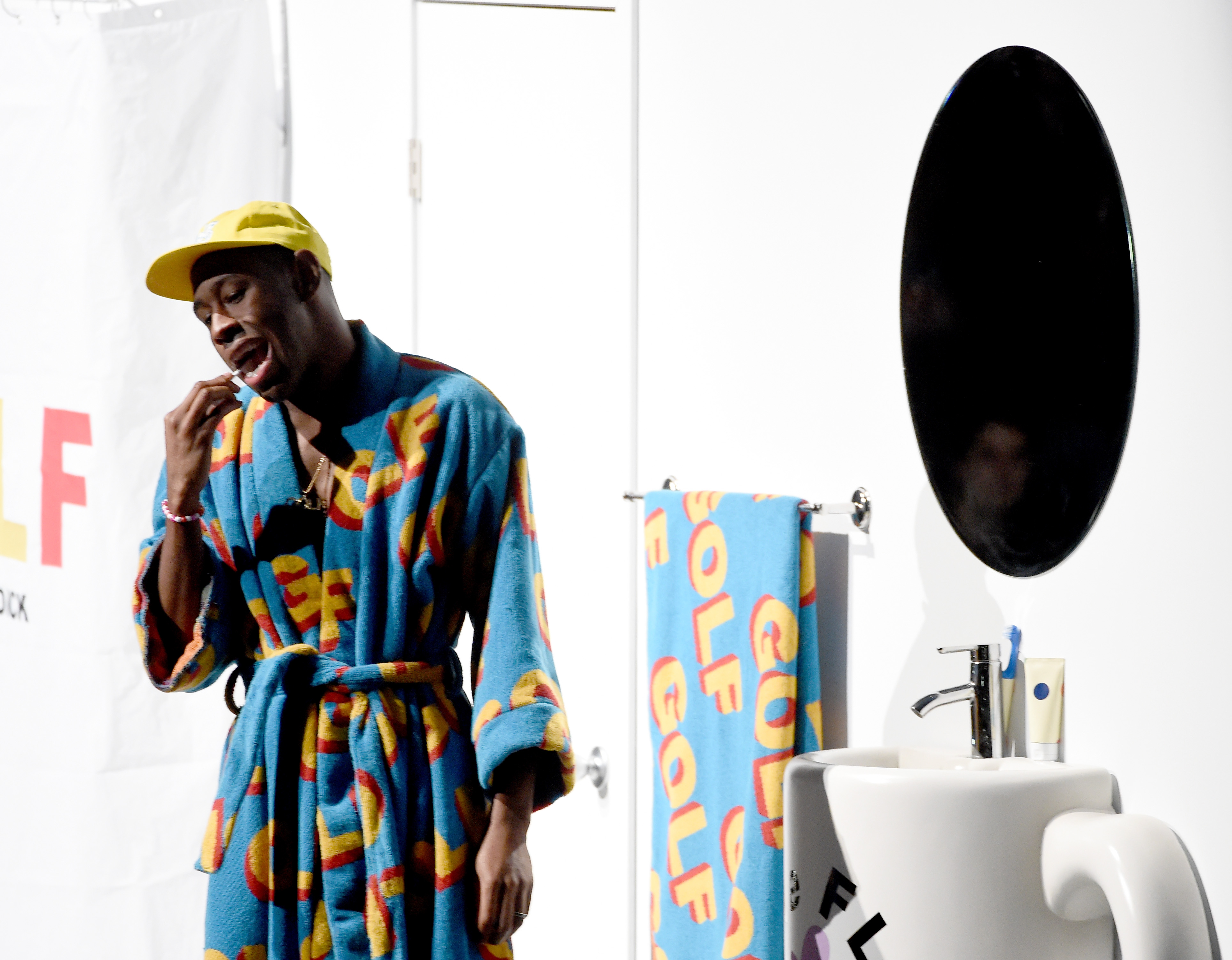 Tyler the Creator singlehandedly changed the face of modern hip-hop for the 2010s. Gaining attention through his Wu-Tang-style collective, Odd Future Wolf Gang Kill Them All, Tyler followed the shock and awe model of hip-hop that Eminem created and made it weird, opening the door for an entire era of Soundcloud-based rap weirdos whose music blurred genre lines. Without Tyler's lead, there would be no Lil Yachty, Lil Uzi Vert, Billie Eilish, and quite possibly even no Lil Nas X.
Tyler, a devout student of Pharrell Williams, embraced skating culture and vibrant colors for his successful foray into fashion, Golf Wang. Golf Wang's bold color palettes and skatewear influence would prove popular amongst a new generation of young people who were looking for their own identity.
Releasing two drops a year, in Spring/Summer and Fall/Winter, Golf Wang's success and popularity would open the door for Tyler to collaborate with both Vans and Converse. Vans only let Tyler add his sensibilities to already existing sneaker silhouettes in their catalog, which would lead to Tyler leaving the partnership with Vans for Converse, where he had the freedom to design his very own silhouette, the Golf le Fleur.
Since teaming app in 2016, Converse has released eight different iterations of the Golf le Fleur. It's currently one of their most popular new silhouettes.
How Golf Wang Can Help You Level Up
Tyler's whole career has come from the work he put in himself. He started by drawing fake CD liner notes for imaginary albums, now he's an entrepreneur, rapper, director, and sometimes carnival-thrower. Embrace the DIY culture and start adding your own personalized flair to everything you own. In an age of fast fashion and must-have drops, adding some personalization takes the monotony out of the racks from the mall.
Also, color blocks, pastels, and above-the-knee shorts are all dope summer looks. Thanks for that, Tyler.

2013 — Yeezy Supply And The Adidas Yeezy Boost
Kanye West is undoubtedly a genius, but that genius and creativity are often driven by doubt and underestimation from his contemporaries. By the early 00s, West had proven himself as a producer, but he was told he would never be a successful rapper. He defied the odds, flew in the face of haters, and has gone on to become one of the most important rappers of all time.
If the 00s were about proving to the world that West was the greatest rapper, the 2010s would present a new challenge — proving to the fashion world that his attention to craft could make him a design icon as well. The success of Ye's Yeezy Boost Adidas collaboration and his Yeezy Supply clothing brand have clearly proven that point, but the early half of the decade proved challenging for Mr. West, with negative reviews of his early attempts, and a collaboration with Nike called the Air Yeezys that West has since described as "heartbreaking" in an interview with Charlamagne the God.
According to Sneaker Freaker, Kanye's Air Yeezy designs were met with indifference from the people at Nike and Nike CEO Mark Parker, would refused to pick up his calls, leading West to eventually partner up with Adidas who West says "allowed me to build something." That something would become known as the most influential sneaker of our day, the Yeezy Boost.
As of this writing, Adidas has designed, in collaboration with Kanye West, nine different Yeezy shoes. In the first few years of production, Yeezys were limited to small-run releases but in 2019 Adidas and West started to expand the Yeezy line to include men, women, children, and infant sizes and regularly drop in high yields to keep prices down and re-sale prices low.
Feel how you want about Kanye West as a designer, but no other shoe collaboration with a rapper has ever reached the heights that the Yeezy Boost has. Adidas struck gold teaming up with West and we're sure Nike has to live with the regret every day.
How Yeezy Supply Can Help You Level Up
Kanye West is as polarizing a figure today as he's always been. What makes Kanye so brilliant and so frustrating is he marches to the beat of his own drum. All. The. Damn. Time. For better or worse, if you want to brim with the type of confidence only reserved for Ye, you have to be a fan of yourself. We aren't saying dive into a deep pit of narcissism, but if you want people to feel the dope vibes you're giving off, you have to feel them too. Spend sometime gassing yourself up in the mirror — nobody looks as good in this jacket as you do, that's why you're wearing it.
2015 — Saint Heron X Puma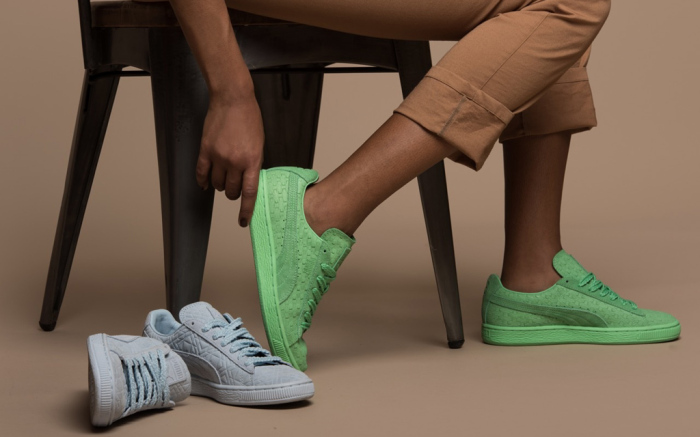 Solange Knowles, through her record label/creative collective, Saint Heron, joined forces with Puma for a striking and colorful collection of sneakers midway through the decade. Solange was no stranger to the music industry, having released two albums in 2002, and 2008, but it wasn't until her Dev Hynes produced EP True, and 2016s A Seat at the Table, that Solange would become known as more than just "Beyonce's little sister" to the music industry and mainstream public at large.
Credit to Puma for being early to recognizing her genius — Solange is not just a gifted songwriter and performer, she also has a visual acumen that surpasses anyone in hip-hop, even Kanye West.
This is evident in not only her music videos but also in her campaign with Puma. Press selections and look book photos present a diverse mix of models and artful composition that make you feel like you're looking at art, not just an advert for a sneaker.
How Solange Can Help You Level Up
Study this artist — she's a master. One of our favorite things about Solange is her attention to craft, composition, and color. She puts so much thought into everything she does, from music to photography to videography, and fills every image and song with intention. Treat your wardrobe this way, the world is drawn to complementary colors and contrasting tones.
Treat each outfit like you're the star of your own photoshoot and you'll always look good no matter where you go. Even if you're dressing simply.
2015 — Air Jordan OVO
Drake launched his fashion label OVO (October's Very Own) back in 2011, but it wasn't until his collaboration with Jordan Brand on the Air Jordan OVO's that the rapper would have his first certifiable hit in the streetwear game. Over the last several years, Jordan Brand and OVO have delivered some of the most sought after sneakers amongst sneakerheads and collectors, like the Jordan Anacondas, The Jordan 3 OVO Gold, and the Jordan 12 Retro OVO.
After the success of the Jordan OVO collaborations, Drake's label has gone on to collaborate with Clarks Original and Timberland.
How The OVO Air Jordan's Can Help You Level Up
Like the Air Jordan Encore, you gotta own a pair of these kicks. Luckily, they're not as limited as the Air Jordan and Eminem collab, meaning it shouldn't be hard to get your hands on a pair and it won't make your bank account bleed to purchase a couple.
Curious about what to pair your OVO Air Jordans with? Just take a look at Drake's wardrobe, he's still the most popular name in hip-hop and taking some styling tips from the king never hurt anyone.
2017 — Off-White and Nike's "The Ten"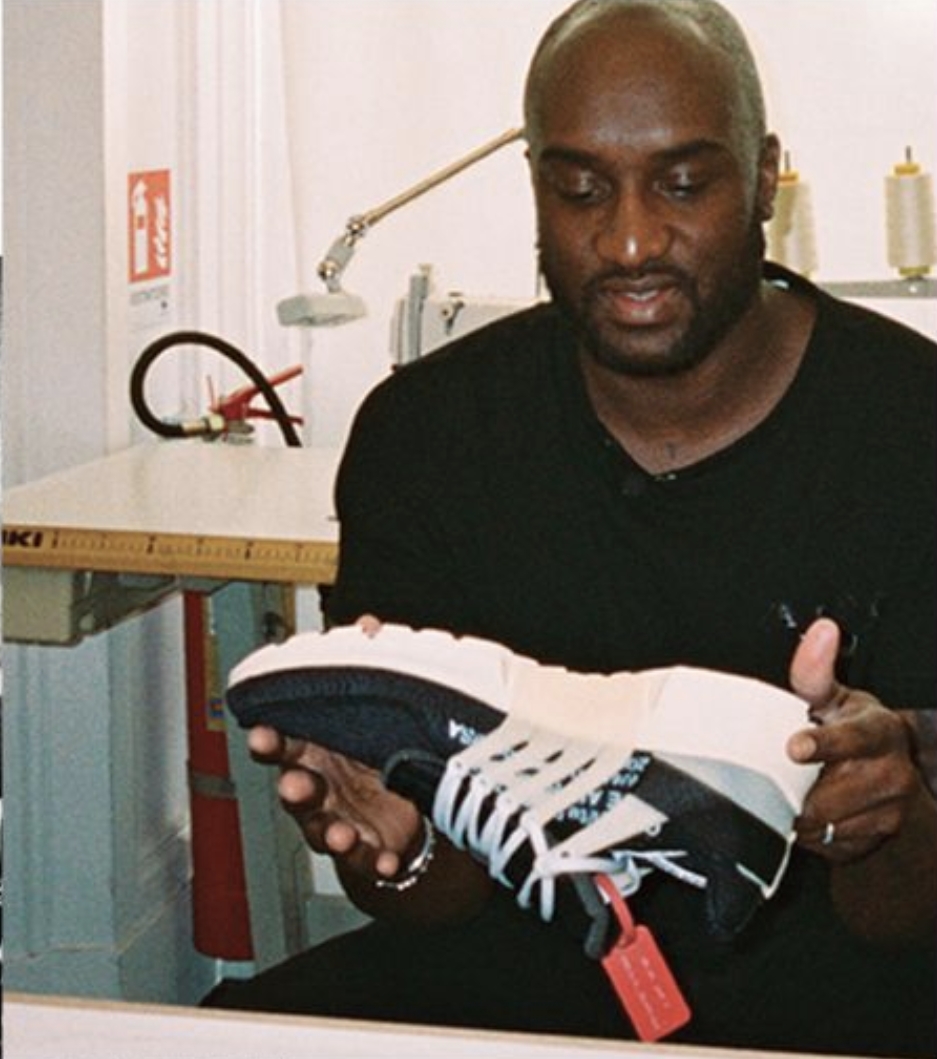 It's too early to predict who the main architect of the coming decade's style will be, but Virgil Abloh has to be the frontrunner. Before Virgil would make history as the first black artistic director for Louis Vuitton, he cut his teeth as an intern at Italian luxury fashion house Fendi, working with Kanye West in 2009 — which would eventually lead to Abloh launching his own label, Off-White.
Off-White specialized in high-end streetwear and it's at the label that Virgil would develop his most recognizable design touchstones, like his liberal use of quotation marks, zip-ties, and a deconstructed aesthetic that continues to appear on contemporary designs to this day.
While Virgil is the only person on this list who isn't directly involved in music (though he had a DJ set at Coachella this year), the designer clearly approaches fashion through a hip-hop-inspired lens, best exhibited by his self-imposed 3% rule — that an item can go from "inspiration" to new product by only changing 3% — which originates from the sample-culture of hip-hop.
To understand Abloh's 3% rule, it's easiest to look towards his collaboration with Nike, "The Ten," which consisted of the designer making minimal changes to already iconic Nike silhouettes. The designs would retain the essence of the original, with the aim of becoming more than the sum of their parts, thanks to Abloh's design changes. He likens this philosophy to how a hip-hop artists sample well-known songs and morph them into tracks that are both familiar and fresh.
How Virgil Abloh Can Help You Level Up
Virgil Abloh may be one of the architects of the coming decade, but the designer's true recipe for success is because he understands and respects the classics. His "The Ten" collaboration with Nike works because Abloh gets that a drastic and striking look is only powerful if it stands in juxtaposition to its surroundings. Follow Abloh's 3% rule and make small changes to your wardrobe that are powerful enough to stand out, but subtle enough to be appreciated. Think sneakers with a suit, or blue jeans with a button-down. Always seek to straddle the line between the casual and the formal.

2018 — Savage X Fenty
Okay, so this isn't streetwear… exactly. Or, it kind of is but it's also bigger than that. We've reached the end of the road for straightforward streetwear x hip-hop collabs. It's time for a new era. Through Rihanna's Fenty Cosmetics and Savage X Fenty, the singer has successfully gone where no other hip-hop artist has gone before — cosmetics and lingerie.
Savage x Fenty was launched in 2018 as an expansion of Rihanna's Fenty Beauty cosmetics company, itself in partnership with LVMH's Kendo Brands, making her the first woman and woman of color to create an original fashion line through LVMH. Fenty joins the ranks of luxury fashion houses like Louis Vuitton, Givenchy, and Marc Jacobs — all brands whose recent designs borrow liberally from urban streetwear.
Two years since it's launch in the cosmetics sector, other makeup brands have since expanded their products to include a wider range of makeup shades for a variety of skin tones, inspired by Fenty Beauty's first big move: offering 40 different shades of foundation that spanned across the spectrum from the fairest skin to the darkest, a move that single-handedly revolutionized the makeup industry.
Through Savage X Fenty, Rihanna stuck to her all-inclusive design ethos and applied it to lingerie — offering sizes ranging from XS to 3XL, as well as providing seven different shades of "nude" toned products, and featuring models of all different shapes and sizes during catwalk shows and in photo advertisements.
Rihanna could've easily tackled straight streetwear, but instead, she went for uncharted territory and aimed her sights at an untapped market that was in desperate need of a revolution. Whoever said lightning can't strike twice, never met Robyn Rihanna Fenty.
How Fenty Can Help You Level Up
Always seek uncharted territory when it comes to your own style. If you have an outfit in your wardrobe that you think will work, make it work. There are no rules in fashion — basic people will tell you there are, but elevating your own personal style is just that, it's personal, only you can do it.