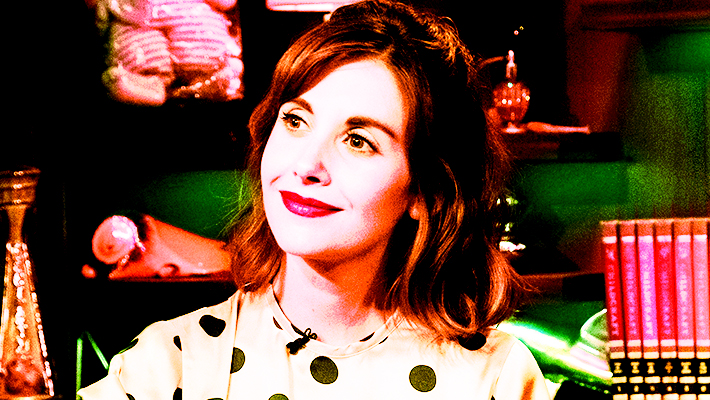 Alison Brie blossomed into a household name through six Community seasons as the sunshine-bright Little Annie Adderall Edison. Soon enough, she stormed Mad Men as Trudy Campbell, stealing scenes despite limited screentime and deftly handing Pete's rear end to him on multiple occasions, proving that she should not be underestimated on any level. It's a testament to Brie's skills that she can portray outwardly optimistic characters who persist despite unseen burdens simmering below the surface. Brie currently brings that same dimension to GLOW's Ruth, the struggling actress and repentant best friend who comes into her own power as alter ego Zoya the Destroya in the wrestling ring.
The Netflix series, of course, recently celebrated a third season. While there was less actual wrestling involved this time around, Brie and her co-stars still trained hard. Brie was gracious enough to discuss how she tackles the physicality of the role, along with how she recovers and prevents injury like an increasing number of athletes do: with the help of CBD. The actress recently partnered with hemp foods manufacturer Manitoba Harvest to help spread their wellness message and launch a line of hemp extract products containing CBD. Naturally, we snuck in some questions about Brie's most beloved roles and what the future could bring for her career.
Can I still congratulate you on GLOW at this point, three seasons in?
Definitely!
What kind of reception have you received for season three?
I think it's been fantastic. Honestly, I try to avoid reading a lot of stuff like that, so I don't read much, but I have heard feedback that people are enjoying this season and certainly, I have been feeling that it's the best season so far. I think the show just gets better and better, the deeper we delve into these characters. Because also, I directed an episode this season, so to me, I was more excited about this season than I was before because it was such a personal, you know, hurdle for me.
Well, the whole season felt more personal, too. GLOW just got a fourth season, but what did you think of where Ruth and Sam ended up?
Oh man, it's pretty heartbreaking. I'm not a person who roots for Ruth and Sam to get together, because I'm so obsessed with Ruth and Debbie's relationship, and I love that they've been the central relationship on the show, so the idea of Ruth and Sam actually getting together is kind of terrifying to me. But I love that they got very close, and I think it's just indicative of Ruth as a human being and how much further she has to go in human development and emotional development. I think that she couldn't handle this situation, this huge disappointment, without it really affecting her feelings for this person. The ending of this season is fraught with a lot of emotion for Ruth, and she needs to reconnect with her own personal dream, not feel as much like she's pulled in directions by these other people, doing what they think she should do or not do.
There was definitely less focus on the wrestling this season. Did you train as hardcore as with previous seasons?
Oh yeah, we always do because we never know what's coming, and we knew that we had a big, character-swapping episode, and that would involve some big matches for everybody. So every season on the show, we do a month of wrestling training before we start shooting, and it's five days a week, three hours a day with all the women in a group. And I do much harder strength training for about two months before we start shooting the show, and that's mostly preventative and protective because we're doing these big moves, we're throwing our body around. I want to build as much muscle as possible to help me with recovery later.
Betty Gilpin said that she's taken a lot of Aleve while making GLOW.
I take a lot of Advil! I take a lot of Epsom salt baths. When we're shooting, I do a lot of deep tissue massage to work things out, and then I take CBD in the evening, and it really helps relax my muscles and calm my mind. And the better sleep you're getting — we all know that sleep is great and good for our bodies, but certainly when you're working so hard physically, it's good to get all that rest.
How exactly does CBD fit into your training and recovery?
Well, lately I've been using the Manitoba Harvest Broad Spectrum Hemp Extract to help me with my muscle recovery, and that's been an addition to a nightly routine in terms of preventing injury and things like that.
What would you say to people who don't understand CBD and aren't up to speed on the difference between hemp and marijuana?
I live in California, where cannabis is legal, so I knew a fair amount about it already. The most important headline is that there's no THC in the Manitoba Harvest with CBD, so CBD can exist without THC, which is what makes you high, and there are products that mix CBD with THC, and you know what? Those are cool, too. For me, when I'm working and when I just want to get rest and don't want to be intoxicated, it's so nice to use CBD on its own, just for calming the mind and muscle relaxation and recovery, and it's not at all about getting high. You can also take it in the morning for focus and calmness if you're feeling extra stressed out. So that's the big difference, and it's not a drug in that way.
This ties into that time you entered a GLOW makeup trailer and thought you smelled weed, right?
Oh yeah. Some of the women on GLOW were using [another] topical CBD cream for muscle soreness [with THC], and it did smell a lot like weed. I was like, "What are you guys using, and why are you doing it now, before we're shooting?" I find the creams to be less effective. [And] people need to understand that hemp doesn't mean cannabis or getting high or psychedelics or anything like that.
So one of the joys in talking to anyone who starred on Community is asking you guys about whether you've heard anything new about a movie.
I haven't heard anything new lately, but you never know.
Well, cunning rascal Joel McHale answered that question by telling us that seven movies were written.
He knows more than I do!
Yeah, he made up an entertaining fake-answer. Speaking of which, you've briefly mentioned how the Community cast has an ongoing text chain.
Yes, we do!
Who's the chattiest person of the bunch? Who sends the most memes?
Oh, Ken Jeong for sure. Ken is the chattiest of the bunch, and I would credit him fully with keeping the group together.
Does anyone ever ghost on the chain?
We stay pretty active, the people on the chain. It's not the entire cast. I feel like I can say that Chevy Chase is not on the chain, and you know, we don't bother Donald Glover these days. He's pretty busy, but those of us on the chain are active.
Over the past years, you've auditioned for multiple Marvel movies. Are you aware that comic book fans on Reddit are pulling for you to play She-Hulk on Disney+?
Oh my god, I saw a photo of me on Instagram as She-Hulk. I don't know if we can call it a campaign, but I'd certainly support it.
Let's close with you saying hello to an old friend. Recently, you Instagrammed a clip of Mad Men's Trudy and Pete dancing. What do you think those two are doing now, and would you be willing to revisit it?
I love the happy ending, and I just like to think of them getting a nice sort-of redo, if they moved out of the city and out of New York. I like a happily ever after ending for them. Mad Men ended really beautifully in the way that it should, so I never think about that continuing, since it was so perfectly done.
It remains a great clip, though.
Thank you. It's one of my favorite scenes that we shot. We trained. I think we did a month of dance classes before shooting that scene.
The third season of 'GLOW' is currently streaming on Netflix.