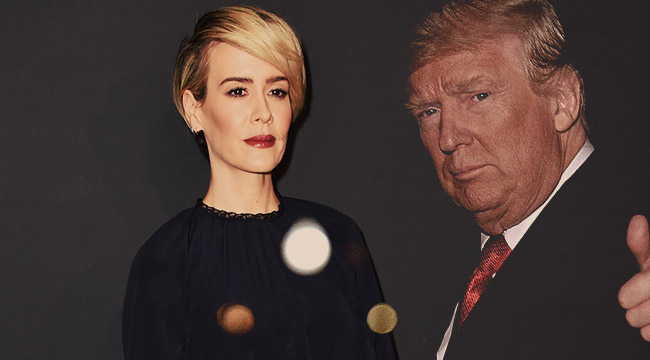 Even though Ryan Murphy and the American Horror Story team made up a "completely batsh*t thing" to satisfy a tax benefit requirement, said thing is now the plot for the election-themed seventh season. Yes, that's right — the next vignette on AHS will be none other than the real-world horror America lived through during the 2016 presidential election. Whether or not Donald Trump, Hillary Clinton and other real people will appear as characters remains to be seen. Unless, of course, you ask AHS and The People vs O.J. Simpson: American Crime Story alum Sarah Paulson.
Following a panel featuring the show's cast and crew at Sunday's PaleyFest event, the Hollywood Reporter caught up with the Emmy Award-winning actress to pick her brains about the new season. Who would she play? "I'd like to play Donald Trump," she responded, with complete seriousness:
"If Donald Trump is going to be in a character in it," she said, adding that prosthetics would likely be involved. "Why not? That's an acting challenge to be sure."
Considering Melissa McCarthy's brilliant turn as Press Secretary (and male) Sean Spicer, and Kate McKinnon's performance as Attorney General (and male) Jeff Sessions, perhaps it's a challenge Murphy ought to issue Paulson. After all, she's game.
Then again, it all depends on whether or not Trump will actually appear. In separate interview, Murphy stated the president and his Democratic rival would, and wouldn't, appear in the seventh season. And with the extreme secrecy surrounding AHS: Roanoke last season, it's no surprise Murphy won't say which is the case. Even so, Paulson is confident "whatever the angle he's going to take," the showrunner will "make us interested and make our eyes and ears open probably in a way that we hadn't thought about."
(Via the Hollywood Reporter)