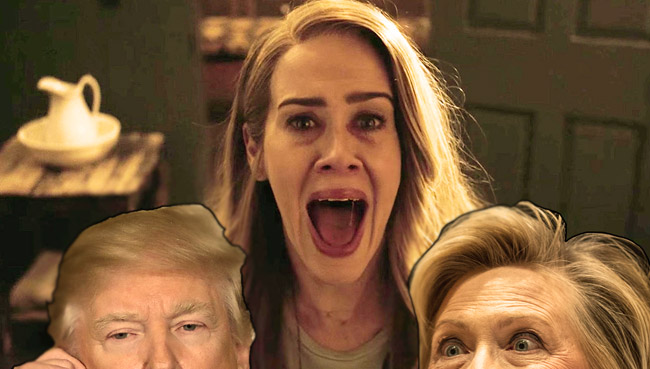 As you may have heard by now, the upcoming seventh season of American Horror Story will focus on the very real horror story that was the 2016 election — something many of us would rather sooner forget. Details are still sparse as far as what the plot of the season will actually entail and whether or not it will feature Donald Trump and Hillary Clinton — depending on which Ryan Murphy interview you believe — and even after Sunday's PaleyFest panel, we're not any closer to finding out.
One of the topics of conversation during the panel, which was not attended by Murphy himself but featured several members of the regular cast along with co-creator Brad Falchuk and executive producer Tim Minear, was the highly secretive nature of the sixth season, American Horror Story: Roanoke. Minear lamented that no matter how hard they tried to keep everything under wraps, eventually the plot leaked. He then inadvertently dropped the following nugget about the upcoming season in recalling the lengths Murphy went to keep the sixth season a secret.
"At the beginning of every season, in order to secure the tax benefit, you have to give a synopsis of what you're doing," Minear said. "That was not okay with Ryan, but we had to give them something, so we made up this completely batsh*t thing for those two paragraphs and the funny thing is, we're doing it this year."
This would have probably taken place in the early part of 2016, when it was becoming clear that Trump was a serious contender for the Republican ticket and everything really started to go off the rails. And as we all now know, the election would only continue to provide plenty of fodder to work with.
(Via EW)