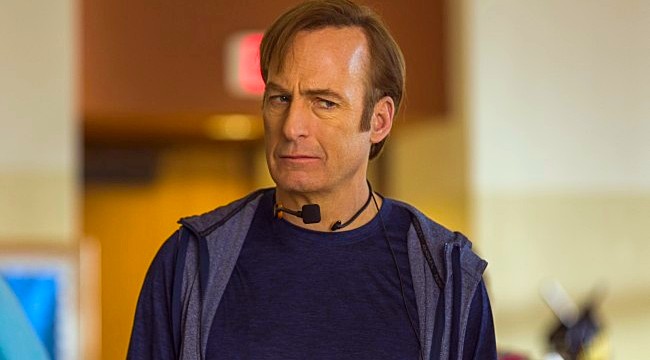 The season four premiere of Better Call Saul, AMC's hit prequel series to Breaking Bad, does not air until August 6. Yet this didn't stop star Bob Odenkirk and creator Vince Gilligan from diving into the show's origins while teasing what's to come at the ATX Television Festival. According to Entertainment Weekly, the pair spent plenty of time promising all of the major revelations and dramatic developments that awaited Better Call Saul fans this season. They also had lots to say about how the Breaking Bad prequel came about — especially Odenkirk, who surprised everyone else with a cameraman's throwaway joke.
In Saul Goodman's Breaking Bad debut, the episode titled "Better Call Saul," the character reveals to Walter White (Bryan Cranston) he used to be Jimmy McGill. After they finished filming the scene, a cameraman turned to Odenkirk and quipped, "Can I get a job in the sequel?" It was just a comment made in jest, but according to Gilligan, this was the first time he'd ever heard of it. "They were way ahead of us" he said when comparing it to the Better Call Saul pitching process timeline:
"It was a joke, and then we joked about it so often in the writers' room we thought maybe it's not a joke," he said. "By the time Breaking Bad wrapped up, we started talking to Sony."
Gilligan also talked about how he and eventual Better Call Saul showrunner Peter Gould pitched the show to AMC and Sony as a sitcom, a point he's made before. Aside from these reflections, however, he and Odenkirk couldn't help teasing the festival audience about the upcoming fourth season. The death of Chuck McGill (Michael McKean) will "reverberate" throughout the story, and those "intrigued" by Jimmy's relationship with Kim Wexler (Rhea Seehorn) should be weary. "This next season is gonna knock you out," said Odenkirk.
(Via Entertainment Weekly)