Welcome back to our weekly breakdown of the minutia of Vince Gilligan and Peter Gould's Better Call Saul. While Brian Grubb provides his always excellent coverage of the series (here's his write-up of the most recent episode), here we will look at some of the details viewers may have missed, callbacks to Breaking Bad, references to other shows or movies, and theories on the direction the series is heading. We scour Reddit threads, Twitter, listen each week to the phenomenal Better Call Saul Insider Podcast, and attempt to curate the best intel about each episode.
In this week's episode, Kim and Jimmy grow apart.
1. Before I say anything else, can I just say this about that teaser? It's one of the saddest, most heartbreaking montages I've ever seen, and one of the best in a series full of great ones. It's not that anything in the teaser itself is particularly sad; it's the import of what is happening. Through four seasons, Jimmy and Kim have been steady rocks. They've had fights and disagreements and they've been through some horrible moments, but they've always been together. To see them drift apart naturally without even fighting over the course of eight months in a five-minute montage was hugely painful because we know what it means. It means that Jimmy and Kim probably won't be together during the Saul Goodman years. It means that Kim is headed for a fall. It means that season 4 is to Kim what season 3 was to Chuck.
And it might just mean not seeing Rhea Seehorn anymore or much at all in season 5. One of this season's regular editors on Better Call Saul, Chris McCaleb — who was editing the finale around the time he taped the podcast — said the montage made him cry, and that actually made me think he knows something about what's coming at the end of the season that we do not, which made that montage all the more heartbreaking.
2. In one simple shot during a montage, we learn why Jimmy uses the name Saul Goodman as a lawyer when his suspension ends and he begins his new practice. It's because that's the name he uses to sell his phones, and because he's met a lot of his future clients selling those phones, and because those future clients know him not as Jimmy McGill, but as Saul Goodman. It's such an easy transition from "Need to Call? Buy from Saul!" to simply "Better Call Saul."
To those viewers who have complained over the past four seasons that it's taken too long to get to the Saul Goodman years, how are you feeling about that now? He's upon us, and I've never wanted anything less. I am really going to miss Jimmy.

3. There's a fairly interesting backstory on the song choice, too. The original choice was Leonard Cohen's "Perfect Day," but it was so well-used and so memorable in Trainspotting that the music supervisor Thomas Golubić didn't feel comfortable using it here. Their next choice was Frank and Nancy Sinatra's "Something Stupid," which is kind of weird tune because it's a love song performed by a father and daughter. But that's not why they didn't use that version: It was because it was too short. So, they actually commissioned a band from Israel called Lola Marsh to perform a 5-minute version for the montage, which is more difficult than one might think. Golubić had only a few days to find a band that was OK to perform a song and completely hand over the rights to Sony, which insists upon owning the rights outright in situations like these. Golubić got a lot of demo submissions, narrowed it down to 14, then narrowed it down again to two, had both of them work on it, until finally he settled on Lola Marsh. After, he had to talk them through the details of exactly what he wanted on a three-hour Skype call to Israel, where it was four a.m.
It worked out splendidly.
4. I've read in a few places that the time jump was eight months, although on the Insider podcast they said it was 10 months. The PPD forms in the montage, however, show about six to seven months, from June 2003 to January 2004. The pilot episode of Saul was set in May 2002, which means that less than two years have passed in four seasons, and we're still four years away from the events in Breaking Bad, which begin in 2008. There's still a lot of time between now and the events in Breaking Bad, but I do wonder how many seasons viewers would even want to spend with Saul Goodman. He's not a particularly likable character. Funny, yes! Likable? Not really.
5. The episode itself had two Saul newcomers in writer Alison Tatlock and director Debra Chow, both doing their first episode of Saul. In directing the episode, Debra Chow basically treated it like two episodes — the montage, and the episode proper. From a directing standpoint, maybe the most interesting thing about the montage was the scheduling difficulties. The writers tried to limit the number of locations so that Chow could film all the pieces from each location before moving onto the next. The difficulty, however, arose in Kim's cast. That's a real cast that Rhea Seehorn has been wearing all of this time, so after she had it removed, they had to go back to her locations again and do the scenes without the cast (although in one case, they did cheat and hide the cast while they were shooting).
And to stress, again, the attention to detail in this show: The costume designer put a "costume document" together for the montage, showing what costumes could be worn, taking into account the seasons as they changed.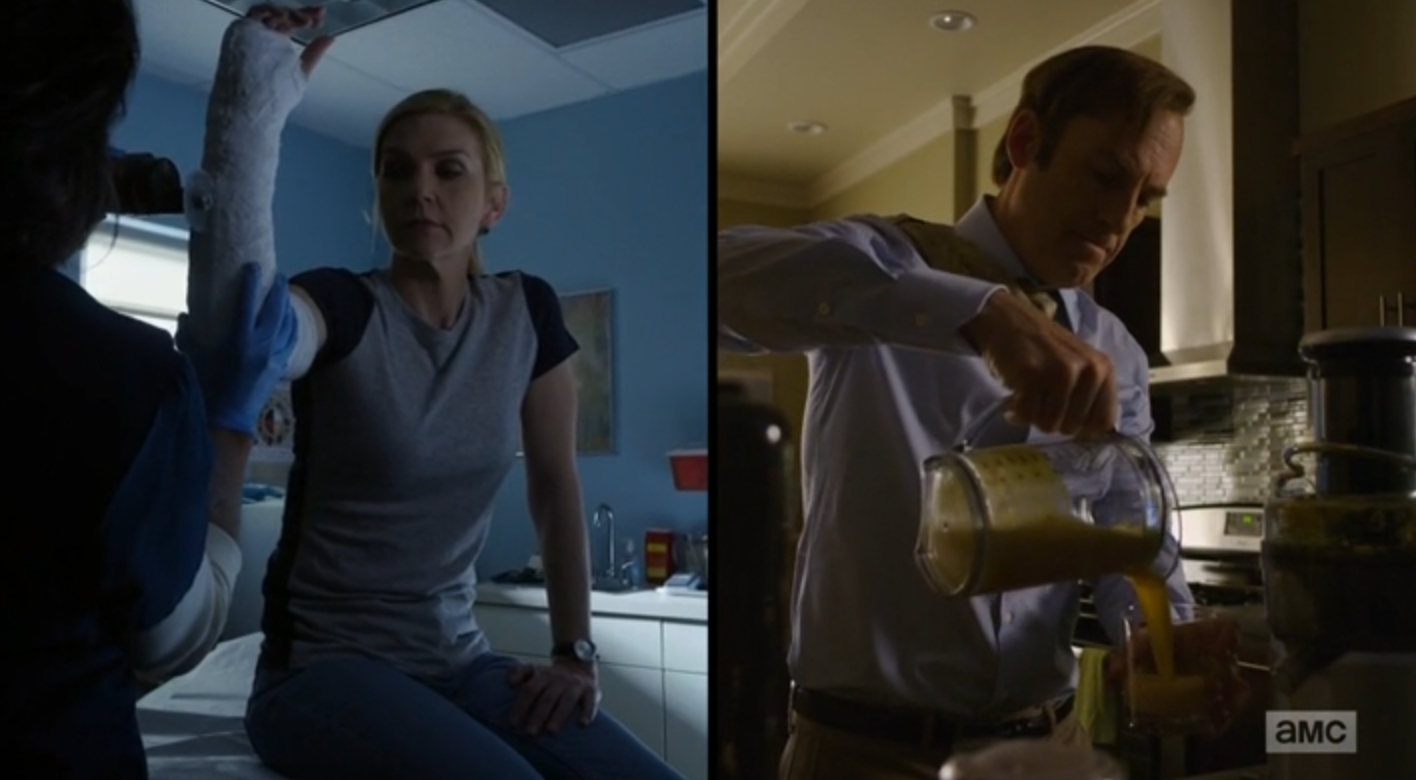 6. The office scene — where Jimmy shows Huell around (although his intended audience is eventually Kim) — is another oner, one continuous shot. They shot it about 10 or 11 times, and ended up choosing one of the final takes. What I like about the office scene is that, even though they have drifted apart, Jimmy is at least still clearly trying to impress Kim, although I do wonder if — heartbreakingly — he believes that Kim is going to see his new office and change her mind and decide to go into business with him again. Oh, Jimmy. She's never going to partner with you, buddy.
7. An interesting note about Gus Fring's kitchen: It didn't change one bit between here, in 2004, and when we see it again in Breaking Bad. More interestingly, he makes the exact same dish — a Chilean stew called paila marina — for Hector's doctor as he does later for both Walter and Jesse at separate points. Either Gus really likes paila marina, or he doesn't have anything else in his cooking arsenal.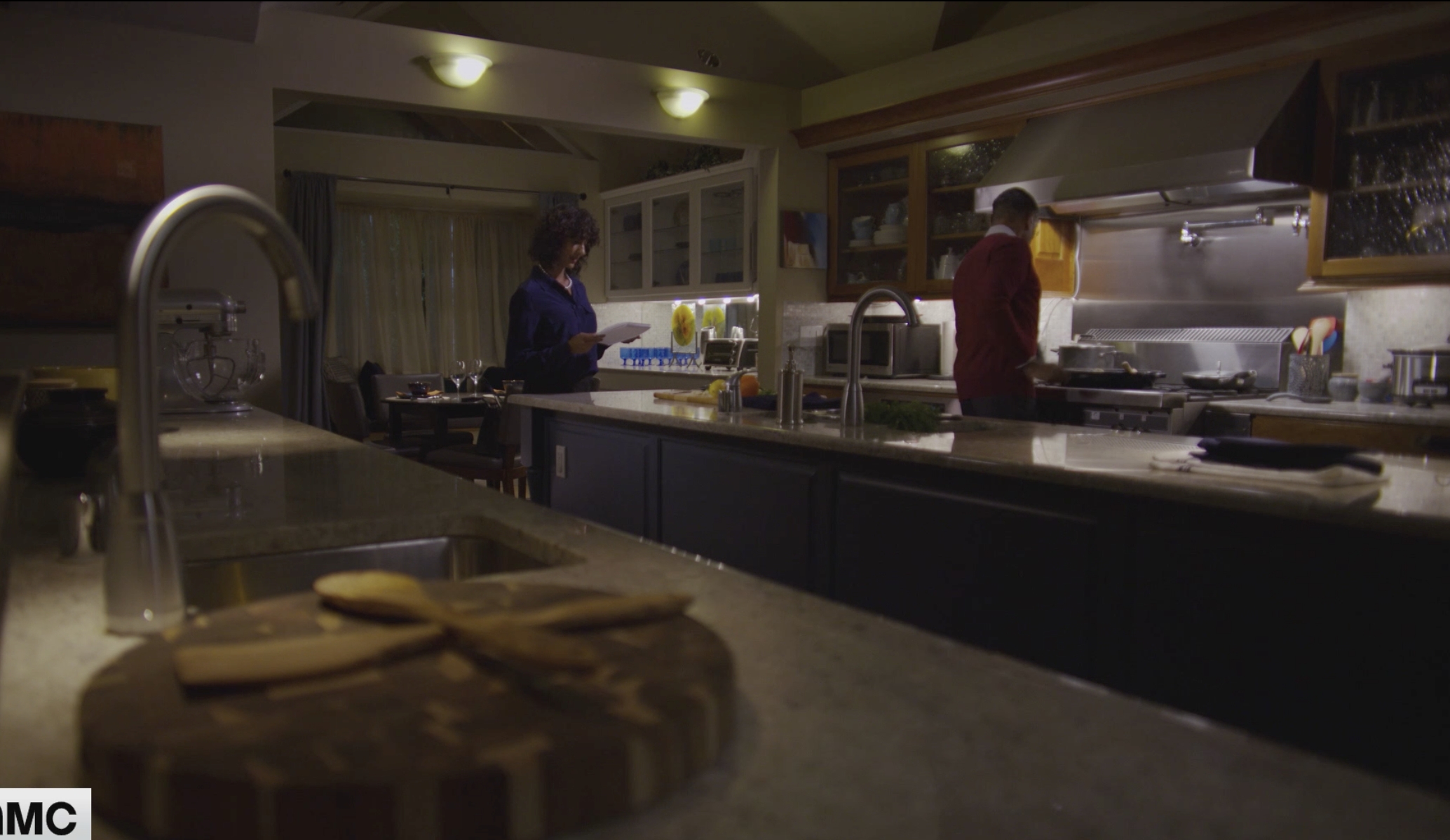 8. The expression on Kim's face when the prosecutor called Jimmy a "scumbag disbarred lawyer who peddles drop phones to criminals" was an incredible combination of horror, defensiveness, acknowledgment and hurt. It was perfect. On the other hand, that prosecutor had a reason to call Jimmy a scumbag. They have a history together. She is the same prosecutor who Jimmy spoke to when he told her that the gun that Mike found was not Tuco's, basically blowing up the prosecution's case against Tuco back in season two, episode 7 ("Inflatable").
9. I have no idea what Kim plans to do with all of those art supplies. But Peter Gould did say this in the Insider podcast. "Her plan is really rewarding. I really love what she does. Her plan is very satisfying." Expect another fun mini-caper in next week's episode.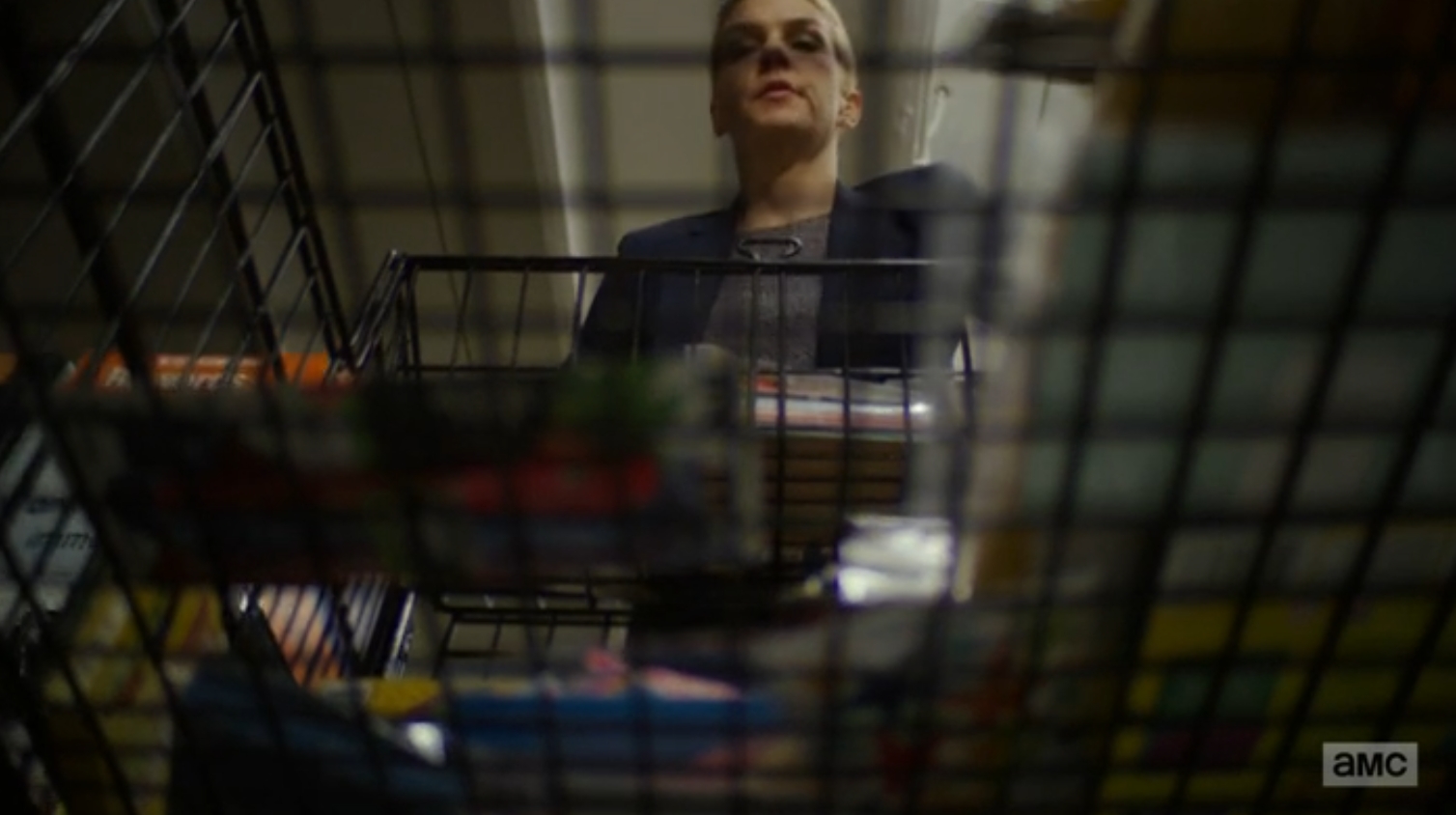 10. One final note: On the podcast, Peter Gould started talking about an embarrassing earlier work that he is nevertheless still proud of. In fact, he had just finished recording a commentary track for the 25th Anniversary Blu-ray of the first film he ever wrote: Double Dragon.
Needless to say, Peter Gould has come a long way.
Source: Insider Podcast