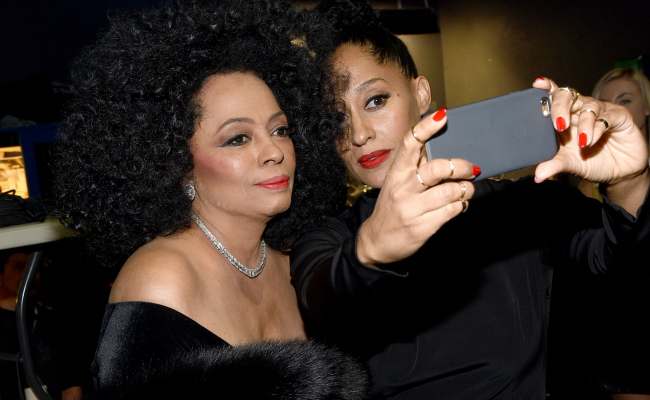 Most children are quick to bestow their parents with the "most embarrassing" superlative when fawning over their achievements. However, living legend Diana Ross took her parental praise to the next level when she found out her daughter, Tracee Ellis Ross had been nominated for an Emmy for Outstanding Actress in a Comedy.
The 43-year-old celebrity in her own right who plays Rainbow Johnson in the ABC sitcom Black-ish has previously been awarded five NAACP Image Awards along with a BET Award for the role. However, this is Ross' first Emmy nomination.
Upon learning she's up for the prestigious award, Ross told People that the first person she called was her mom, stating, "She was really cute and we screamed for a little bit." In response, what is presumably the dream of all non A-lister parents, the 72-year-old icon took out a full page ad in The Hollywood Reporter congratulating her second eldest within her clan of five.
Welcoming the sweet, if not over the top gesture of her famous mother, the younger Ross tweeted the photo out to her 669K Twitter followers gushing over her family's flattery and utilizing the hashtag #RossFamilyRocks.
Ross' competitors for this year's Emmy award in the category of Outstanding Actress in a Comedy are Julia Louis-Dreyfus (Veep), Amy Schumer (Inside Amy Schumer), Ellie Kemper (Unbreakable Kimmy Schmidt), Laurie Metcalf (Getting On), and Lily Tomlin (Grace and Frankie). She's only the second black woman in history to be nominated for this award after Phylicia Rashad being the first in 1986.
So if you're one to embarrass easily, just be thankful your mother was never the lead singer of The Supremes.