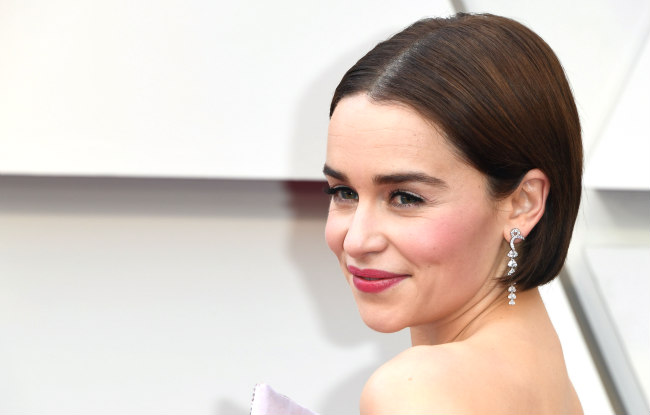 When actors talk about nearly dying while filming a TV show or movie, it's usually because of a stunt gone wrong or they were "full-on" choking while eating spaghetti. But not Emilia Clarke. Her life almost came to a tragically short end twice while filming Game of Thrones, once right after season one wrapped and again after completing season three, both times due to an aneurysm.
Clarke opened up about the "battle for my life" for the first time in the New Yorker. "On the morning of February 11, 2011, I was getting dressed in the locker room of a gym in Crouch End, North London, when I started to feel a bad headache coming on," the Emmy winner wrote. Before long, she was "violently, voluminously ill" and trying to keep her memory "alive" by recalling lines from Game of Thrones. Clarke was taken to the hospital, where she got an MRI:
"The diagnosis was quick and ominous: a subarachnoid hemorrhage (SAH), a life-threatening type of stroke, caused by bleeding into the space surrounding the brain. I'd had an aneurysm, an arterial rupture. As I later learned, about a third of SAH patients die immediately or soon thereafter. For the patients who do survive, urgent treatment is required to seal off the aneurysm, as there is a very high risk of a second, often fatal bleed. If I was to live and avoid terrible deficits, I would have to have urgent surgery."
Three hours later, she awoke. The pain was unbearable and she had trouble communicating. "Nonsense words tumbled out of my mouth and I went into a blind panic. I'd never experienced fear like that — a sense of doom closing in. I could see my life ahead, and it wasn't worth living," she wrote. "In my worst moments, I wanted to pull the plug. I asked the medical staff to let me die. My job… centered on language, on communication. Without that, I was lost." Clarke recovered, though, and left the hospital a month later. But the anxiety was always there. "On the set, I didn't miss a beat, but I struggled," she admitted. "Season two would be my worst. I didn't know what Daenerys was doing. If I am truly being honest, every minute of every day I thought I was going to die."
In 2013, while she was performing on Broadway in Breakfast at Tiffany's during a break between seasons of Thrones, Clarke went in for a brain scan and doctors discovered that a "growth on the other side of my brain had doubled in size." Doctors suggested surgery, a routine procedure, she was told, but "when they woke me, I was screaming in pain. The procedure had failed."
"I spent a month in the hospital again and, at certain points, I lost all hope. I couldn't look anyone in the eye. There was terrible anxiety, panic attacks. I was raised never to say, 'It's not fair'; I was taught to remember that there is always someone who is worse off than you. But, going through this experience for the second time, all hope receded. I felt like a shell of myself. So much so that I now have a hard time remembering those dark days in much detail. My mind has blocked them out. But I do remember being convinced that I wasn't going to live." (Via)
Clarke has had setbacks since then (out-of-context quote: "I figured, if I'm going to go, it might as well be on live television"), but she survived. Now she's using her celebrity to work with a charity, SameYou, that provides for people recovering from brain injuries and stroke. For more information, click here, and head over to the New Yorker for the rest of Clarke's story.
(Via New Yorker)