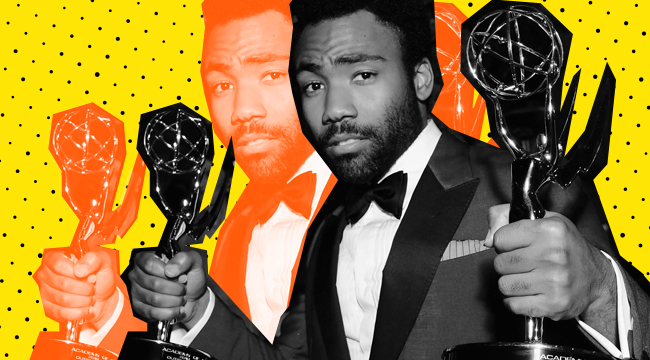 The 2018 Emmy nominations are out. Speculation season is upon us. Below, two of Uproxx's TV writers, Brian Grubb and Pilot Viruet, do just that, giving you a probably-too-early take on the nominees and probable/possible/hopeful winners. There will be more analysis later. Probably. Until then…
Outstanding Drama Series
The Handmaid's Tale
Game of Thrones
This Is Us
The Crown
The Americans
Stranger Things
Westworld
BG: I would very much like to see The Americans win this, both as a reward for a great final season and as a kind of Career Achievement award. I would also like to point out that the most recent season of Game of Thrones feels like it aired in 2011. It was so long ago that I barely remember what happened. The Night King killed a dragon. That's all I got.
PV: My dirty secret is that I have not yet finished The Americans because I am not at all ready for it to be over! But there is no doubt in my mind that it must have stuck the landing because it's always been a hell of a show, so I agree that it should definitely win. If I had to choose a runner-up, it would be This Is Us — not because I think it's good, but because I think it's hilarious NBC's marketing amounts to "Let's gather around and watch this man die!"
Outstanding Comedy Series
Atlanta
Barry
Black-ish
Curb Your Enthusiasm
GLOW
The Marvelous Mrs. Maisel
Silicon Valley
The Unbreakable Kimmy Schmidt
PV: What a stacked category! I would be so happy for a number of these—Barry, Black-ish, GLOW—but my heart belongs with Atlanta. Robbin' Season was such a bizarre, cathartic, and unsettling season of television, but in a way that remained humorous throughout, which is no small feat for something as eerie as "Teddy Perkins." Plus, Atlanta deserves the win for every single line uttered by Lakeith Stanfield.
BG: Yeah, this is ridiculous. Just loaded, and so much different kinds of comedy represented. In another year, maybe GLOW or Barry takes this home. In yet another year, maybe The Good Place pulls it off…WAIT A SECOND THE GOOD PLACE WASN'T NOMINATED? Now I'm angry. Not angry enough to, say, make some wild claim like "Atlanta doesn't deserve to win," because it does and should and will, but still pretty steamed.
Outstanding Limited Series
The Alienist
The Assassination of Gianni Versace: American Crime Story
Genius: Picasso
Godless
Patrick Melrose
BG: Shouts to The Alienist for getting nominated for an Emmy. I didn't watch it and I don't think I heard a single person mention it once in real life or online, but still, an accomplishment all the same. I have no strong opinions about any of these shows so let's say… oh, I don't know… American Crime Story. Although Godless would definitely win if there was a category for Best Mustaches. Which there should be.
PV: American Crime Story is, without a doubt, my top choice (and not just because I refuse to look up Patrick Melrose's deal). ACS lost a lot of people this season, but I don't think it was trying to measure up to its first installment. It was trying to do something much different, quieter, more introspective — and it accomplished all of that. It was gripping even without the theatrics; it was practically a nine-episode long Emmy reel for its cast, and the more I sat with it afterward, the more I appreciated its existence.
Lead Actor in a Drama Series
Jason Bateman (Ozark)
Sterling K. Brown (This Is Us)
Ed Harris (Westworld)
Matthew Rhys (The Americans)
Milo Ventimiglia (This Is Us)
Jeffrey Wright (Westworld)
PV: Historically, this is the Emmy category that I'm always the most lukewarm about and this year is no exception. I could not tell you a single thing about Ozark and I'm pretty over Westworld (though I do think Jeffrey Wright does a good job with the material he's given). That said: I'm pulling for Matthew Rhys who has consistently done a great job from day one, and I'll be happy to see The Americans get any awards.
BG: If there was ever a year for the Emmys to recognize Matthew Rhys and his performance as World's Saddest Man Philip Jennings, this is it, for all the reasons Pilot said. Give him the award if only so we get to see the poor guy smile again. I hope he remembers how.
Lead Actress in a Drama Series
Claire Foy (The Crown)
Tatiana Maslany (Orphan Black)
Elisabeth Moss (The Handmaid's Tale)
Sandra Oh (Killing Eve)
Keri Russell (The Americans)
Evan Rachel Wood (Westworld)
BG: What a deep field. You could make an argument for almost any of them, although I think Evan Rachel Wood might be the longest shot, less because of anything she did than the dead-eyed annihilator role she was given. I think I'd go with either Keri Russell or Sandra Oh, the former because Elizabeth's journey in the final season of The Americans was sad and moving and infuriating, and the latter because Killing Eve and Sandra Oh freaking rule. Both solid qualifications.
PV: I had no clue Orphan Black even qualified this year so that was a nice surprise! But yep, I'm also on Team Killing Eve and Team The Americans, but leaning just a little more toward Sandra Oh. I can't think of anyone else who would've pulled off playing Eve with such aplomb — and it's ridiculous that Killing Eve didn't get a nomination for Best Drama. Plus, if she wins, I can pretend it's also for Grey's Anatomy.

Lead Actor in a Comedy Series
Donald Glover (Atlanta)
Bill Hader (Barry)
Anthony Anderson (Black-ish)
William H. Macy (Shameless)
Larry David (Curb Your Enthusiasm)
Ted Danson (The Good Place)
BG: I will literally eat my computer if Donald Glover doesn't win this. Bill Hader was and is great. It's cool as heck that Ted Danson got nominated for playing a conflicted bow-tie-wearing demon in the year of our Lord 2018. But Donald Glover played Teddy Perkins and no one else on this list did so that settles that.
PV: I'm 100% rooting for Donald Glover and while I won't eat my laptop if he doesn't win, I'll at least slam it shut in anger before reopening it to complain on the internet. But I do want to mention that Anthony Anderson, Bill Hader, and Ted Danson (Ted! Danson!) also had some of my favorite comedic performances this year, so I'm glad to see their names.
Lead Actress in a Comedy Series
Pamela Adlon (Better Things)
Rachel Brosnahan (The Marvelous Mrs. Maisel)
Tracee Ellis Ross (Black-ish)
Allison Janney (Mom)
Lily Tomlin (Grace and Frankie)
Issa Rae (Insecure)
PV: This is usually my favorite category so I love the majority of these nominations (but I really have to start watching The Marvelous Mrs. Maisel, huh?). Pamela Adlon is fantastic and heartbreaking throughout Better Things so I certainly wouldn't be mad if she won. I also adore Tracee Ellis Ross — but I suspect she got this nomination because Black-ish gave her such heavy material this season, which is fine but I just want to shout out the fact that she is an absolutely brilliant comedic actor. But I would personally love to see Issa up there accepting a statute.
BG: I suspect this is a two-person battle to the death between Brosnahan and Rae, or at least it should be. Better Things is a really great show and Pamela Adlon's performance as Sam is a huge part of that but I don't think it did as much for me as the other two. Brosnahan and Tony Shalhoub ended up being one of my favorite comedy duos of the year, which was not something I expected to say or think when I started the show.
Supporting Actor in a Drama Series
Nikolaj Coster-Waldau (Game of Thrones)
Peter Dinklage (Game of Thrones)
Mandy Patinkin (Homeland)
David Harbour (Stranger Things)
Matt Smith (The Crown)
Joseph Fiennes (The Handmaid's Tale)
BG: Something in my gut tells me they're going to try to give this to Matt Smith for playing tuxedoed drip Prince Philip. This will not do. The only person on this list who really moves me is Harbour. I'm not sure Sheriff Hopper is a role that the voters will consider truly award-worthy because Stranger Things doesn't feel like a quote-unquote prestige drama. I hope that doesn't matter. Give my guy a statue.
PV: Every year, around this time, I think "I really should start watching more dramas over comedies" but then I look at a category like this and think, "Nah, actually I'm fine." There's not a single person that jumps out and I'm sure I'll be bored with whoever actually wins. Sorry!

Supporting Actress In A Drama Series
Lena Heady (Game of Thrones)
Millie Bobby Brown (Stranger Things)
Vanessa Kirby (The Crown)
Alexis Bledel (The Handmaid's Tale)
Ann Dowd (The Handmaid's Tale)
Yvonne Strahovski (The Handmaid's Tale)
Thandie Newton (Westworld)
PV: So, here's the thing: I don't watch Game of Thrones or The Crown, I never watched the second season of Stranger Things, and I quit this season of The Handmaid's Tale because I was sick of how depressing it is. By default, that leaves Thandie Newton (who is great!) for Westworld (which is eh!). But, in the episodes I have watched, I think Yvonne Strahovski did an impressive job with a tough character — I'll root for her.
BG: Yeah, so I also didn't/couldn't watch Handmaid's, which kneecaps my ability to assess a category in which it got almost half the nominations. I'm also annoyed that Halt and Catch Fire got shut out completely, and I wonder if maybe Mackenzie Davis and Kerry Bische should have submitted for this category instead of lead, just to try to wiggle in there. So with all that said, I will root for Thandie Newton, because no one else on television this year orchestrated a robot samurai massacre while an old-timey Wu-Tang cover played in the background.
Supporting Actor in a Comedy Series
Brian Tyree Henry (Atlanta)
Henry Winkler (Barry)
Louie Anderson (Baskets)
Alec Baldwin (Saturday Night Live)
Kenan Thompson (Saturday Night Live)
Tony Shalhoub (The Marvelous Mrs. Maisel)
Tituss Burgess (Unbreakable Kimmy Schmidt)
PV: Another great category! How wonderful would it be if Brian Tyree Henry won? Or if Henry Winkler got his FIRST Emmy? But it should be Kenan Thompson who, quite frankly, has deserved an Emmy since his days on All That. He's hilarious even in the worst Saturday Night Live episodes, and doubly so whenever he's hosting some game show. Actually, now that I'm thinking about it, can we fire Michael Che and Colin Jost and let Kenan host the Emmys? Thank you in advance.
BG: WINKLER! PAPER BOI! SHALHOUB! KENAN!
I love this category so much and will be very happy as long as Alec Baldwin does not win. I'm just going to pretend he was not nominated. It's better for everyone.
Supporting Actress in a Comedy Series
Zazie Beetz (Atlanta)
Betty Gilpin (GLOW)
Laurie Metcalf (Roseanne)
Aidy Bryant (Saturday Night Live)
Leslie Jones (Saturday Night Live)
Kate McKinnon (Saturday Night Live)
Alex Borstein (The Marvelous Mrs. Maisel)
Megan Mullaly, (Will & Grace)
BG: I'm pulling for Zazie Beetz or Kate McKinnon and I am now especially pulling for a television series starring the two of them as lawyers.
PV: This category definitely could be a little better but sure, I'll take it. Betty Gilpin is a long shot but it would be fantastic if she won, and then we can reward Beetz and McKinnon in the sixth season of Brian's lawyer show.
Lead Actor in a Limited Series or a Television Movie
Antonio Banderas (Genius: Picasso)
Darren Criss (The Assassination of Gianni Versace: American Crime Story)
Benedict Cumberbatch (Patrick Melrose)
Jeff Daniels (The Looming Tower)
John Legend (Jesus Christ Superstar)
Jesse Plemons (USS Callister)
PV: As much as I love the idea of us throwing Emmys at John Legend for playing Singing Jesus, I have a feeling that won't happen. Jesse Plemons has a good shot to take this home, but Darren Criss is definitely the standout. The Assassination Of Gianni Versace was a tough watch — especially if you were expecting another People v. O.J. Simpson — but it was more an intimate character study than anything else and Criss effortlessly pulled off playing the real-life killer with depth, intensity, and care.
BG: Here for "throwing Emmys at John Legend for playing singing Jesus."
Lead Actress in a Limited Series or Movie
Laura Dern (The Tale)
Jessica Biel (The Sinner)
Michelle Dockery (Godless)
Edie Falco (The Menendez Murders)
Regina King (Seven Seconds)
Sarah Paulson (American Horror Story: Cult)
BG: I honestly have no clue what to make of this category, largely because I skipped most of these shows. I wanted to like The Menendez Murders so much and I did not but Edie Falco and her hair were the best parts of it. Regina King is great. Sarah Paulson is great. Laura Dern is great. Jessica Biel loses points because The Sinner was only her second best performance of the year, which I can say with confidence even though I didn't see it because I saw her performance in BoJack Horseman.
PV: This is a weird category: so many wonderful, talented women in so many mediocre, lackluster programs. American Horror Story was a mess, Law & Order True Crime was a disappointment, and Seven Seconds was only fine but their respective lead actresses gave it their all. I would be absolutely thrilled if Regina King won, because I am thrilled when she does anything, but I miiiight be leaning more toward the always-fantastic Laura Dern for the actually-good The Tale.
Outstanding Supporting Actor in a Limited Series or Movie
Jeff Daniel, Godless
Ricky Martin, The Assassination of Gianni Versace: American Crime Story
Brandon Victor Dixon, Jesus Christ Superstar Live in Concert
Edgar Ramirez, The Assassination Of Gianni Versace: American Crime Story
Finn Wittrock, The Assassination Of Gianni Versace: American Crime Story
Michael Stuhlbarg, The Looming Tower
John Leguizamo, Waco
BG: Jeff Daniels was good in Godless and the Emmy voters sure do like to give awards to people who already have them but I really like the idea of Ricky Martin winning an Emmy so let's go with that.
PV: All three men from Assassination Of Gianni Versace deserved this nomination and I'd be happy if any of them won, but especially Finn Wittrock who had a memorable, devastating performance as one of Andrew Cunanan's victims. His central episode was, hands down, the best of the season. But I also agree with Brian about Ricky Martin — let's get him halfway to an EGOT.
Outstanding Supporting Actor in a Limited Series or Movie
Adina Porter, American Horror Story: Cult
Letitia Wright, Black Museum (Black Mirror)
Merritt Weaver, Godless
Penelope Cruz, The Assassination of Gianni Versace: American Crime Story
Judith Light, The Assassination of Gianni Versace: American Crime Story
Sara Bareilles, Jesus Christ Superstar Live in Concert
PV: I'm pleasantly surprised that Letitia Wright got recognized! And ditto Judith Light, who was my absolute favorite part of Assassination of Gianni Versace (I don't think I'll ever be emotionally ready to rewatch the series but I have rewatched some of her scenes). But, even though I haven't seen Godless, wouldn't it be great if Merritt Weaver won just based on her last Emmy acceptance speech?
BG: This is Judith Light's award. I was not super into the second season of ACS, in general, but her performance was so good. Merritt Weaver was great, too, but I don't know if Godless ever really penetrated enough to bump her over what Light did in a big splashy show from a big splashy showrunner. Also, if I mention Judith Light I get to post the GIF of her doing cocaine at the rodeo from the TNT version of Dallas. Quite frankly, I'm not strong enough to pass up that opportunity.