The Game of Thrones Death Watch is a weekly roundup of who died and who looks like they might be headed for death, written by me, a person who has not read the books and will go a long, long way to make a very stupid joke. This is what we're doing here. This is not science. Please do not yell at me.
Season 8, Episode 6 – "The Iron Throne"
WHO DIED THIS WEEK?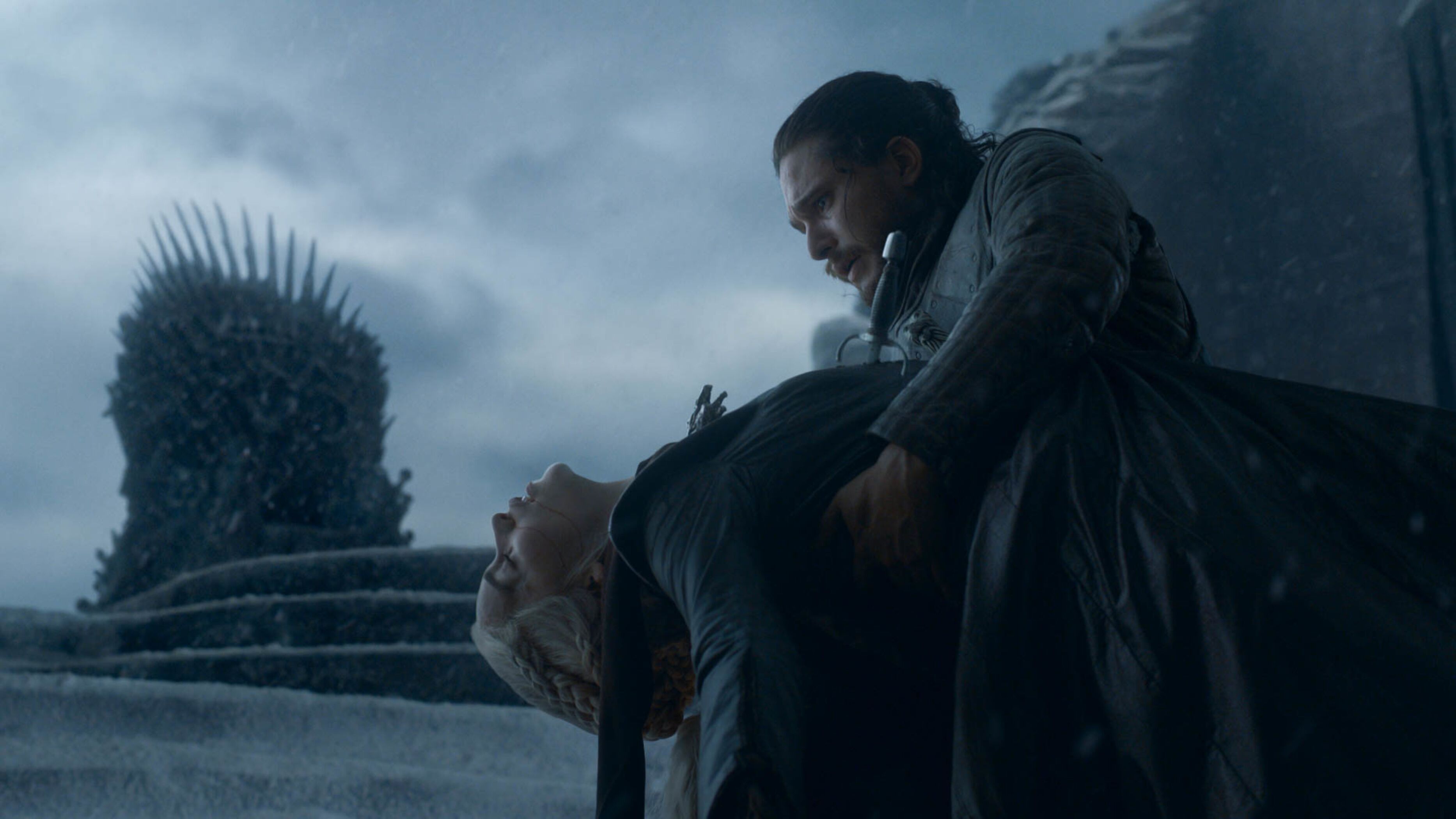 Daenerys Stormborn of House Targaryen, the First of Her Name, Queen of the Andals and the First Men, Roaster of Peasants, the Mother of a Dragon, Breaker of Chains, Possessor of Righteous Braids
A few notes on the death of the Dragon Queen:
– The show was painted into a corner after last week's extended bit of fire-based chaos. There were two options: Kill Dany or kill Jon. The former would feel justified(-ish) after seeing all those torched women and children, the latter would be nihilistic and bleak and kind of funny, to be honest, like "whoops, none of this political theater mattered, the lady with the dragon just wins, sorry." So, really, there was but one option. Dany was doomed the second she ignored those bells. Game of Thrones has gone dark before and killed people in shocking bursts of actions, but I don't think you can let someone cook a full city and remain queen. Not on a television show, at least.
– I did appreciate the way the show tried to justify her actions through something other than a sudden onset of madness or grief. Tyrion's monologue to Jon and Dany's monologue to Jon — Jon sure does get monologued to a lot, which will happen when you're as dumb as the rubble you're standing on and need everything explained to you — both painted it as her buying into her own mythology, a mix of her strong belief in her destiny and years of excited whooping when she kills people who stand in her way. My only issue was that this tried to have it both ways. You saw her face right before she toasted everything. You saw it again after the deaths of Jorah and Missandei and while talking to Jon before the battle. There was a very clear indication she was losing it and then the show quickly doubled back and portrayed her as rational and logical (in her own mind). Not sure you can do that.
– The big question was whether it would be Jon or Arya twisting the knife to end it. The case for Arya was that she's a badass assassin and there was that "green eyes" prophecy. I don't know. It made more sense to have Jon do it, I think. It was more personal, and it was Jon's attempt to correct his earlier mistakes, and Arya already killed The Night King, geez, let someone else do something, come on.
– I was getting very strong Simba/Mufasa vibes from the thing where Drogon nudged Dany's lifeless body with his nose. I felt bad for my scaly boy. That's his mom, man. And if I remember Lion King correctly, this isn't going to end well for the people who rule the kingdom until he returns. Hakuna DRACARYS, mothereffers.
The Iron Throne
The Iron Throne was not technically a person but it was as much of a character as anyone on the show. It's what the whole thing was about, mostly, give or take a small percentage dedicated to Tormund's arched eyebrows. Was melting it down with dragon fire perhaps a teensy bit on the nose, and about one step short of Drogon looking dead into the camera and saying "This is symbolism?" I mean, I don't know. Maybe. Probably. But ending a series is really hard and it looked pretty cool just visually so I'm going to let it slide. Besides, Bran is king now so they don't need a throne anymore anyway. My man has his own chair. No harm, no foul.
THE FREAKING ABLE-BODIED HEGEMONY

BRAN
BUILD SOME RAMPS
BUILD THOUSANDS OF RAMPS
LITTER WESTEROS WITH ACCESSIBLE STRUCTURES
REBUILD THE CITY TO LETTER-PERFECT ADA REQUIREMENTS
MAKE SOME WIZARD BUILD YOU A COOLER CHAIR
BAN COBBLESTONES
BAN STAIRS
BECOME A TYRANT
WAIT, NO, DON'T BECOME A TYRANT
ENACT A SET OF FAIR AND JUST LAWS AND THEN FORCE PEOPLE WHO BREAK THEM TO SANDBLAST EVERY PATH IN THE KINGDOM UNTIL IT'S AS SMOOTH AS GLASS
DO IT FOR ME
DO IT FOR EVERYONE IN A WHEELCHAIR
THIS IS OUR TIME
WE ARE THE CHAMPIONS
I'M SORRY ABOUT THE TYRANT THING, I JUST GOT A LITTLE CARRIED AWAY
BRAN
Some Lannister soldiers, whatever, who cares, look at Jon and his very good boy instead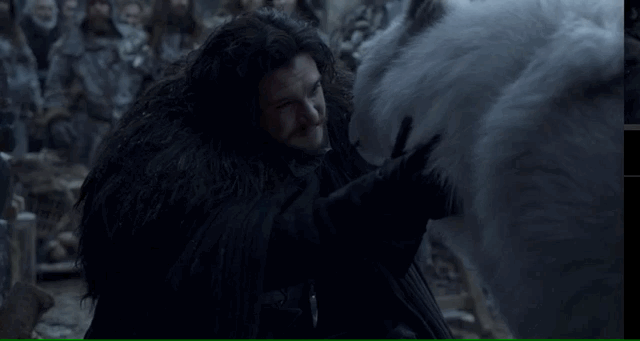 The term "fan service" is often used dismissively as a way to imply that the creators of a work are doing something for the purpose of pleasing the diehards rather than advancing the plot. Sometimes it can be dumb and bad. But you and I don't get to say a single negative word about Jon petting his sweet doggy after being banished to the wall, in part because we all threw a huge unseemly fit when Jon didn't pet him to say goodbye last week and in part because look at that good boy. Look at his soft fluffy fur and big huge nose.
As someone who spent a not-insignificant chunk of last week suggesting that the finale should have just been Tormund and Ghost doing adventures beyond the Wall, I really can't complain that the end of Jon's journey implies that he gets to join them. I imagine most of their time out there will be spent, like, pulling Jon out of mud pits or freeing him from simplistic traps that were set up to catch animals but caught Jon anyway because he's about as bright as one. I would watch this show.
WHO MIGHT DIE?
Uh… quite possibly tens of thousands of farmers and their livestock
The funniest part of the finale — not necessarily a high hurdle to clear because the episode was something short of a laff riot — was the thing at the end where the new council met and was like "Ay, anyone know where that dragon is? No? Cool. Next subject: brothels." I have been substantially more concerned about a misplaced hat than any of those people were about a renegade dragon who is on the loose and has a diet that requires him to eat multiples goats and cows per day and may or may not be hellbent on revenge after at least one of the people at the table conspired to have his mom assassinated.
They should be more worried about this. This should be on the agenda at every meeting. They don't have any crossbows left or anyone who can reason with a dragon. Maybe Drogon is just waiting for them to get the city rebuilt so he can ruin it again. Maybe he's going to do that over and over and over, like a bully kicking over sandcastles. And even if they're not worried for themselves, their subjects are in constant danger now. Every time Drogon gets hungry, someone or something is gonna die. Whole herds, even. There could be a massive food shortage as he gorges the supply. And they're just sitting around in there yucking it up with their feet on the table like "Eh, Bran can warg into him and see what's up." That is a short-term fix! The dragon still has to eat! You killed his mom! He's Simba!
In fact… wait. Tyrion has a scar on his face. Tyrion has a scar on his face. He's Scar in this analogy. It tracks. It tracks!
Everyone is going to die.