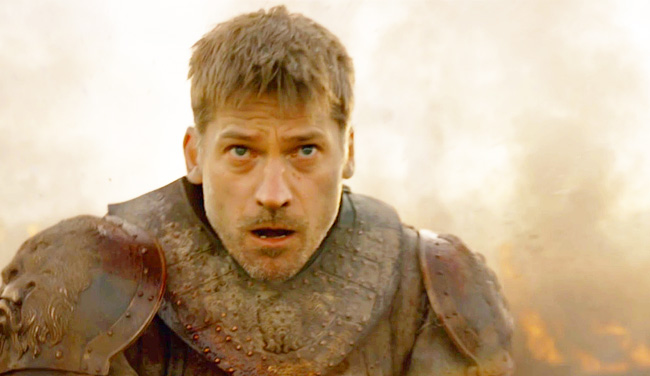 Someone's coming after Jaime Lannister, and it might get bloody. The Hollywood Reporter revealed that Nikolaj Coster-Waldau, who's long played "The Kingslayer" on Game of Thrones, has been ordered to pay his former manager Jill Littman around $2 million — nearly $1.75 million of that in back pay, plus about $225,000 in interest. What's more, the dispute wound up opening up immigration fraud allegations. Coster-Waldau is standing his ground.
The dispute is over a contract the Danish actor had with Littman and her agency Impression Entertainment for the about a decade of the Hollywood portion of his career. Coster-Waldau terminated the business relationship in 2015, "I am nothing but grateful for our many years working together and the success we shared," the actor's e-mail read. "And the reason I have decided to leave Impression is not to go somewhere else but to basically take control myself. Game of Thrones is coming to an end now."
Littman has claimed that she was still owed commission post-termination, due to the allegedly unusual nature of their contract. When managing Coster-Waldau, Littman received 10% of his income. The actor has said the two operated via an oral agreement, which did not provide any commissions after termination.
But in April, Littman came forward with a written agreement she says contradicts his claim. It was drafted, Littman said, so that Coster-Waldau could apply for a 0-1 visa in America. Coster-Waldau called the agreement a sham, which has since opened up the possibility of fraud charges.
The matter was resolved, nearly, on Tuesday, when a Los Angeles court found that the agreement was real and ordered Coster-Waldau to pay Littman the aforementioned sum. The actor has refused to comment on the ordeal, but his lawyer has appealed the payment and requested a re-trial.
The HBO star's earnings from the show went public, revealing he was paid $942,857 a Game of Thrones episode. That was bumped up to $1,066,667 per round for the forthcoming eighth season, set to begin next year. There were also assorted bonuses he received. He was given $50,000 simply for being part of the SAG nomination for outstanding ensemble. He was also awarded $10,000 for letting his likeness appear on Game of Thrones trading cards, which appear to still be a thing in the year 2018.