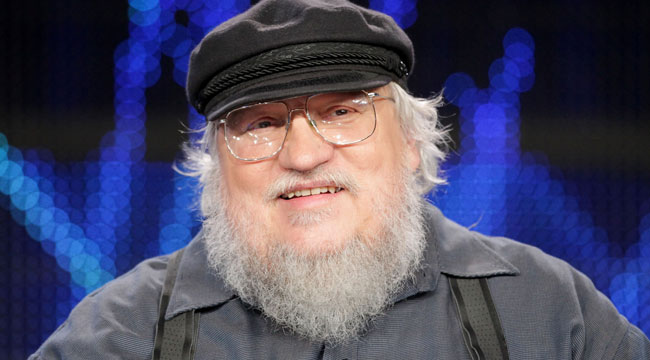 In the past, Game of Thrones author George R.R. Martin hasn't seemed too enthused about the idea of a spinoff or sequel to HBO's adaptation of his books, despite our best ideas. Specifically, he's repeatedly shot down rumors that the network was interested in taking things back a few decades and showing Robert's Rebellion, the period of history that led us to Robert Baratheon overthrowing the Targaryens and taking the Iron Throne.
But that was back when the show was still in its early seasons and the end nowhere in sight. We're in a very different place now: Season six is about to debut this Sunday, and showrunners David Benioff and Dan Weiss plan to finish the tale off in season seven. With that in mind, it shouldn't be all that surprising that George is now willing to look ahead and play with the idea of more television based on his Song of Ice and Fire series.
"There is certainly no lack of material," Martin told Entertainment Weekly. "Every episode of The Naked City – one of the television shows I watched as a kid – ended with a voiceover: 'There are eight million stories in the naked city. This has been one of them.' There are eight million stories in Westeros as well … and even more in Essos and the lands beyond. A whole world full of stories, waiting to be told … if indeed HBO is interested."
Martin wasn't shy to offer a suggestion as to which stories he felt should be told.
"The most natural follow-up would be an adaptation of my Dunk & Egg stories," he said. "Each of the novellas could easily be done as a two-hour stand-alone movie for television. That would probably be the ideal way to do them, rather than as an ongoing weekly series. The Hedge Knight and its sequels are lighter [in tone] than A Song of Ice and Fire, more in the realm of action / adventure."
The first Dunk & Egg adventure Martin wrote was published back in 1998 in between A Clash of Kings and A Storm of Swords, books two and three of A Song of Ice and Fire. Since then two more installments have been released, and all three are now available together in one book called A Knight of the Seven Kingdoms.
The stories tell the tale of Dunk, a boy picked up from the slums of Flea Bottom and made a squire by the poor but noble hedge knight Ser Arlen of Pennytree. Upon Ser Arlen's death, Dunk becomes Ser Duncan the Tall and sets out to become a great knight. He acquires his own squire with a unique background, and the two embark on several quests that have many of the hallmarks that made Game of Thrones so great like warring noble families, political intrigue, and of course a whole lot of violence and death.
A series of Dunk & Egg movies would be amazing to see, but their smaller scale may make HBO less interested than some of the larger stories that could be told from Westerosi history. George R.R. Martin just released another tale from the past entitled The Princess and the Queen that covers a Targaryen battle for succession that wipes out several lineages and many of the last dragons in the world.
With the undeniable success Game of Thrones has seen, chances are high that we'll be getting more stories from Martin's world. It's nice to hear that George is on board. Whatever tales are told wouldn't be the same without the rich level of detail he puts into all his work.
Now Watch: Everything We Learned About GOT Season 6 From The World Premiere