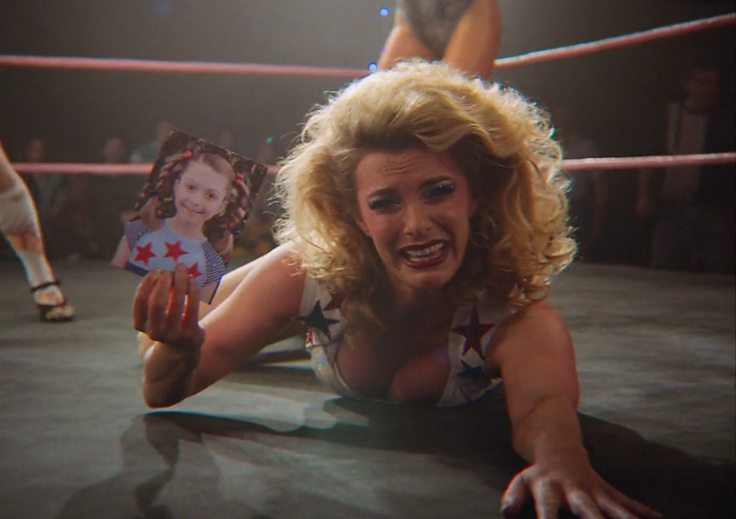 [This post contains spoilers for GLOW Season 2]
Netflix just abruptly canceled two of its biggest shows — The Break With Michelle Wolf and The Joel McHale Show with Joel McHale — so it could use some good press. And lo, here it is: they've renewed the wildly successful GLOW for a third season.
On the heels of its 10 Emmy nominations — including one for supporting player Betty Gilpin — the show about working class female wrestlers in the mid-'80s will return for a third season of ridiculous but cost-effective costumes, fake-ish rivalries and reminders that wrestling may not be 100% real but it still takes a toll on its performers.
The show, headlined by Alison Brie, was inspired by the wrestling promotion known as the Gorgeous Ladies of Wrestling (hence the acronym), launched in 1986 to show off the sport's female wrasslers. A pilot TV show was filmed the previous year but went no further. GLOW creators Liz Flahive and Carly Mensch told The Hollywood Reporter they always intended for their story to go off in its own direction, always from the truth.
"The more seasons we go on, the further we go from the original [GLOW], and that's based on the fact that we created very different characters and now we follow our characters," Mensch said.

The second season, which hit the streaming service on June 29, ended (spoiler!) with the show-within-the-show being suddenly canceled. Its 15 main heroes then boarded a bus to Vegas, to make it on their own.
"I hope we have the number of seasons we dream of having because I think that we can then equally explore all of the women," Flahive added to THR of the creators' long-term plan. "With season one, we had the structure of what we needed to accomplish. And I think that is the great freedom of season two and of future seasons; that we can move around more now that you know and love the characters and understand the story of the show and wrestling. We have these 15 amazing women and ideally by the end of the show you will know them all in a deeper way."
If you're craving more of the same, we'd like to recommend another bit of female wrestler entertainment: the obscure 1981 comedy …All the Marbles. Like GLOW, it's about working class wrestlers who struggle not only for fame but to make ends meet. It does flip the gender dynamics; where GLOW is more about the women than Marc Maron's seedy director, here the focus is more on the male manager, played by Peter Falk, than on its women, played by Vicki Frederick and Laurene Landon. That said, it hits a lot of the same marks, and who doesn't love Peter Falk? You can find it on the cinephile streaming site FilmStruck, and it should tide you over till GLOW returns again.