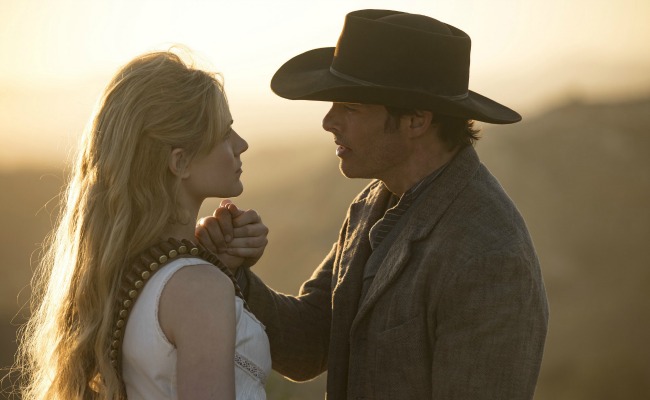 Spring is here and with the (relative) thaw comes a new batch of content on HBO Now. Whether it's a theatrical release that you've been looking forward to or HBO originals, you have plenty of new options and old favorites to pick from. Al Pacino stars in Paterno, a new movie that deals with the fallout of the horrific sex scandal that rocked Penn State, and Andre The Giant delves into the life of a wrestling legend. While Here And Now is ending its first season in April, the hit series Westworld returns for its second season. Plus, comedian Wyatt Cenac is getting in on the late night game with Problem Areas. Plus, if you missed the crowd pleasing War For The Planet Of The Apes or The Hitman's Bodyguard, you'll be able to catch up during your next movie night at home.
Westworld
Few shows manage to fill the void left during the Game Of Thrones offseason, but Westworld managed to quench viewers' thirst for a violent yet cerebral epic drama. The hosts, led by Evan Rachel Wood's Dolores reset the status quo at the end of season one, so it's anyone's guess where this series will go in season two, but it's sure to be a wild ride. To Shogun World and beyond.
Wyatt Cenac: Problem Areas
Late night tends to be pretty homogenous in its style and hosts, so the creativity and perspective that Wyatt Cenac will bring to the game. By blending humor with actual insight into real-world issues, Cenac will bring his unique voice to the news. This will be a must-see for fans of Last Week Tonight and The Daily Show, who prefer their comedy with some actual bite.
War For The Planet Of The Apes
No one would have guessed that the second reboot of The Planet Of The Apes would become one of the better blockbuster franchises of recent memory, but the saga of Caesar the ape managed to combine action and pathos into a compelling formula. If you missed this one in theaters, you will definitely want to add it to your To Be Watched list.

Here are all the titles coming and going on HBO NOW in April:
Season Premieres:
Vice, Season 6 Premiere (4/6)
Destino: Rusia, Series Premiere (4/11)
Wyatt Cenac: Problem Areas, Series Premiere (4/13)
Westworld, Season 2 Premiere (4/22)
Season Finales:
Here and Now, Season 1 Finale (4/15)
Original Programming:
King in the Wilderness (4/2)
Paterno (4/7)
Elvis Presley: The Searcher Part 1 and Part 2 (4/14)
I Am Evidence (4/16)
Theatrical Premieres:
War for the Planet of the Apes, 2017 (4/21)
The Hitman's Bodyguard, 2017 (4/28)
Estrenos:
The Least Worst Man, 2016 (4/1)
Dear Renzo, 2016 (4/1)
Carpinteros (AKA Woodpecker), 2017 (4/6)
Sol de medianoche (AKA Midnight Sun), 2017 (4/13)
Zona Hostil (AKA Rescue Under Fire), 2017 (4/20)
Sports:
Andre the Giant (4/10)
24/7 Canelo/ Golovkin 2 (4/22)
Starting April 1:
Absolute Power, 1997
Bad Boys II, 2003
Damien Omen II, 1978
Dinner for Schmucks, 2010
Dr. Seuss' The Cat in the Hat, 2003
The Final Conflict, 1981
Final Destination, 2000
The Final Destination, 2009
From Hell, 2001
The Italian Job, 2003
Laurel Canyon, 2003
Nine to Five, 1980
The Omen, 1973
Omen IV: The Awakening, 1991
Orphan, 2009
Runaway Jury, 2003
S.W.A.T., 2003
The Tale of Despereaux, 2008
Waitress, 2007
Yes Man, 2008
Ending April 30:
A Monster Calls, 2016
Along Came a Spider, 2001
Assassin's Creed, 2016
Collateral Beauty, 2016
Constantine, 2005
The Darkness, 2016
The Day the Earth Stood Still, 2008
Eraser, 1996
The Express, 2008
Fifty Shades Darker, 2017
Girl with a Pearl Earring, 2003
Hidden Figures, 2016
La La Land, 2016
Master and Commander: The Far Side of the World, 2003
Popstar: Never Stop Never Stopping, 2016
Pride and Glory, 2008
Renaissance Man, 1994
The Rescue, 1988
The Rookie, 2002
The Royal Tenenbaums, 2001
Scream 2, 2006
Stuck on You, 2003
The Sum of All Fears, 2002
Terminator Salvation, 2009
The Terminator, 1984
The Vigilante Diaries, 2016
Why Him?, 2016
Zoolander, 2001