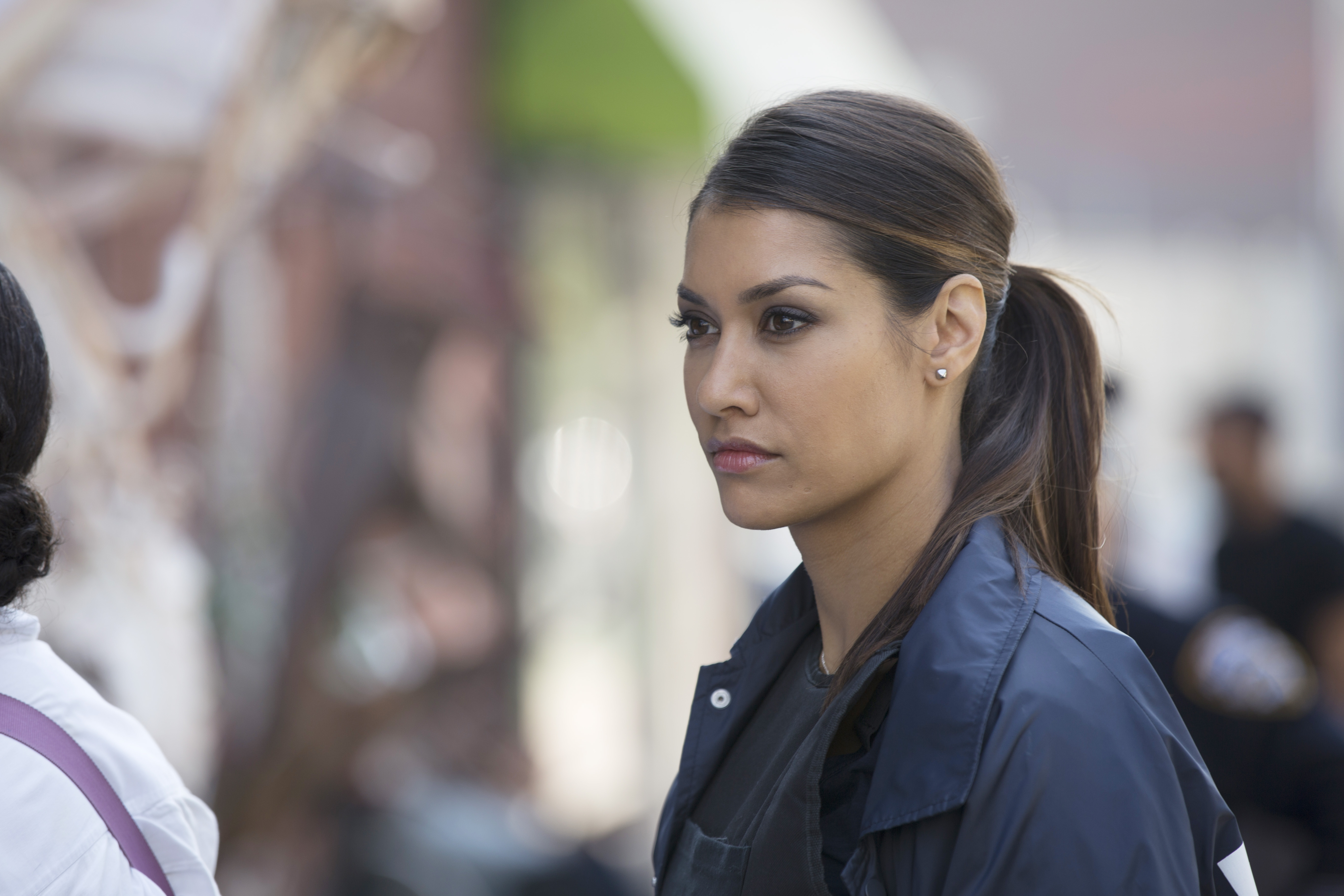 Sleepy Hollow — the Fox fantasy series that averaged around 7 million viewers in its first season but dropped to less than 3 million viewers by its third — is nevertheless returning for a fourth season, despite controversy over the death of its female lead, Abbie Mills, after Nicole Beharie decided to leave the series. The loss of Nicole Beharie has not sat well with the dwindling fans of the series, who have already had to suffer through an inexplicable crossover episode with Bones, the loss of Orlando Jones after season two, and the loss of series regulars Lance Gross and Jessica Camacho after season three.
However, the charming Tom Mison will be back when the series resumes in 2017, and now he's got a new female lead, a familiar face (if not name) to some, and a (Shiva) blast from the past for many.
Her name is Janina Gavankar, who will be playing Ichabod Crane's new partner, Diana, a secret service agent in Washington D.C., where the series location is moving next season. Here's how Diana is described (via TVLine):
A single mom and former military officer who's currently a Special Agent for Homeland Security. She's got a tough, take-charge personality, punctuated by a wry sense of humor. She also has a softer, more caring side which emerges when she's with her young daughter. Initially she doesn't believe in the supernatural, and that creates conflicts with Crane. They also clash because they have different ways of approaching missions: While he's methodical and research-focused, she's active and task-oriented, which is reflective of her military training.

She rarely talks about the father of her child — a person she cared for, even though she never saw a life together with him — but she's fiercely devoted to her daughter and will do anything to protect her, an instinct Crane appreciates. After her partner goes down in the line of duty, she and Crane will find common ground in their shared sense of loss. And the two of them will quickly realize they have another important point of connection — though not one anyone would expect at first.
Who is Janina Gavankar? Some will know her as a series regular on Mysteries of Laura, where she played Meredith Bose in the now cancelled NBC series.

Others will recognize her for her two-year stint on True Blood, as shapeshifter Luna Garza.
She also played McKenna Hall in the first season of Arrow.
Gavankar also has a music career. She's probably best known for her cover of Kanye West's "Love Lockdown."

She's also reportedly the first actor to use Twitter, having logged in on Richard Branson's computer in 2006, according to Nick Bilton's Hatching Twitter.
For most of us, however, the new female lead of Sleepy Hollow will always be best known as Shivakamini Somakandarkram, the namesake for the fantasy football league championship trophy on The League, and the character who took Kevin's virginity in Pete's mother's car while listening to Aerosmith.
Gavankar appeared for the first time in a photo with her new Sleepy Hollow co-star Tom Mison over the weekend at Dragon Con, after — she says — standing in line to meet him.
Sleepy Hollow returns in early 2017.