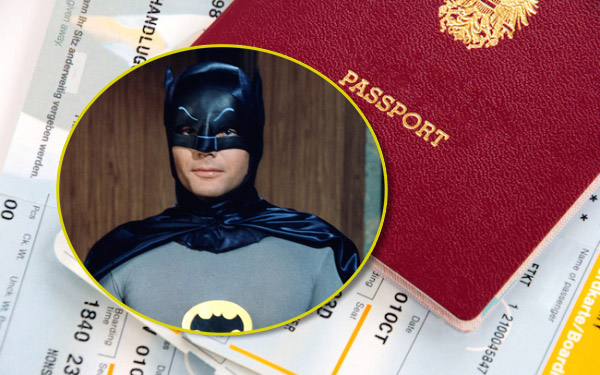 If airlines could charge you for breathing too much, they probably would. That's why no one should be surprised that Ryanair tried to charge a teen whose name was written wrong on his ticket a whole heap of money to get it fixed. So Adam Armstrong of Manchester, England did the next best thing: he literally changed his name and got a new passport because it was cheaper.
The Huffington Post UK reports that Armstrong got into trouble when his girlfriend's dad bought him a plane ticket but used his Facebook name to book his seat. But Armstrong's name on social media is a joke; on Facebook he goes by Adam West. That's right, he's the Batman.
Armstrong paid approximately $157 for a new passport. That's still a lot of money, but Ryanair charges $167 for a name change and wanted to charge Armstrong $334 because his girlfriend was on the same ticket. But Ryanair (a low fare airline) had an explanation for the fee:
A spokesperson for the airline said: "Customers are asked to ensure that the details they enter at the time of booking are correct before completing their booking and we offer a 24 hour 'grace period' to correct minor booking errors. A name change fee is charged in order to discourage and prevent unauthorised online travel agents from 'screenscraping' Ryanair's cheapest fares and reselling them on to unwitting consumers at hugely inflated costs.
Okay, but over $300 for a name change seems a little excessive. How about $15 to 20 bucks? Even that tiny amount would deter me from trying to resell my ticket. At least now you know that legally changing your name to the actor who played Batman is cheaper than paying an airline to fix it. Or at least it's a really good excuse to change your name and save a few bucks in case of emergency.
(Via Huffington Post UK)