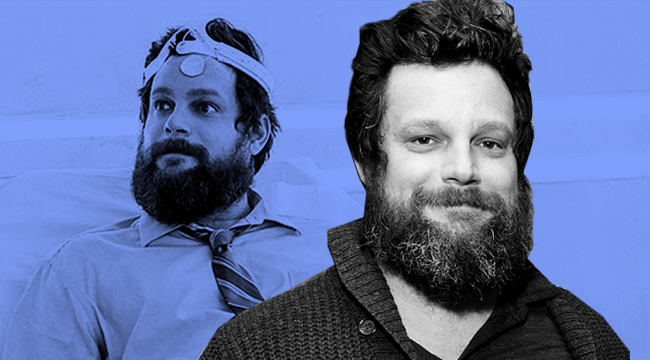 In "Game Night," the second season finale of People of Earth, Gerry Johnson (Luka Jones) invites everyone from the StarCrossed experiencers group over to his girlfriend Yvonne Watson's (Da'Vine Joy Randolph) place for some fun. Little do they realize, it's all part of a trap designed by Eric the Cube (Peter Serafinowicz), the aliens' new leader, to decimate the human baggage leftover from the original mission. Gerry, himself an avid fanboy of all things extraterrestrial, wasn't abducted until the very end of season one. When season two picked things up in July, however, it quickly became evident his role would take a darker, more prominent turn.
Ever since Gerry eagerly tried to befriend visiting reporter Ozzie Graham (Wyatt Cenac) in the pilot episode, Jones has successfully established the blueprint necessary for his adorably bumbling character's sinister segue. This is a difficult feat to accomplish, considering People of Earth's stellar ensemble cast, but prior training in comedy improvisation and dramatic acting at revered places like the Upright Citizens Brigade and Steppenwolf Theatre Company rendered this possible. And if you've ever visited Jones's Twitter page, you may have noticed another feather in his cap: a PhD in Philosophy from the University of Southern California. It's why show creator David Jenkins calls Jones their "gentle, hulking existentialist."
I reached out to Jones to chat with the 42-year-old actor about his past life in academia, his decision to pursue acting while simultaneously finishing his dissertation at USC, and his work on People of Earth. Jones happily agreed, though I wasn't at all surprised when the professional questioner seemed more intrigued by our mutual experiences in the ivory tower. "Interested in hearing about your experience in academia," he wrote back.
"I know more people than not," Jones tells me during our subsequent telephone conversation, when I admitted to quitting halfway through my own PhD dissertation. "You figure out if you want to do it while you're taking the forever that it takes to get a PhD. A lot of times, the coursework is cool but you can't — not ability-wise, per se — motivate yourself to write a book, basically. Some people just don't want to do that, even for a dissertation. I was like that, and I barely made it through. Almost embarrassingly, I put that I had a PhD in Philosophy up on Twitter because, at the time, that was my big accomplishment. I figured I wasn't going any further than that."
Jones began picking up more paid acting work while in the midst of completing his qualifying exams and beginning the dissertation. A quick spot on How I Met Your Mother and several commercials led to his first big break, the short-lived NBC sitcom Best Friends Forever. It only lasted six episodes, but it was enough to encourage him further.

"I think I want to do this instead," Jones recalls thinking at the time. He tried to balance the two separate lives at first, but quickly discovered this was "almost impossible" in practice. A former Communications Studies major at the University of Kansas, Jones describes his past self as a "really bad student" who was simply "enjoying the social aspects" more than anything. Performance never really entered the picture then, and Jones only decided to move to Los Angeles when he saw the names of friends working as production assistants on major films flash across the screen. He ultimately rejoined the academic ranks at California State University, Los Angeles and USC, but acting was never too far off his radar.
Additional work in the Christina Applegate- and Will Arnett-led sitcom Up All Night, small spots on Modern Family and Casual, and minor film roles in Her and Dean carried Jones along once he completed his dissertation in 2013 (titled "Merely Verbal Disputes in Philosophy"). The transition to full-time acting was now complete, despite his otherwise scholarly credentials, but that didn't prevent Jones from pursuing work that — like academic philosophy before it — also "felt really good on my brain." And while dramatic acting training at the Atlantic and Steppenwolf Theater companies in New York and Chicago helped propel him along, it was his experiences at iO West and the UCB that solidified Jones's standing as an improv comedy performer.
"It was definitely the main place where I found myself," he says of the latter. "You can come into this community and watch super funny people do their thing. I got to watch Jason Mantzoukas do improv a bunch, pretty much whenever I wanted to. Zach Woods, Lennon Parham and a lot of other greats, too — everybody who I think is really excellent at this form, and it made me feel like I was a part of something bigger. It made me realize I had no idea why I had taken dramatic acting classes instead of doing comedy. Watching and learning to do the latter helped me get up the nerve to go on stage and perform more than anything else. Wyatt was actually my first coach at iO West. He'd been performing there at the time."
His earliest experiences at iO West and the UCB, including Cenac's teachings, occurred during his graduate school days. But once Jones quit the academic life for good, he realized he "clicked a bit more with comedy" because he was "a little older" then. "In my mind, I was doing it as a side thing, which probably took away some of the pressure," he says. "This was just for fun, and it took some of the pressure off. This made it easier for me to be my best performing self in that context. It also helped when it came to auditioning, being older and treating it like something that wasn't yet my main thing. Or at least that's the narrative I've latched onto. Who knows what the real causal relationship is?"
Jones's doubts notwithstanding, his mature improv comedy chops and developed acting skills greatly enhanced his career opportunities. When he auditioned for People of Earth in 2015, his willingness to explore what was handed to him immediately caught the attention of Jenkins and executive producer Greg Daniels (The Office, Parks and Recreation). "We were really lucky to find him. Gerry is the heart of the show in a lot of ways, and could easily come across as a generic dude-bro if you cast the part poorly. Luka brings a squirrelly intelligence, vulnerability and heart to everything he does," Jenkins writes in an email. "Luka comes across as a searcher: he wants to poke holes in ideas, and standard ways of doing things. This is kind of perfect for Gerry, who lives this kind of counterculture existence and is constantly looking for something larger."

Sure enough, throughout the first season Gerry provides an interesting counter to Graham's intense skepticism toward all things alien. The latter, who is later revealed to be an experiencer and eventually joins StarCrossed, retains a strong sense of doubt throughout the series. Even just before he dies at the hands of extraterrestrial invaders he doesn't quite believe in, Graham almost never wavers. Gerry, on the other hand, believes without evidence all through season one. He attends the group meetings, although he isn't a full-fledged member since he has never been abducted. And when Jeff the Grey (Ken Hall) finally captures the bearded behemoth at the beginning of season two, Gerry's faith exponentially increases with the reward of proof.
The "something larger" Jenkins says Gerry is looking for, of course, "centers on the existence of aliens." Even so, he continues, "it can also be extended to a search for the meaning of life, why we're here, and how the entire universe fits together." Hence why Luka's experience as an improviser, actor and philosopher proved so enticing to the People of Earth team. "In life," Jenkins concludes, "Luka is a gentle, hulking existentialist. You kind of get an impulse to both give him a hug and talk abstract ideas with him."
Randolph, the Yvonne to Jones's Gerry, couldn't agree more. "When we shot the pilot — we joke about this still — I was just coming off of another gig, and I had another gig after that. So to be honest, I wasn't the most focused and present then. And he likes to tease me because I barely talked to him. I was also very nervous, because I come from a dramatic background and here I was, working with all of these amazing comedy actors. Greg Daniels was there, too. But once things picked up, I found my stride and Luka really helped me with that. Shooting in Toronto also helped, for the whole cast, in the sense that most of us weren't from the area and we only had each other."
"We kind of just naturally hit it off from the jump, and one of our biggest strengths is our ability to meet each other in the middle," the Yale School of Drama alum continues. "I've never been to a UCB thing before. In a weird way, I revered it so much because I was scared. After the first season, Luka invited all of us to a show to perform with his group, and I was terrified. But it's also one of the reasons our chemistry is so strong, because we're open to each other's backgrounds. When it's chaotic, when it's super late and night and we have to get a shot done before production hits overtime, we can just link into one another and get it done. We're really present and always listen to each other, and he's especially good at that. There's no competition. I haven't had this experience with many other people. It really feels like a true collaboration."
Randolph also insists Jones is a "really great actor," but the man I spoke with can't stop thanking his lucky stars (and the aliens circumnavigating them) for the opportunities he's had. "Sometimes, if it's a long day during one of these shoots — which happen in Toronto, far away from home — I'll get really tired," he tells me. "But I'll never forget how lucky I am. Even when I first got on TV and worked with Lennon Parham and Jessica St. Clair on Best Friends Forever. I mean, they were big deals at UCB. And getting to work with Maya Rudolph, Will Arnett and Christina Applegate after that? I was the other guy on that cast, but I was there for it. It was crazy and I kept pinching myself throughout the whole process, but I told them I was there for anything. 'Whatever you guys want me! Just tell me where to stand.'"
"I will never forget what a lucky thing it is to be working with so many accomplished and talented people," Jones concludes. "It makes it really easy to enjoy it, in lots of ways." As the bona fide sweetheart of the character who serves as StarCrossed's most overzealous member, Yvonne's boyfriend and Eric's potential tool of destruction, the character of Gerry certainly has given Jones plenty to enjoy in two seasons of People of Earth. And with a third season slated to arrive sometime in 2018, the philosopher-turned-funnyman will have plenty more opportunities to flex his various creative muscles. "According to my neighbor, I made a knight's move, like in chess. I sort of stepped to the side when I went for acting," he tells me in passing. "Sounds like you did the same thing."