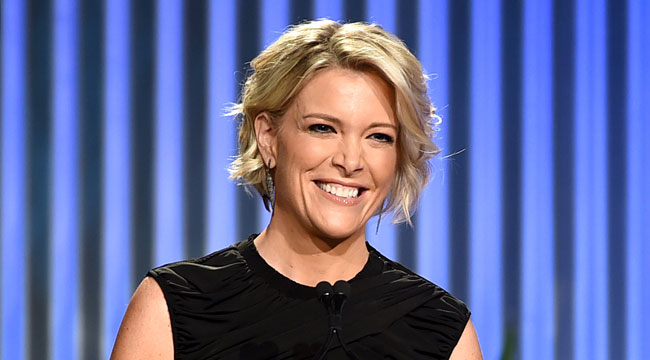 Less than two years ago, Megyn Kelly jumped ship from Fox News to NBC in a triple-role, multi-year deal worth $69 million, but the honeymoon period didn't last long. Kelly's Sunday night news magazine quickly deflated and devolved into a battle between herself and InfoWars Alex Jones, perhap as a signal that she couldn't leave controversy behind. This week, Kelly (who has earned unimpressive ratings for her TODAY hour) waded into more unfortunate territory by wondering aloud "what is racist" about blackface Halloween costumes. The resulting backlash was immediate, and Page Six has dropped an insider-based report about Kelly being "cut from" NBC as a result.
This latest update follows Kelly's NBC colleagues distancing themselves from her, including Al Roker, who thought she owed a bigger apology to the public at large for her remarks. Kelly then shelved the remainder of her TODAY airtime, and a formal boot, or a reshuffling, seemed inevitable. Page Six tends to land accurate intel about NBC's inner workings, and here's part of their report:
Before Page Six learned Kelly's fate, an insider added that there were "lots of balls still in the air."

"She's lawyered up, multi-year contract," the insider added. "It's complicated. Now is as good of time as any to get rid of her."
One of the balls still in the air probably has to do with what would come of Kelly's remaining contract dollars. The Daily Mail's sources say that Kelly will receive a payout for the remainder of the $69 million, although that hasn't been confirmed, and it must also be noted that trade publications haven't yet confirmed Kelly's departure. Hollywood Reporter does, however, report that a Friday meeting is scheduled for lawyers to hammer out whether Kelly stays or goes, and Variety is relaying word from a Kelly-associated source who says she could simply move to covering harder news rather than early-morning fluff:
"Where do you think Megyn Kelly would be happier, as part of big breaking news or forced to cover light-hearted stories that traditionally work at 9 a.m.?" the source close to Kelly said. Kelly participated in NBC News' coverage of the confirmation hearings of Brett Kavanaugh and is slated to take part in NBC News' election-night coverage on Nov. 6.
One person who likely won't be thrilled if Kelly moves to Nightly News? Lester Holt, who characterized Kelly's blackface remarks as "tone deaf." Meanwhile, this week has also seen Kelly end her representation with talent agency CAA (voluntarily or not?) while the Washington Post revealed that her NBC coworkers have been lobbying for some time for her to get the boot. Yet it didn't take long for Kelly's history of unfortunate racial remarks (including her Black Santa outrage) to resurface, and about 48 hours later, oh boy. NBC has an expensive mess on their hands.
UPDATE: Page Six is now reporting that Kelly's lead litigator wants Ronan Farrow on hand for Friday's meetings at NBC. Well, that's an unexpected twist, but considering that NBC allegedly impeded Farrow's Weinstein coverage, maybe he will show up?
(Via Page Six, Daily Mail, Hollywood Reporter & Variety)