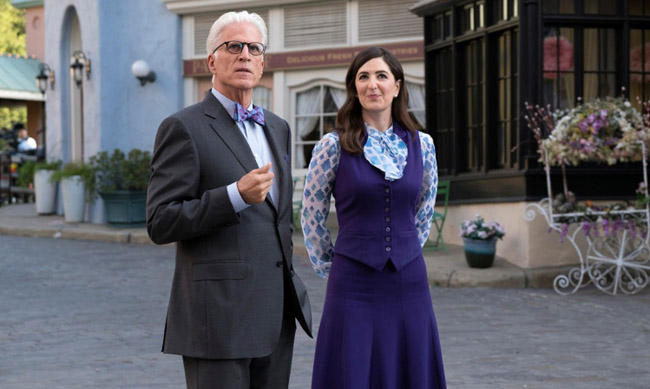 The Good Place is definitely the unofficial frontrunner for the funniest show on television, at least around here. There are probably a few others you could toss out — Silicon Valley, Your Pretty Face Is Going To Hell, It's Always Sunny — but for this post, we're saying The Good Place. And we're saying that because of we have just gotten reminded about one of the best visual gags in season two.
According to Indiewire, creator Michael Schur and several members of the cast and crew took part in an unofficial For Your Consideration panel for season two of the show. They discussed some of the philosophies of the show, Hugh Dancy's father and his focus on moral particularism — Google it, just like they did — and Schur's favorite joke in the season. With that latter point, the seeds were planted back in the pilot thanks to Captain Jack Sparrow and the high adventure of Pirates Of The Caribbean:
"In the pilot, when we were scouting, we were really kind of screwed the way the script was written. For a while, we were just going to shoot it all in Pasadena and say, 'Oh, the fake neighborhood Michael designed is just like a strip of coffee shops and stuff,'" Schur said. "We didn't know what to do, but then we found this backlot called European Street, and the only thing that had been shot there in years is this one short scene from, like, 'Pirates of the Caribbean 31,' or whatever it was."
What Depp and company shot there is a bit of a mystery according to Indiewire, though they do say someone fell off a balcony, but what it helped to create in season two is an excellent Easter egg joke in The Bad Place that some would say you could blink and miss if you're not paying attention:
"Oh, that's my favorite joke of the year," Schur said. "When they go to The Bad Place and the train pulls into the station, they get out and Michael's saying like, 'Keep walking, keep walking.' But on the wall there's a movie poster, and it says, 'Pirates of the Caribbean 6: The Haunted Crow's Nest or Whatever, Who Gives a Crap?' Then at the bottom it says, 'Playing in every theatre, everywhere, forever.'"

"I like it for many reasons, but the No. 1 reason I like it is that the implication is that that's where those movies are made, and then they're exported up here. That's where they come from; they're made in hell."
Writer Matt Murray got the credit for the joke, and it is well deserved. It's a pretty damn good joke that's right up there with Cannonball Run 2 being the only movie in The Medium Place. It's a shame we'll have to wait until September to get more.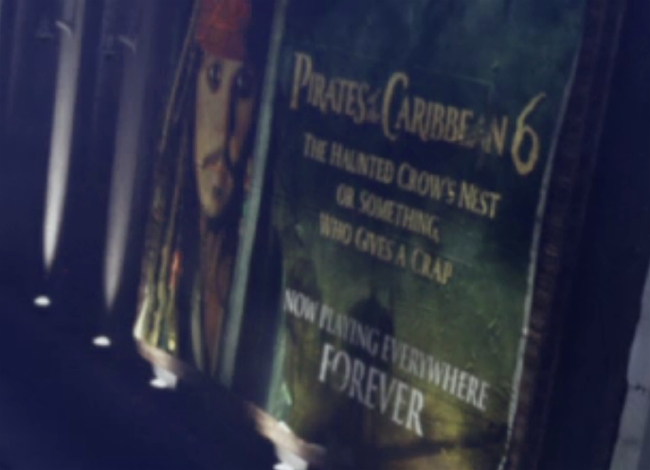 (Via Indiewire)