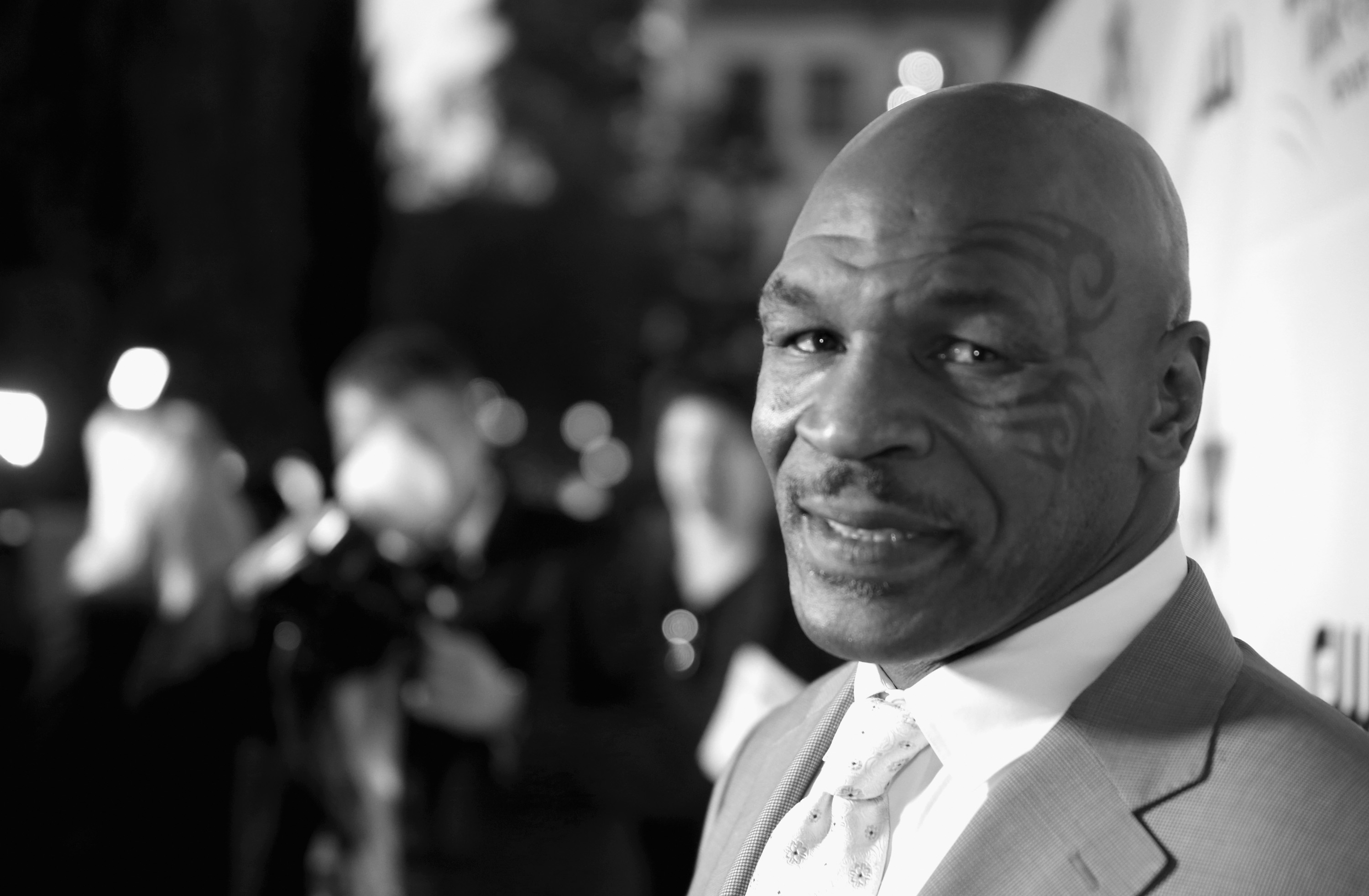 Mike Tyson is the former heavyweight champion of the world and is regarded by many to have been the most feared and ferocious boxer of all-time when he was in his prime. One of the more notable figures of the late 2oth century, Tyson has also starred in a one-man show about his colorful life, voiced the title character in Adult Swim's animated Scooby Doo-like Mike Tyson Mysteries, co-authored two books — one of which, Iron Ambition, was recently released — and has regularly done cameos in films like The Hangover and TV shows like Entourage. Currently, he's a panelist on Superhuman, a competition series hosted by Kal Penn that airs on Fox at 9pm EST on Monday nights.
Tyson was nice enough to take some time recently to participate in our twenty questions questionnaire.
1. You walk into a bar. What do you order from the bartender?
I don't drink.
2. Who's your favorite person to follow on Twitter and/or Instagram?
I don't follow anyone but my youngest daughter Milan (@milantyson). She's 8 and already training to one day go pro in tennis. It's exciting to watch her journey. Never in a million years did I think I would be a tennis dad.
3. What's currently waiting for you on your DVR or in your streaming queue?
My wife and I just finished watching on DVR, White Princess. That was awesome. Now we have Queen of the South on DVR.
4. It's your last meal — what are you going out with?
I'd probably overdose on all my favorite desserts — key lime pie and cookies and cream ice cream.
5. What websites do you visit on a regular basis?
I don't visit sites unless my wife shows me something on like TMZ or YouTube.
6. What's the most frequently played song on your mobile device?
7. If you could go back and give your 18-year-old self one piece of advice what would it be?
Slow down and enjoy the ride. I was so serious then and had everything but enjoyed nothing.
8. What's the last thing you Googled?
Probably myself LOL.
9. Dogs or cats?
Tigers, of course!
10. Best concert of your life was…?
Stevie Wonder.
11. What book are you most likely to give as a gift?
Undisputed Truth and Iron Ambition
12. What's the nicest thing anyone has ever done for you?
Taught me how to box.
13. South Park or Family Guy?
South Park.
14. You have an entire day to do whatever you want. What would you do?
Do nothing.
15. What movie can you not resist watching if it's on?
The Notebook.
16. The sports team or teams you're most passionate about?
Cleveland Cavaliers at the moment and of course I'm my daughter Milan's #1 tennis fan. When I can, I tune into UFC and boxing.
17. Where did you eat the best meal of your life?
Enjoying my wife's cooking at home.
18. The last movie you saw in a theater?
All Eyez on Me.
19. Who was your first celebrity crush?
(No answer.)
20. What would you cook if Nic Cage was coming to your house for dinner?
I wouldn't cook shit.
PREVIOUSLY: Matthew Modine