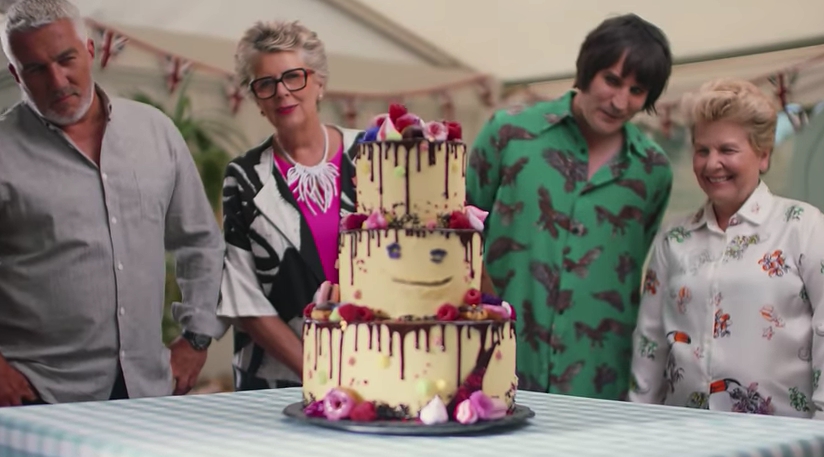 Odds are good that if you've been bored on Netflix and even slightly interested in food, you've probably checked out at least one episode of The Great British Bake Off. (Or, as it's legally known in the United States, The Great British Baking Show.) Perhaps you've even been one of the many ardent devotees of the show since it began airing on PBS in the U.S. several years ago.
If you're not a fan of the show, you're absolutely missing out on one of the best shows on television, one of the best (of MANY) food-based shows on Netflix, and the only competition show that's engineered to make you feel like you're wrapped up in a big warm blanket on a perfect autumn evening. Seriously, this is the kindest, sweetest reality show that has ever been created, and it's all about people trying their very best to make delicious food and, whoops, becoming friends along the way. It's basically everything you need in 2018, because god knows the outside world isn't going out of its way to bake you a whole lot of pies.
Anyway, on Thursday, Netflix announced that there will be some more GBBO in your life. Longtime fans were distraught that the show lost judge Mary Berry and co-hosts Sue Perkins and Mel Giedroyc when it moved from BBC to Channel 4 last year, but there's been no legal way to watch the new-look show in the United States until now. That 2017 series was the eighth in the show's run, and those 10 episodes will drop on Netflix on Aug. 31, which is wonderful news. They will also make available the ninth series, and will distribute the upcoming series 10 next year. Oh, and also there will be two-episode holiday specials every year through 2020. Hell yes.
And if all the above weren't enough, Netflix will also be releasing series 3, to go along with seasons 4-7, which are already on Netflix. So you Mary Berry lovers (meaning everyone), there's something for you, too.
If you need a little bit of joy in your life to tide you over until the series returns, please enjoy this absurdly adorable and uplifting trailer for the new season, which stars singing baked goods:
Perfect.