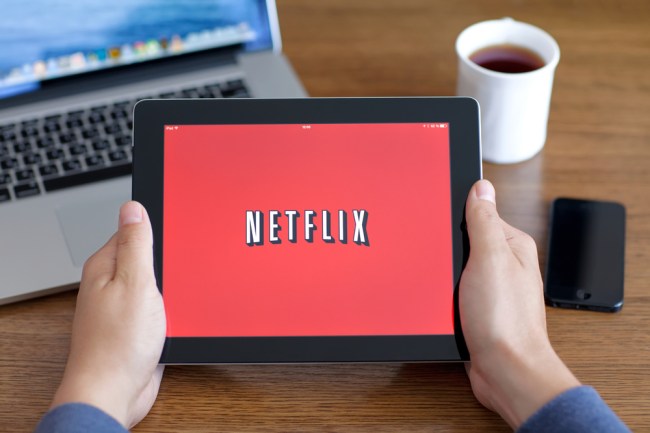 As far as Netflix additions in October go, one item stands out: Beasts of No Nation. We'll get to that in a moment, but there are plenty of streaming titles for you to take in during the two weeks before that film is released. Among those titles: The Nightmare, from Room 237  director Rodney Ascher, documents those suffering sleep paralysis, a state that leaves those affected by it unable to move or react while stuck in a state between sleep and wakefulness. Batman Begins, released in 2005, helped usher in the current era of superhero movies. Documentaries on Richard Pryor and Robin Williams help put the work of two famous comics into context (and may send viewers into YouTube holes looking for old clips). Elsewhere, superhero fans can enjoy new seasons of The Flash and Arrow, and some new horror additions are apropos for Halloween season. Here's the full list of titles coming to Netflix this October.
Beasts of No Nation (10/16)
This film is Netflix's first original feature film, and the streaming service looks like it's coming out of the gate with a whopper. Cary Fukunaga, director of the acclaimed True Detective's first season, helms film that follows a young boy assimilated into a West African mercenary unit. Just having Idris Elba as a lead actor should earn this a spot in the queue, and early reviews have been encouraging. With luck, this is the start of Netflix making feature films that can stand next to its strong slate of series.
American Horror Story: Freak Show (10/6)
It's not necessary to follow every episode of American Horror Story in order to understand the series; every season features a different story. But, if you want to get to know creator Ryan Murphy's style, then AHS: Freak Show is a nice entry point for his bizarre tales of murder, mystery, and opulent sexuality.
Boogie Nights (10/1)
Boogie Nights established Paul Thomas Anderson as one of the best directors this side of Martin Scorsese. With an eye for lush cinematography, long takes, and affecting drama, this Mark Wahlberg-starring film explored the dark side of the '70s pornography industry. Philip Seymour Hoffman, Don Cheadle, Julianne Moore, Heather Graham, and Burt Reynolds (in an Oscar-nominated performance) round out the extraordinary cast in this tale of addictions, ambitions, and the transition between decades.
Check out the full list of titles coming to Netflix in October…
October 1
A Christmas Carol (1938)
About Alex (2014)
Alexander: Theatrical Cut (2004)
American Pie (1999)
Barefoot Contessa: Back to Basics Collection: Collection 1
Batman Begins (2005)
The Bourne Supremacy (2004)
Charlie and the Chocolate Factory (2005)
Curse of Chucky (2013)
Dark Was the Night (2014)
Design on a Dime Collection: Collection 1
The Devil at 4 O'Clock (1961)
El Tiempo Entre Costuras (2013)
Extreme Homes Collection: Collection 1
Fixer Upper: Season 1
Genevieve's Renovation: Season 1
Glass Chin (2014)
The Great Food Truck Race Collection: Collection 1
House Hunters Renovation Collection: Collection 1
Million Dollar Baby (2004)
Million Dollar Rooms Collection: Collection 1
Monkey Thieves: Seasons 1-3
On the Town (1949)
The Navy SEALs: Their Untold Story (2014)
The Nightmare (2015)
Pal Joey (1957)
Pepe (1960)
Pressure (2015)
Property Virgins Collection: Collection 1
Reasonable Doubt (2014)
Richard Pryor: Icon (2014)
Robin Williams Remembered, A Pioneers of Television Special (2014)
Some Came Running (1958)
Take Me Out to the Ball Game (1949)
Throwdown with Bobby Flay Collection: Collection 1
Uncle Grandpa: Season 1 (more episodes)
Vanilla Ice Project: Seasons 1-4
Wakfu: Season 1
White Rabbit (2013)
Wild Horses (2015)
Worst Cooks in America Collection: Collection 1
October 2
Anjelah Johnson: Not Fancy (2015)
La Leyenda de la Nahuala (2007)
Reign: Season 2
The Vampire Diaries: Season 6
October 3
Alpha and Omega 5: Family Vacation (2015)
October 5
Team Hot Wheels: Build the Epic Race (2015)
October 6
The Flash: Season 1
iZombie: Season 1
Last Man Standing: Season 4
The Originals: Season 2
Tremors 5: Bloodline (2015)
October 7
Arrow: Season 3
Flor Salvaje: Season 1
Legends: Season 1
Supernatural: Season 10
October 8
American Heist (2014)
Strangerland (2015)
October 9
Mighty Med: Season 2
The Mr. Peabody and Sherman Show: Season 1
Winter on Fire (2015)
October 10
Lalaloopsy: Band Together (2015)
October 11
Glen Campbell: I'll Be Me (2014)
Jake and the Never Land Pirates: Season 3
October 12
Jane the Virgin: Season 1
October 14
October 15
Finding Jesus: Faith. Fact. Forgery: Season 1
Isabella Rossellini's Green Porno Live! (2015)
The Five People You Meet in Heaven: Part 1/Part 2 (2004)
October 16
All Hail King Julien: Season 2
Anthony Jeselnik: Thoughts and Prayers (2015)
Circle (2015)
The Principal: Season 1
Some Assembly Required: Season 2
October 18
Ain't Them Bodies Saints (2013)
October 20
Lego DC Comics: Batman Be-Leaguered (2014)
Marvel's Avengers Assemble: Season 2
October 22
October 23
October 24
October 25
Walt Disney Animation Studios Short Films Collection (2015)
October 27
August: Osage County (2013)
Manson Family Vacation (2015)
October 28
Chasing Life: Season 2
The Gunman (2015)
October 29
October 30