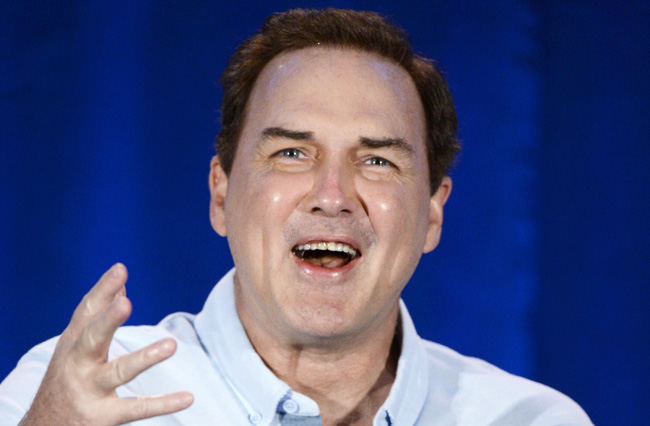 Norm Macdonald, who is currently judging this season of Last Comic Standing alongside Roseanne Barr and Keenen Ivory Wayans, gave a lengthy and illuminating interview to Seth Abramovitch of The Hollywood Reporter last week that seemed to fall under the radar with the approaching holiday weekend. It's worth bringing up now however, for a few different reasons.
In the interview — which is well worth the read if you have the time — Macdonald touches on joke theft (he finds the Fat Jew infuriating), his love of KFC, and stint as the new the new Colonel Sanders (KFC will be rotating Colonels every six months or so), and his distaste for smug atheist comics and political humor (let's just say he is not a fan of Bill Maher).
To that last point, although Macdonald doesn't like to get involved in politics, Abramovitch asks him what he thinks of Donald Trump. Although others in the media have gone to great lengths to reassure us that Donald Trump is not actually going to be president, Norm is not so sure. Like the rest of us, Norm Macdonald is terrified at the prospect of President Trump, and thinks his obsession with Rosie O'Donnell alone is enough reason to be scared.
But what's more, he foresees the potential for Trump to bring about actual fascism, and makes a chilling comparison at the dismissal of those of us who write the guy off:
They say humor is the ray of light that illuminates the evil or whatever, but I was reading that in Germany and Hitler times, everybody was making fun of Hitler. Every cartoon was against Hitler, there were comedy troupes doing sketches about Hitler being an idiot with a stupid mustache and what a stupid little idiot he was. So anyway, there goes that theory about the power of comedy. It doesn't work at all. That's seriously how I feel about Trump. It sounds very cruel to say about a person, but when the country is responding positively to rough comments — and those are just the ones he'll say, kind of anti, everything is anti, against, stuff like that — well, all I know is that I'm going to make sure my kid has his Canadian citizenship.
Again, you can read the rest of the interview here.
(Via The Hollywood Reporter)