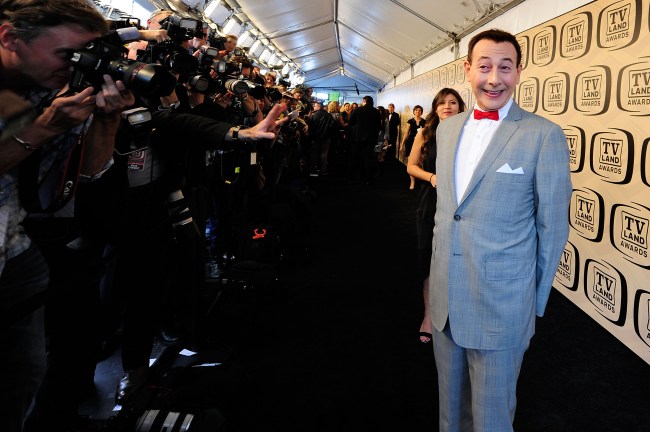 Paul Reubens was born in New York, and had aspirations of becoming an actor. Reubens moved to California and attended the California Institute of the Arts, but it was in the latter half of the '70s that the New York native would begin crafting a character that would resonate with audiences on the stage and screen: Pee-wee Herman.
In 1978, Reubens was a part of The Groundlings improv squad, a group that birthed the likes of Phil Hartman, Lisa Kudrow, and many more. For his part, Reubens wanted to create a character that would stick in audience's minds, so he conceptualized Pee-wee Herman, a childish man who was bad at comedy but had a desire to make it big. With the help of Phil Hartman, Reubens developed Pee-wee Herman for the Groundlings stage, but he sensed that the character could go on to bigger venues. For the 1980-1981 season of Saturday Night Live, Reubens auditioned for a spot on the cast, but upon seeing Gilbert Gottfried, he knew that it was likely that he wouldn't score a role.
"I was starting to be in a lot of those "up and coming" sections of magazines," he told Entertainment Weekly. "It really seemed like I was going to be on SNL. It was a year Lorne Michaels did not produce. I walked in the room, [saw comic Gilbert Gottfried], and I said, "It's not going to be both of us. We're the same type of performer." I knew then I wasn't going to get it."
Reubens was right. The role went to Gottfried, but that didn't deter him. In fact, that failure made his resolve stronger. After missing out on SNL, Reubens gathered enough funds to start his own stage show starring Pee-wee Herman at the Roxy Theater. "I borrowed $5,000 from my parents and produced it on that," he told the LA Times, "and that included the Groundlings charging me to rent the space for rehearsal and performance."
The show appealed to adults, but also had enough zany mannerisms to appeal to children as well. In 1981, HBO featured The Pee-wee Herman Show in a special focused on Reubens' stage show. The program helped to integrate Herman into the mainstream.
Reubens appeared in several films during the first half of the '80s, but he knew his bread and butter was Pee-wee. He toured the Pee-wee Herman show around the country, even bringing the character to Carnegie Hall for a sold-out show. Reubens did his best to disguise Herman as a person in his own right, trying to blur the lines of fiction and reality.
"I personally feel it works a whole lot better if you can't tell whether it's a real person or not," he told the NY Times in 1984. "I have to work like 10 times as hard if people know that it's not a real character."
The all-in approach that Reubens used for the Pee-wee character worked. Following his stage show as well as numerous appearances on David Letterman's Late Night program, Warner Bros. offered Pee-wee a contract to create a feature film. Pee-wee's Big Adventure was a critical and commercial hit, becoming a cult favorite as well as Tim Burton's first foray into feature-length work. After the success of his first film, CBS offered Reubens his own TV show in that he would write, produce, and star in. From 1986 to 1990, Pee-wee's Playhouse became a staple of children's TV diets, and it helped to make Reubens a worldwide star.
The rest, you can say, is history. Currently, Reubens and Judd Apatow are working on Pee-wee's Big Holiday, a Netflix original film that will reintroduce audiences to the cheerful man-child with the tiny bowtie. It's been 30 years since Reuben's Pee-wee Herman graced the big screen, but for many, his imminent return will be a welcomed one.