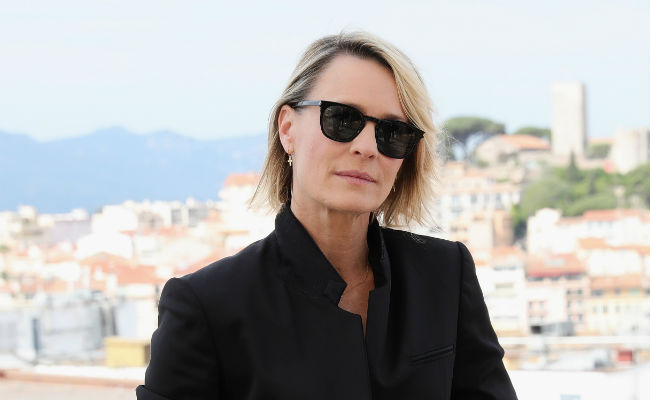 House of Cards is in for a bit of a reboot for its sixth and final season. Robin Wright's Claire is the show's main focus after Kevin Spacey left the show. To be more specific, the actor and executive producer was written off the show after allegations of sexual misconduct were made public amid the #MeToo movement.
Netflix's first original show is known for its twists and turns, but there will be no surprise in what happens to Spacey's character, Frank Underwood: He's dead.
"We didn't want to be coy about it and we didn't want to run away from it," co-showrunner Melissa James Gibson told The Hollywood Reporter.
The publication had a roundtable about the show's final season, and it had some fun moments that hinted at what's to come on the show.
"It would have been a big mistake to in any way pretend that the character didn't exist or to erase the character somehow," she added of confronting Spacey's departure. "Our way forward — the way we figured out the way forward — was basically to dig into the DNA of the show and honor the seeds of it and figure out what made sense as the next step."
But because the show is House of Cards, there's going to be plenty of surprises. Wright and had some very specific words to describe the show's final movements.
Wright described the ending as "moving and generous and so macabre and so dark."

"The show is about the battle for position of power, all the way around. So, who wins?" she said. "And I will say that it's so beautifully macabre. It's really beautiful."

Kelly added, "What she's saying is it's very House of Cards." To which she replied, "It's so House of Cards. It's going to shock the shit out of you, basically."
Wright and the House of Cards staff won't spoil what actually happens, but there was a lot of talk about Shakespeare in the Hollywood Reporter piece. If Claire is Lady Macbeth in the show, it may not end particularly well for her. But it sure will be interesting.