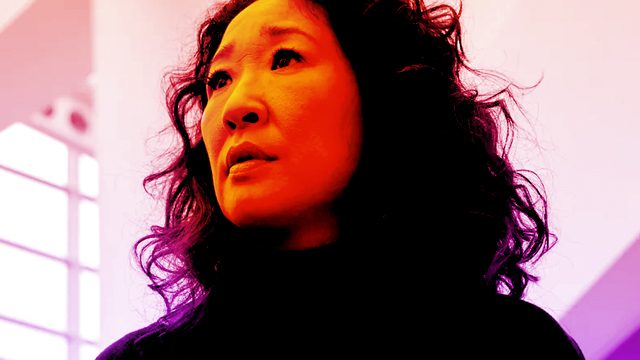 It's more than okay to be obsessed with Killing Eve. The first season of the BBC America series made it into the top five of our (and pretty much everyone else's) Best TV Shows of 2018. On top of much-deserved neverending praise, Killing Eve star Sandra Oh just won a Critics' Choice Award, a Golden Globe, and a SAG Award for her work on the show as Eve. (I'm still waiting on justice for co-stars Jodie Comer and Fiona Shaw though.)
The official trailer for season two appropriately — in the series' twisted sort of way — dropped yesterday on Valentine's Day, and now April really can't get here soon enough. Until then, there is this: Uproxx recently spoke with Sandra Oh during the winter TCA Press Tour about the overwhelming response to the series, as well as what to expect from the new season, which sees Emerald Fennell is taking over for Phoebe Waller-Bridge as lead writer on the show. But first, we had to get to the bottom of a very pressing issue.
First things first: What did you choose on the menu?
I chose the tuna. But I'm a sharer and I want a bite of everything, so I'm sharing a bunch of stuff with my team too. But I always feel like at these events, no matter what – [after] every award show I always have a burger. I always have a big burger.
Where do you usually get the burger from?
I don't want to say where I live, but there is this burger place near my house … and they have great burger. I had a burger after the Globes, and it was a burger from the Beverly Hilton.
It doesn't matter where it is. As long as there's a burger.
Burger and fries. Burger and fries.
What kind of burger though?
No cheese. A lot of mayo. A lot of pickles. Yeah. Medium rare, but I don't like it flat. I like homemade fat patties. I like a lot of mayo, and I like a lot of pickles. And no cheese.
Now that that's been revealed, what can you say – I guess without spoiling too much, but if you want to spoil, go ahead – about season two of Killing Eve?
You know, I'd say definitely for Eve's character – her journey – it gets super dark. I feel like she is pushed to the limit in her, not so much pursuit of Villanelle at this point, but her dynamic with Villanelle and her pursuit of her job. And she's pushed to the limit, and then she goes over. She fell over. Yeah.
I want to congratulate you just for all your recent success. You just won the Golden Globe for the series. Did you expect the show to be this critically-acclaimed and beloved?
No, you can't. You can't ever. I felt that the show was special – I felt it from the very beginning, from the pilot. And I felt even when we were shooting the first series, even if we didn't get everything we wanted… I felt, "That scene's great." But you can't – I don't think we could've possibly known. And it's not what you think it's going to be.
An integral part of the series is the dark humor, and after seeing the first two episodes of the new season, the dark humor is definitely still there. Were you slightly worried or at least curious about how things would change with a new head writer?
Oh yeah, sure. But Emerald [Fennell] and Phoebe [Waller-Bridge] are very good friends, and they really come from the same kind of mindset. But of course Emerald has her own take on things and her own ways.
How do you think your voice and Emerald's voice matched?
Well, I think that – again, it's like there is a great thing that happens between Eve and Villanelle. I think there is a great thing that happens between myself and Jodie (Comer), and I think that same creative energy, that same very strong dynamic between the actor and the writer was definitely what we were following.
With Jodie, I think one of the most interesting things about this show is how you two have this dynamic, but a lot of it is you rarely actually being on camera together.
Yeah, but you know what? It's like your character is thinking of the other character all the time. All the time, right? So then, Jodie and I also really like each other as people. It's really nice to be able to kinda share the screen with her 'cause it's special. And we really bring our game.
What was your very first scene – the hospital bathroom scene – together like, just in general?
That was great because… Eve does not know anything, and in some ways Villanelle doesn't know anything. She knows that she's about to go kill a bunch of people. But it's almost like… Eve is really the innocent one in that scene. She doesn't know what going on, she's just in the bathroom, she has no idea that her life is about to change. But what's so interesting I think about that scene is that something starts rumbling first for Villanelle, you know what I mean? It really starts rumbling when she just sees Eve. I really love that scene because, there's this thing that I feel like, thematically, we're both in a mirror. And I always feel like that kinda continues on even in the second season.
When did you I first notice that people were really responding to this show? Was it immediately?
No. So, it came out last year in April here. And television is consumed differently. BBC America, baby – week by week by week, which is old-fashioned watching. But it was great because people would actually wait and watch it for real.
I'll tell you a story: So before I was going to go back for the second season, I would say this must have been in May, I had to go get my visa for to work in the EU, right? And so I went down to like Rodeo and Crenshaw. I got there early, so I drove around and looked at the beauty boutiques [to see] what is going on in the African-American community. What are the hair products, because that's also what I use that a lot on my own hair. So I was in there, and … I felt like the woman behind the counter was Asian, right? Her clientele African-American. So, Crenshaw and Rodeo – somewhere down there – and this woman goes, "Are you on that show?" And I absolutely feel like, "Oh, she's gonna say Grey's Anatomy."
And then I ask, "Oh, what show?" and she goes, "Killing Eve." And this is in May, right? This is only a month after it's opened. Then I'm like, "Yes, yes I am." And then she goes to her client, to this woman – African-American – and she say, "Oh, you need to see that show. You need to see, she's on this show." And I just thought, "Oh my God." That's when I realized it was outside of the Hollywood bubble.
That it wasn't "just" a "critically-acclaimed" show.
It's not like that kind of thing. The lady who sells wigs and the women who buy wigs are potentially watching this show, and that's when I felt like there was a shift. But your question, as in the rise of it, you know I was not here. I was then in the UK for the next six months, and I feel like I've only really felt it since coming back and doing the Globes.
Speaking of the Globes, is it possible for you and Andy Samberg to host every award show from here to eternity?
That dude is the best. He is such a great guy. I would do anything that he would ask me to do, but I wouldn't host another award show.
So it was just a one-shot kind of thing?
One and done. I felt like I did what I wanted to do so.
You did well – you hosted and you won. So I guess that's a mic drop on award shows now.
Yeah, I guess so.
Alison Herman from The Ringer wrote a piece about how Killing Eve and Barry – two fantastic shows that came out around the same time – make bad fans of us all. Obviously, we all love Villanelle.
We also love Barry.
We love them both, but how do you feel about the fact that you have a show that is making bad fans of us all?
You wanna know what it is? I say it's that classic – not the classic anti-hero, it's a new hero … The new flawed, killer hero.
We're not actually rooting for Villanelle to kill Eve. I guess we just want you to ride off into the murderous sunset, whatever that might look like.
I don't know, I guess you'll just have to stick around to see if they can make that work.
"How can these two crazy kids make it work?"
Oh my god. If season three goes off the rails and becomes a completely stylistically different thing, no. If there is a season three, I should say. But I just think we have the template, we have the foundation of a family of really strong characters, let's keep on exploring. Yeah.
Do you think about things like the possibility of a sophomore slump and how to avoid that?
Those things, I leave it to the creative gods. All I know is that we were there working hard and making the best TV that we could. How that comes out and what you guys think … All I know is that I feel good about it.
Final question: How would you describe the show to someone who hasn't yet hopped on the Killing Eve bandwagon? How would you sell it to them?
You're not even going to know why you like it so much. You won't even know why, but you are going to enjoy it.
The second season of 'Killing Eve' premieres Sunday, April 7, on BBC America. You can currently stream the first season on Hulu.