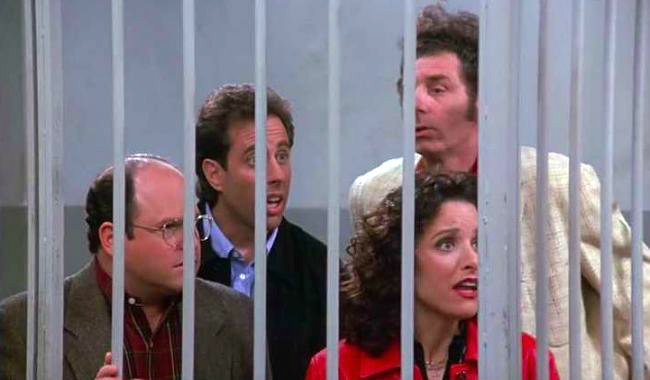 On this day in 1998, 20 years ago, 76 million million people watched the Seinfeld series finale. (It's the fourth most-watched finale of all-time, behind M*A*S*H, Cheers, and The Fugitive; no show will ever come close to joining them.) Of those 76 million who tuned in, half were probably unsatisfied with what they saw: Jerry, George, Elaine, and Kramer on trial for being bad people.
"The Finale" held the audience somewhat accountable for rooting for the New York foursome, even though they, among other crimes, gave an injured woman a faulty wheelchair with bad brakes; mugged an elderly woman for a loaf of marble rye bread; and, worst of all, neglected to return a book to the library. The response, from both critics and casual viewers, to the two-part episode was polarizing — co-creator Jerry Seinfeld thinks, "We really shouldn't have even done it" — but it wasn't the only idea for the finale that was passed around.
[Larry] David returned to write the final episode to complete his cycle with the series. Ideas were passed around. In one, they wouldn't do a final episode. Another involved having them at the coffee shop with nothing to say. In a third, Jerry would say, "That's it," and they'd go their separate ways.

In the end, David got his inspiration from a good Samaritan law in France in which people could get in trouble for not pitching in during moments of crises. He liked the idea of applying that to the four self-obsessed characters. (Via)
That comes from a Hollywood Reporter article based on "more than 70 hours of previously unreleased interviews with the cast, creator and those involved [with] the former NBC comedy." Other details include Jason Alexander originally feeling threatened by Julia Louis-Dreyfus because "he thought an attractive female best friend would dwarf his part," and when Seinfeld premiered, "It consistently lost to the second half of Jake and the Fatman." While you wait for the Jake and the Fatman retrospectives, why not check out our "Festivus" oral history?
(Via The Hollywood Reporter)