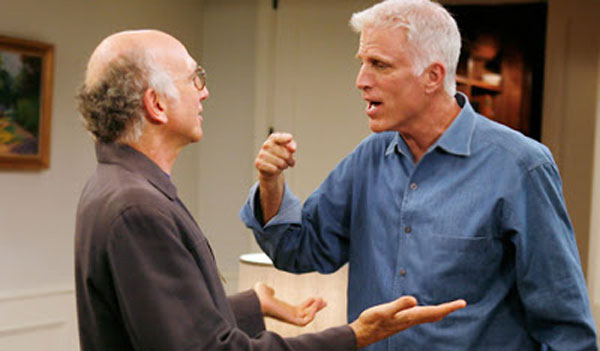 Seventy-year-old Ted Danson has had a hell of a career dating back to his 11 years on Cheers, the finale of which is still the second highest scripted episode of all time. Beyond Cheers, however, Danson also had a modest film career in the 1980s (Three Men and a Baby), a few more hit TV shows (Becker ran for six seasons; Bored to Death, Fargo, a lengthy run on Damages and, currently, The Good Place). However, as Danson explains to Marc Maron on the WTF Podcast this week, most of his roles are playing variations of his Cheers character: "I play Sam Malone became a doctor, Sam Malone works for the police. It's all Sam Malone."
Danson is also known for his appearances on Curb Your Enthusiasm, where he plays a close friend to Larry David, mirroring his real-life friendship with David. In fact, he talks about the similarities between him and David's real-life friendship and the friendship they have on the HBO series.
"I know what to do with Larry David," he tells Maron. I know how to push him into a corner until he explodes and comes out even more Larry David."
Danson explains that going out to dinner with Larry David is very much like acting with Larry David.
"You love him, and you want to make him laugh, and you usually do that by insulting him somehow," Danson explains. "He really is a generous laugher." However, Larry David in real life is just as "loony tunes" about social niceties as he is on his show. "He'll say, 'Let's all go out to dinner,'" Danson explains. "And we all show up, at the time [we're supposed to be there] and he'll be halfway through his entree because he's decided he'd rather do something else later that evening … he won't accept invitations to people's homes anymore because it's too hard to get out of. In a restaurant, you can do what he does."
"There's part of you," Danson continues," that just wants to throw him down and grab him by the lapels and say [what the f*ck is wrong with you], but you do it with humor. That's your job … part of you admires it, because you wish you could come early and have your entree [and leave] …. that's just the way he is."
During the course of the podcast, Danson also explains that, after over 40 years of acting, his four-year stint on CSI was the hardest job of his career, mostly because on that show, he wasn't allowed to exhibit a sense of humor.
"That was hard. The people on that show were sweet and I loved going to work, but it was so hard. It was like doing a soap opera … there is no humor. If you were to hiccup, you bring the scene to a halt. You are repeating yourself. There's nothing natural about it … you are imparting information that you want the audience to remember. And that's the same thing on CSI. You are constantly wanting [the audience] to follow each little scientific detail, so if you tell a joke or try to be funny at the end of the scene, that gets cut because you don't want people laughing at the end of the scene. You want them to remember the stuff."
As for why Ted Danson would take on such a grueling job? He explains he did it for a couple of reasons. "Partly to see if I could do it, and partly because I had a home in Martha's Vinyard that we were going to have to sell."
Not that he didn't like the experience. "I made great friends. I loved the experience. Loved the writers, and I am so grateful, but it was one of the hardest jobs that I have ever done, but it also paid me really well."
Danson, of course, also spoke glowingly about his current series, The Good Place, which will return for a third season this fall.
(Via WTF with Marc Maron)