With The Crown's first two seasons, Netflix accomplished a nearly impossible feat: it ensnared a wide swath of U.S. viewers who normally pay no attention at all to royal happenings. I happen to belong to that group of hopelessly (and confusedly) addicted set of people who simply couldn't stop watching what's essentially a soap opera about the British monarchy. It's maddening, and it's outrageous, and it's a scandal, I say. However, this TV series has done it again, which means that maybe you'll also slap yourself silly for that smile on your face right now. We're all together here, even if we, as jaded Yanks who side-eye the concept of royals, are dubious company.
The Crown has always been seductively prestigious in that way, and the pressure was on to keep delivering that allure. As you're probably aware, the series jumps ahead to the mid-1960s and nabs an updated cast to match the new era. As Queen Elizabeth II declares in the season's opening episode, "one just has to get on with it."
But does the show, you know, get on with it?
Yes, season 3 shines as brilliantly as the past two installments of obscenely dripping opulence. Is there an adjustment period with a new era and a fresh cast? Of course. We're used to seeing Elizabeth II portrayed by Claire Foy, who began the role as a relative unknown, whereas we're already well accustomed to seeing Olivia Colman on TV and as a royal, including her role as Queen Anne in The Favourite. So yeah, there's some getting used to the new guard, so to speak, but The Crown's layered storytelling and deft interweaving of historically significant moments and interpersonal dynamics are certainly intact. Colman's stately, nuanced portrayal of a settled monarch (who keeps outlasting prime minsters like it's no big thing) goes a long way to encourage bingewatching. Yet there's another major role of interest, Princess Margaret, that could have caused the whole thing to fall apart if the transition was not handled correctly.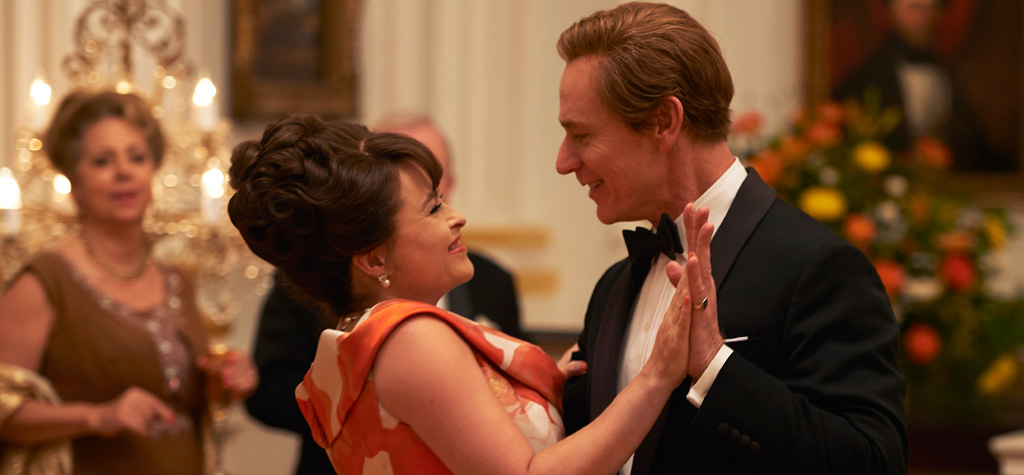 Good news! As Margaret, Helena Bonham Carter gets to utter things like "war is our love," "brutal death is our mating dance," and "they wouldn't like me much before midday." She's everyone who drank too much boxed wine while binging TV in PJs, and she's simply great. Honestly, I'd watch a spinoff where she stayed in bed, looking both comically and tragically bedraggled, crafting existential quotes for the ages.
As with her sideshow role within the Windsor family, Helena's Margaret is invaluable and, indeed, instrumental to this monarchy's need to appeal to the public with a "we're as messy as you" vibe. The British public empathized with Margaret in her earlier life, when she was portrayed by Vanessa Kirby, given that she couldn't marry the man she loved. The goodwill carries forth this season when Margaret's called in for an urgent diplomatic matter — to prop up Britain's relationship with the U.S. — and Bonham Carter handles the matter brilliantly in an episode that's entitled "Margaretology." Granted, I really had my reservations with this role, since Vanessa Kirby delivered such a rage-filled turn as Margaret, but I'm pleased to report that the second-best sister still steals the spotlight at all the proper moments.
With Margaret as well, one of the season's larger themes rears its head. That's the idea that the Windsors must "get on with it" (maintain outward appearances, adhere to outdated mores, and never waver in the public eye) while Britain falls ever-more-deeply into economic tatters. So, this season is where we finally see Elizabeth start to question how she's been emotionally castrated to a great degree, and this comes to the forefront in an episode devoted to the Welsh mining disaster that killed over 100 schoolchildren. Likewise, we see the Duke of Edinburgh (now Tobias Menzies, who adds layers of maturity, as opposed to Matt Smith's younger and whinier version) further wrestling with the constraints of his consort role. This is particularly the case when his space-race envy after the Apollo 11 moon landing could have led to stereotypical, bruised-man-ego territory but transforms into a nuanced take on humanity's quest to find meaning in life.
These episodic diversions, while tying into the overriding narrative of the entire season, inject true prestige into the soap opera that is The Crown. This is where, despite the admittedly fictionalized take on the Windsors — because, unfortunately or fortunately (depending on your view of the monarchy), we can never truly dive behind the curtain — these characters endear themselves to our U.S.-based selves. It's certainly easy enough to identify with Bonham Carter's rollicking portrayal of Margaret's deep streak of unhappiness that's still there despite the bandaid of her marriage to Lord Snowden (Ben Daniels), who (to no one's surprise) is still a massive, womanizing d*ck. And now, the show's also tackling the new generation on the brink of the same plight.
Principally, we're talking about Prince Charles (Josh O'Connor), whose arc historically resonates as he's being pushed into the same unhappy situation as Margaret. This is happening despite everyone realizing that mistakes were made with Margaret, and it's a reflection of how the monarchy struggles to adapt to change while also measuring itself against what the British public wants (and arguably needs) from the royal image. I mean, most of us are generally aware of the debacles associated with Camilla Parker Bowles, and his strange courtship and marriage with Princess Diana. The irony in 2019 is that Charles was forced to put his own personal desires aside as first in line to the throne, and it's become increasingly apparent over the years that he might never ascend to the throne at all. O'Connor gives a formidable performance, and he's one mere example of the season's emotional gravity.
The Crown never takes a pro-or-anti-monarchy stance, more than it does to give these public figures some (somewhat fictionalized) depth. Ultimately, they're all singing for their own suppers and for the very future of the House of Windsor. We can't help but watch, even as the Queen questions whether she's done any good at all. The season ends in 1977 with her Silver jubilee and a dangling promise of more to come. Netflix has renewed the series further, so for now, one only needs to pour the tea and tell the whole world to bugger off while enjoying the latest batch of royal drama.
Netflix's third season of 'The Crown' streams on November 17.