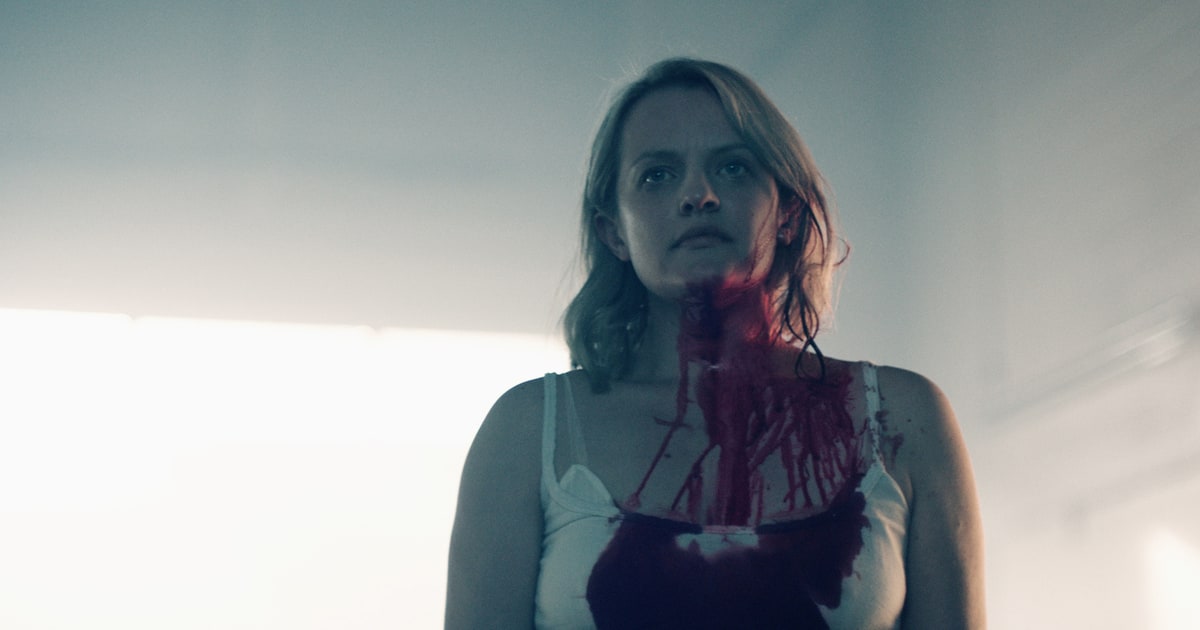 When The Handmaid's Tale premiere early last year, it's timing felt eerily perfect.
The Trump presidency was still in its early days, topics like sexual harassment, gender equality, and women's healthcare were making headlines, and historic protests led were happening all over the world. What better time to introduce Margaret Atwood's dystopian feminist classic?
The story about a fictional tyrannical regime exerting a disturbing amount of control over its citizens was just too on the nose and the image of a group of browbeaten women resisting that regime, cloaked in blood-red capes and stark white bonnets became the unofficial poster for a real-world movement slowly gaining steam.
Now, a year and some change into Trump's presidency with season two about to drop on Hulu, the show is only building on its relevancy.
Uproxx chatted with executive producer Warren Littlefield about going off-book for season two, running a female-led TV show in the #MeToo era, and how many seasons Gilead has left.
Last season, we ended with a cliffhanger. This season, we're kind of jumping off that cliff and seeing where things go. How did you expand the story for season two and does Margaret Atwood approve?
No one is more encouraging about leaving her novel than Margaret. For the writers, the novel never leaves us. It always inspires us, but we also knew we had a lot of storytelling to do that went beyond it. Margaret is our biggest cheerleader, we show her outlines and scripts, and she shares thoughts and a great enthusiasm. Our number one goal was to satisfy Margaret, do justice to her vision. The fact that she feels as strongly connected to the show and as enthusiastic as she does is, that's a real sense of accomplishment for us.
Season two brings some big changes for OfFred/June. She's pregnant and ripped from the Commander's home. How do those two things influence the story moving forward?
I think two important themes for season two are motherhood and [the saying] 'Gilead is within us.' June has her unborn child and she also has Hannah. She's worried about both and trying to protect them. With the case of Hannah, [she's trying to] connect, to somehow still have some kind of a relationship with her. Those two things drive her. The other motherhood theme is probably best explored through Serena Joy, who considers OfFred's child to be hers.
Then, with 'Gilead is within us,' that really [affects] a lot of our characters; the notion that you may get out of Gilead, we see OfFred have a taste of freedom, but Gilead never leaves you. You're never away from Gilead, even though you might be away from Gilead. We see it with Moira [Samira Wiley] and Luke in their storyline. It takes place in Little America, which is Toronto. The whole notion that you really can't get away.
There's been a lot of talk about how relevant the first season of the show was when it came out but you guys worked on that before the election of Trump. Now, writing under a Trump presidency, has that impacted the story this season?
I think it's important for us to not be MSNBC. We're a dramatic thriller about stripping away human rights and feminist rights in this world, but we are formed by the world around us. We're formed by torture and fascist regimes, knowing what happens in our world, it forms how we end up with certain scenes, like [this season's] opening scene. But, as we often say to ourselves, we just wish we were not as relevant. It would be a better world.
True.
We find ourselves part of the resistance. We find women throughout America and the world wearing the Handmaid's wardrobe. It's a form of protest. That's an honor. We want to tell our story about how to resist and how to survive. Look at the high school students in Florida, their sense of battle, how to not give up, and how to succeed. We reflect this dystopian world but, hopefully, through OfFred, through a few of our characters, we have a sense of hope in the middle of this despair. I think that's an essential element to what we try and do.
This second season is also following the launching of feminist movements like #MeToo and #TimesUp. The show is centered on women's stories, it features a largely female cast, but both yourself and showrunner Bruce Miller are obviously not women. Have these movements and themes of gender equality sparked discussions on set?
Yeah, the writer's room is predominately women. Most of our department heads on this series are women. More than half of our directors are women. That's a very strong influence in bringing The Handmaid's Tale to life. Part of that comes out of an awareness early on from Bruce and me that we're not women [laughs]. We've surrounded ourselves with strong, talented women who can bring Bruce's vision, Margaret's vision, to life.
How is the OfFred of season one different from the OfFred we'll see at the end of season two?
I think we see from OfFred even greater courage and even more of a battle. She will wear the scars of that battle. It is not a battle that is simple, and it is not easily won. I think we feel uniquely connected to her, as she only learns more about what she's up against and how to manipulate and function within it.
You guys are officially going off book now. You could go on for 10, 20 seasons if you wanted to. Do you have a plan in place, do you have a number in mind?
We feel this is a powerful story to tell. It's evolving. We've opened the world in season two, went deeper into the past, we went further into the present. Bruce feels he could see multiple seasons ahead of him. He doesn't see an end to it, and I love that. We want to stay relevant. We don't want to overstay our welcome, but right now it feels like there's more to explore.
We also have an amazing cast. You don't quite know what you have until you've spent many hours and many episodes with the cast. We look at the strength of this cast, particularly in season two where we illuminate even more with Yvonne (Strahovski) and Alexis (Bledel) and Joe (Fiennes) and Max (Minghella) and Ann Dowd. We just see there's so much more to explore there.
Yeah, hold onto Elisabeth Moss as long as you can.
Well, she's our leader. She is the light that shines, that makes it all possible.