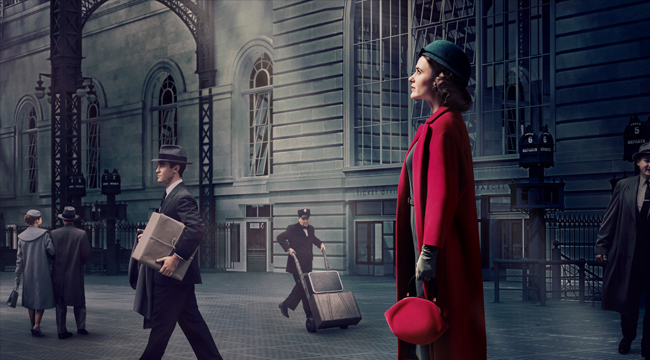 Maybe you have the same problem I have. You settle in and look for something new to watch. You start scrolling through your various cable and streaming options. And you keep scrolling. And scrolling. It's not that there's nothing to watch (there's plenty), it's that everything worth watching is so… heavy. The dramas are one thing, your Handmaid's Tales and The Americans-es and such, but even comedies get heavy now. Atlanta is a mindtrip, Barry is funny but dark as midnight, and BoJack Horseman will sucker punch you once or twice a season and leave you devastated. It can all be bit much, honestly. That's why I appreciate The Marvelous Mrs. Maisel so much.
The Marvelous Mrs. Maisel, in broad strokes, goes something like this…
In season one, Miriam "Midge" Maisel (Rachel Brosnahan) learns two things about her husband, Joel (Michael Zegen): He is cheating on her with his flighty young secretary and the stand-up comedy routine he's been developing was actually stolen from Bob Newhart. The first revelation sends her back to her parents' spacious apartment — and into the teeth of the scandal that a broken marriage is in the show's 1950s setting — and the second, after some drinks and a mini-breakdown, sends her onto the stage herself, where she proves to be a truth-telling natural.
Things proceed from there. You should watch it if you haven't. Creator Amy Sherman-Palladino (Gilmore Girls) fills the show with bright colors and lightning-fast dialogue and jokes. Jokes on jokes on jokes. Midge's parents, Abe (Tony Shalhoub) and Rose (Marin Hinkle), operate almost like a comedy duo, with her frantically trying to keep up appearances and him being inconvenienced by it all and very cranky about it. The whole thing is kind of like Mad Men (setting, themes) meets 30 Rock (speed) meets Parks and Recreation (one superwoman succeeding through charisma and will), but without a single Gentile in sight.
Season two picks up right about where season one left off, with Midge slowly making headway in her (still secret) stand-up career with the help of her manager, Suzy (Alex Bornstein). Joel is somewhat less of a doofus. Midge's parents remain a delight. Everything settles right back its groove, which is refreshing. Also, we are traveling. In the first five episodes released for review, various circumstances take Midge and her parents to Paris and to the Catskills, and Tony Shalhoub goes all-in with both excursions. Berets, rompers, cocktails, etc. The man is a damn treasure.

So is this show. Season two keeps the same caffeinated energy of the first go-round and adds a few new tricks. Look at the long single shot that weaves its way through Midge's department store day job. Watch her develop her stand-up routine via montage. Experience the family in full whirlwind mode in the cold open of the third episode, with mom and daughter ganging up on dad from separate rooms. They're just like your family but funnier and wealthier and they live in Manhattan in the late-1950s. Otherwise, the same.
And it's all so… fun. It's really very fun. The show is a joy to watch, a treat for the eyes and ears and brain. There is conflict (Midge battling through the mostly-male stand-up scene; Midge and Joel figuring out how to handle their separation) and plenty of underlying tension as a result of the era (the patriarchy is very strong) because you wouldn't have a show without them, but the show rarely dwells on them. They are obstacles to be maneuvered around or bowled over by ambitious people who are too busy doing cool stuff to let anything slow them down.
(It's worth pointing out here that these are very wealthy people we're dealing with. Some of this obstacle-obliterating comes from that and from the comfort of knowing you can still go home to your family's spacious apartment, complete with maid and doorman. You are welcome to get hung up on that if you like. I'm still giggling about Tony Shalhoub in his romper.)
The end result of all of this is prestige television's breeziest watch, the rare comedy that can support an hour-per-episode runtime without feeling bloated. Even dramas have trouble with that lately. It's one of the things that made Homecoming — Amazon's other big series of the fall, provided we all continue pretending The Romanoffs doesn't exist — so refreshing. It took a tense, winding drama and told it in crisp 30-minute episodes. Mrs. Maisel runs twice that long and often feels even more crisp. There's no real formula here, no guaranteed way to make a show work. If there was and I knew it, I would tell you, if only so I can have more choices and stop that endless scrolling.
Here's what I do know, though: It's nice to have a well-made, fun, funny show that has all the trappings of prestige television thrown at it. There's a time and place for those dark and heavy shows. To each their own. Heck, I met someone a few weeks ago who was all jazzed-up about Ozark. That's cool. For them, I mean. But I don't always have it in me to watch a show about awful people doing awful things in muted colors. Sometimes I want something lighter. The nice thing about The Marvelous Mrs. Maisel is that it gives viewers that option without sacrificing in quality. And again, Tony Shalhoub in a romper. I couldn't complain about it if I tried.
The new season of 'The Marvelous Mrs. Maisel' begins streaming on Prime Video on Wednesday, December 5.