The Rundown is a weekly column that highlights some of the biggest, weirdest, and most notable events of the week in entertainment. The number of items could vary, as could the subject matter. It will not always make a ton of sense. Some items might not even be about entertainment, to be honest, or from this week. The important thing is that it's Friday, and we are here to have some fun.
ITEM NUMBER ONE – There's no wrong answer here, but still…
I've really been enjoying Justified: City Primeval. The show itself is fine, honestly, even if it doesn't quite live up to the original. How could it, though? That was such a great show, top to bottom, beginning to end, thanks in large part to a slew of great villains led by Walton Goggins as Boyd Crowder. But even without all that, even with a new setting and new bad guys and periodic appearances by the Albanian mob, it's still been a fun summer watch. And I think the main reason is that I really just missed seeing Timothy Olyphant swaggering across my television screen as Raylan Givens. Just a perfect pairing of character and actor.
The more I think about it, the more I realize I could probably watch him play Raylan forever. I would be happy to do a Justified spinoff every few years, or, if that's too much work, I would be just as happy to parachute him into other shows in character as Raylan for a season or even just a few episodes. I was thinking about this a lot this week, just the idea of Raylan popping up in my other shows to engage in shootouts and witty repartee with other characters, and I actually started getting kind of excited about it. This happens to me sometimes. I'm very normal.
And yes, while the simplest answer is "all of them," I did get to thinking about some specific shows and scenarios it would be fun to see Raylan saunter into. It's a fun little game to play if you have a few minutes to spare this weekend or even if you don't. Tell the cop who pulled you over for blowing the red light that this is why you were distracted. I feel like you'll get out of the ticket if they watch the show. Worth a shot, at least.
Anyway, here's what I got so far…
Barry — Raylan interrogating Bill Hader. Showing up at the Chechen mob meeting to question NoHo Hank. This second thing especially. Get a good mental image of that one.
The Bear — I just like the idea of Raylan as a customer and getting into it with Richie a little bit. Also, Raylan is too skinny. He could use a sandwich or two.
And Just Like That… — Raylan walks by an outdoor cafe where the ladies are grabbing lunch and Kim Cattrall starts breathing very heavily.
Succession — My two lanky boys Raylan and Cousin Greg having a nice chat over a glass of bourbon, maybe Greg helping out with an investigation. I would pay good money to see him in the Wynnebago.
The Righteous Gemstones — Am I listing this one just to get Olyphant and Goggins back on my screen together, even if there's probably not a good reason for Raylan Givens to cross paths with Baby Billy Freeman? I mean, yes. But I refuse to apologize for it.
The Afterparty — Raylan Givens investigating a murder with Sam Richardson and Tiffany Haddish with a different genre of filmmaking being skewered each episode. This one could be fun just to stop the most serious man alive into one of the silliest shows on television.
The Mandalorian — I mean, okay, technically Olyphant is already in this show as a laser-toting space cowboy. And maybe it would be weird to have two of him in there, with one wearing capes and helmets and the other wearing denim jackets and cowboy hats. But, on the other hand, I think I would like it. Has to count for something.
I could go on. And I will in my brain. Definitely all weekend and maybe forever and probably sometime when I'm watching an old episode of Columbo and start picturing Raylan Givens and Columbo trying to solve a murder together. But I feel like this is a pretty good place to stop, if only because this can only get stupider from here. Tinker with it yourself a little bit, though. Expand it to movies. Picture Raylan and John Wick facing each other down in a rain-soaked alley. Or him and Benoit Blanc teaming up in a Knives Out. Or him and Dominic Toretto stopping some madman from trying to blow up the moon in a Fast & Furious movie. There are worse ways to spend a rainy afternoon.
ITEM NUMBER TWO – Barbie is going to take over Halloween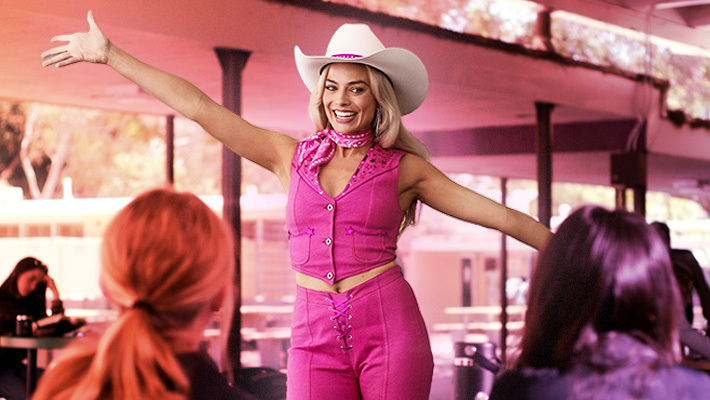 Wellllll it's the end of August already, which means a few things. It means it's starting to get dark out earlier. It means football season is getting underway. And it means, somehow, that it's time to start thinking about your Halloween costume already, especially if you wanna go as something Barbie-themed, as the biggest movie of the summer is already selling out at your various spooky season websites. Here, look.
"Adult Skating Barbie" is sold out. So is "Adult Western Barbie" ("Adult Gingham Dress" — hat included! — is coming soon). But "Pink Power Jumpsuit Barbie" and "Weird Barbie" are available, as is "Rebel Rocker Ken," "Skating Ken," and "Western Ken." Sadly, Spirit isn't selling an Allan costume, probably because the servers would crash from everyone trying to buy it at once.
I love it. I mean, yeah, sure, maybe "an impossibly proportioned pink daydream based on a doll and/or Margot Robbie" isn't the greatest message to be sending the young women of America, especially if the nuance of the movie gets lost in the shuffle, but still. I dig it. Barbie was too much fun. Gosling was a damn delight. As we've discussed. Look at this freaking guy.
Variety did a write-up on this whole behind-the-scenes feature on the making of "I'm Just Ken" that dropped this week and, if you're wondering if Gosling is exactly as charming as he seems to be, well…
In the four-minute featurette, Gosling goes through the various stages of rehearsal as he makes Gerwig burst out laughing as he strips off his white fur coat. The video intercuts clips of Gosling practicing his moves in sweatpants and a backwards hat in a dance studio with footage from the finished film.

The video also features footage of Gosling playing drums on the track, various Kens contributing backup vocals and Guns N' Roses axeman Slash recording its guitar solo.
There are lots of things I want to do if/when I discover/invent a time machine (Back to the Future gambling scenario first and foremost), but let's go ahead and add "tell leather-clad Guns N Roses fans in the 1980s that Slash will be shredding a guitar solo for a Barbie movie in 2023" to the list. A little treat for Brian.
ITEM NUMBER THREE – But how can you tell?
There's a whole big interview with Michael Mann over at Variety this week where he touches on everything from his new Ferrari movie to various other highlights from his long career in Hollywood. Which is great. Because it means someone had a chance to ask him about Heat, and specifically the scene where Al Pacino shouts like a madman at poor Hank Azaria. The one up at the top of this section. The one where he contorts his face into a full-on demon mask and shouts about a "GREAT ASS." One of the finest moments in all of cinema.
Anyway, apparently Pacino did a bunch of takes and got a little wilder with each one, which is fun. I would love to see the outtakes of it all, just to see what didn't make the cut. And when I'm looking through the outtakes, maybe I'll stop and look at this one, too.
"I neglected to tell him that we had a habit of doing this," says Mann. "Al just flipped this guy up and down and cut loose, and that look of shock and amazement on Azaria's face is because we're going completely off the script into something totally wild."

It was rumored Pacino's character was a cokehead, something Pacino and Mann have copped to in recent years. But Mann gives me one more detail. He tells me he shot a scene of Pacino snorting coke off a dagger he carried in the small of his back. Mann says he cut it, telling me it was "too strong a message."
It really says a lot about this scene — and the entire performance — that "snorting coke off a dagger" is somehow less subtle than what actually showed up on the screen. I'm so proud of everyone involved in all of this. Good for them.
ITEM NUMBER FOUR – You guys wanna come over and talk about Suits?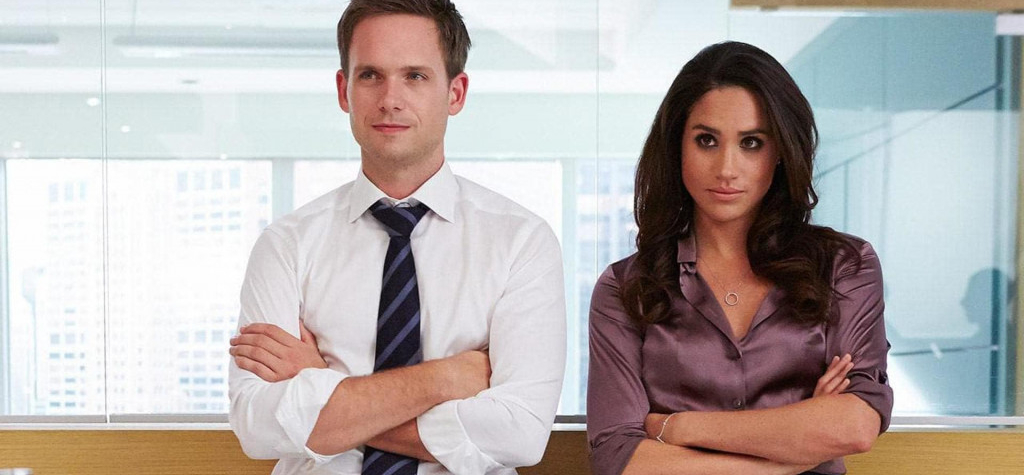 One of the weirder and funnier developments of this summer has been everyone kind of discovering Suits. You remember Suits. The USA series about a little ruffian who fakes his way into a high-powered law firm and ends up hooking up with a paralegal played by Meghan Markle. The one that aired like a decade ago and ended in 2019. That one. It ended up on Netflix a few months ago and, holy crap, you guys, so many people are watching Suits right now. Like, record-breaking numbers of people. Look at this.
The USA Network drama has become the second most-streamed series ever recorded by Nielsen when considering viewership totals over six consecutive weeks.

More simply put, "Wednesday" was watched for just under 20.3 billion minutes in its first six weeks of availability when it premiered last fall, and "Suits" has now exceeded that with just over 20.3 billion minutes between June 19 and July 30. "Stranger Things" is the only title that has ever exceeded those totals, with 27.8 billion minutes watched over six weeks when Season 4 debuted last summer.
This is… crazy, right? It's a little crazy. It would be like if suddenly the whole world got way into Burn Notice out of nowhere. Which would honestly be fine with me. And it means I can accost strangers and say things like "Louis Litt is at it again" and there's a chance they'll nod knowingly instead of looking at me like I'm a crazy person. I really did used to have a lot of opinions about Suits.
Anyway, lots of people are trying to make sense of it all, this whole sudden Suits phenomenon. The best explanation I've seen so far came from my good buddy and former podcast partner Alan Sepinwall.
The answer, I think, gets back to my stylist's explanation for why she put it on that morning: It was there at the top of the app when she turned it on. In streaming, there is still Netflix and then there is everyone else. And there is the priceless real estate as the promoted show or movie on the app, and then there is everything else even on Netflix. Peacock, though it has a good library (and some excellent originals like Poker Face), just doesn't have the omnipresence in our lives to make a library title go viral. Even Hulu (which has Burn Notice and White Collar) doesn't, and also has such a confusingly-designed interface that few would even notice anything getting a big promotional push. Netflix, on the other hand, is everywhere, and at a certain point this must have all snowballed: People start watching Suits, leading to them telling their friends that they're watching Suits, leading to articles (like this one) about how many people are watching Suits, leading to even more people watching Suits, and on and on.
Which brings me back to my original question…
You guys wanna come over and talk about Suits?
ITEM NUMBER FIVE – Everything you know is a lie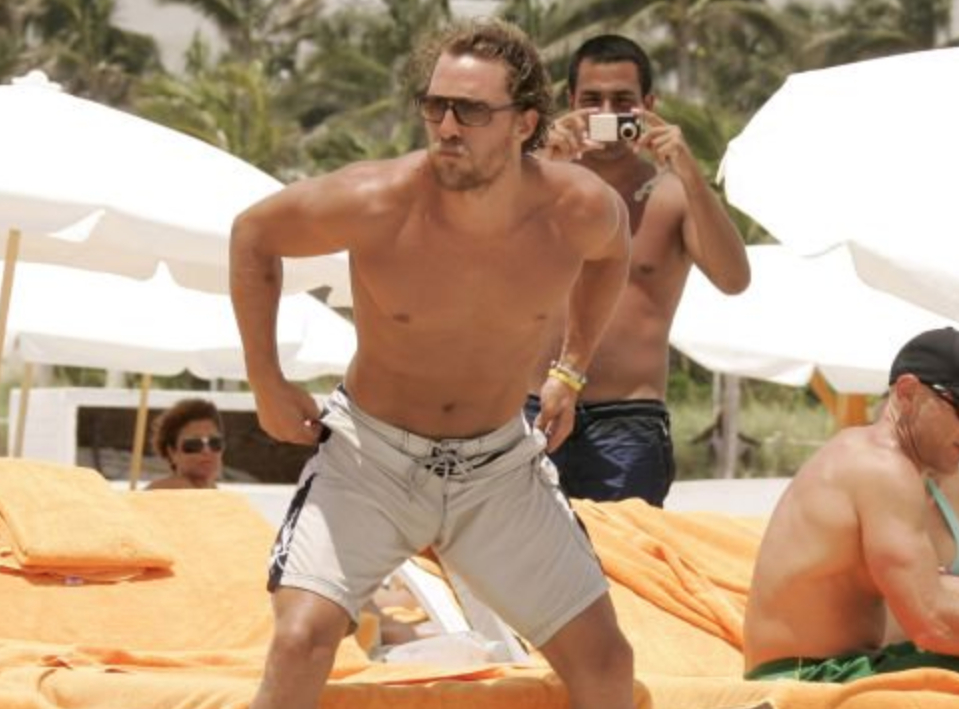 If you saw me out and about this week and I looked perplexed, like maybe my entire reality had been shattered and I was coming to grips with a new and harsh world I didn't recognize, maybe it's because I had just seen this interview with Matthew McConaughey's wife, Camila. I mean, look at this.
"When we first started dating, it was this image of Matthew of getting high, laid back, no shirt, whatever," she said on the Southern Living's Biscuits & Jam podcast. "Which I'm like, 'The guy doesn't even smoke. What is this vision coming from?'"
Hmm.
Hmmmmm.
Maybe it was all the bongos.
That could have been it.
I feel like you aren't even allowed to play bongos if you're not high.
Like the Venn diagram of "dudes who play bongos" and "dudes who smoke weed" is just one big circle.
Maybe that's why, Camila.
Maybe.
"He's actually the opposite, and he's like his mom," she said. "She's very organized, very minimalistic, very on time, very prepared, and he gets a lot of those traits from her."
I'll tell you what I think is happening here…
You ever have a buddy who was a real wildass for a long time but then started dating someone new and settled down a lot? Like, they used to be out all hours of the night raging but now suddenly they have a lot of opinions about which stands to go to at the farmer's market and their new boyfriend or girlfriend thinks this is just how they've always been? I think this is one of those situations. She only knows the farmer's market guy.
There's still a hellion in there, though. I know it. We just need Woody Harrelson to roll through town some weekend to draw it out of him. And maybe film it. I would watch that reality show.
READER MAIL
If you have questions about television, movies, food, local news, weather, or whatever you want, shoot them to me on Twitter or at brian.grubb@uproxx.com (put "RUNDOWN" in the subject line). I am the first writer to ever answer reader mail in a column. Do not look up this last part.
From Shawn:
This is hilarious. I must know everything about this at once.
The city is in a state of shock over the fate of two hometown heroes: Eagles starting quarterback Archie Hughes, and his even more famous wife, Grammy-winning singer Francine Hughes.

One spouse is murdered. The other is suspect #1.

Even before the case hits the courtroom, it's the hottest ticket in town.

For the defense: Cooper Lamb, private investigator to the stars.

For the prosecution: Veena Lion, a sleuth so bright she's got to wear shades.

Between them, they know every secret in Philadelphia. Together, they prove how two wrongs can make a right. They are Lion & Lamb.
I have three thoughts about this book, all of which are equally important:
I love that James Patterson is out here just mailing in silly pun titles for books about rock stars maybe murdering their famous quarterback husbands
It's a lot of fun to imagine the media circus that would take place if this really happened
Freakin' Go Birds, baby
Really solid book chat here.
AND NOW, THE NEWS
To Orlando!
Something's been monkeying around with people a half-hour north of Orlando.

Kim Bialobos, a shift manager at an Orange City Popeyes, said it caught her eye while making preparations at the drive-thru window.
I love this guy.
"Corner of my eye, and I'm like this cannot be possible," Bialobos said. "And I'm like, I'm telling everybody, 'Listen, there's a monkey!"

She shared pictures she took as the cheeky monkey cruised around, finally hopping over the fence separating the restaurant from a wooded area.
The only way I could love this more is if this guy stole a bunch of biscuits. Just a big bag in each hand running off down the alley. No jury would convict him.
"It's just, we would send someone out to that area, no luck," El-Shami said. "We can't find it, and it just kept going on several days, throughout the several days."

Bialobos says the monkey is pretty big.

"He looked very well groomed. He was very maintained," she said. "He looked healthy. You know, he didn't look like a wild monkey."
I love the handsome monkey. I hope he puts on a little suit and swings by this Popeyes every day at lunch. Maybe he can grab a chicken sandwich and bring it over to my place. We can make it a regular thing.
He and I can be best friends.