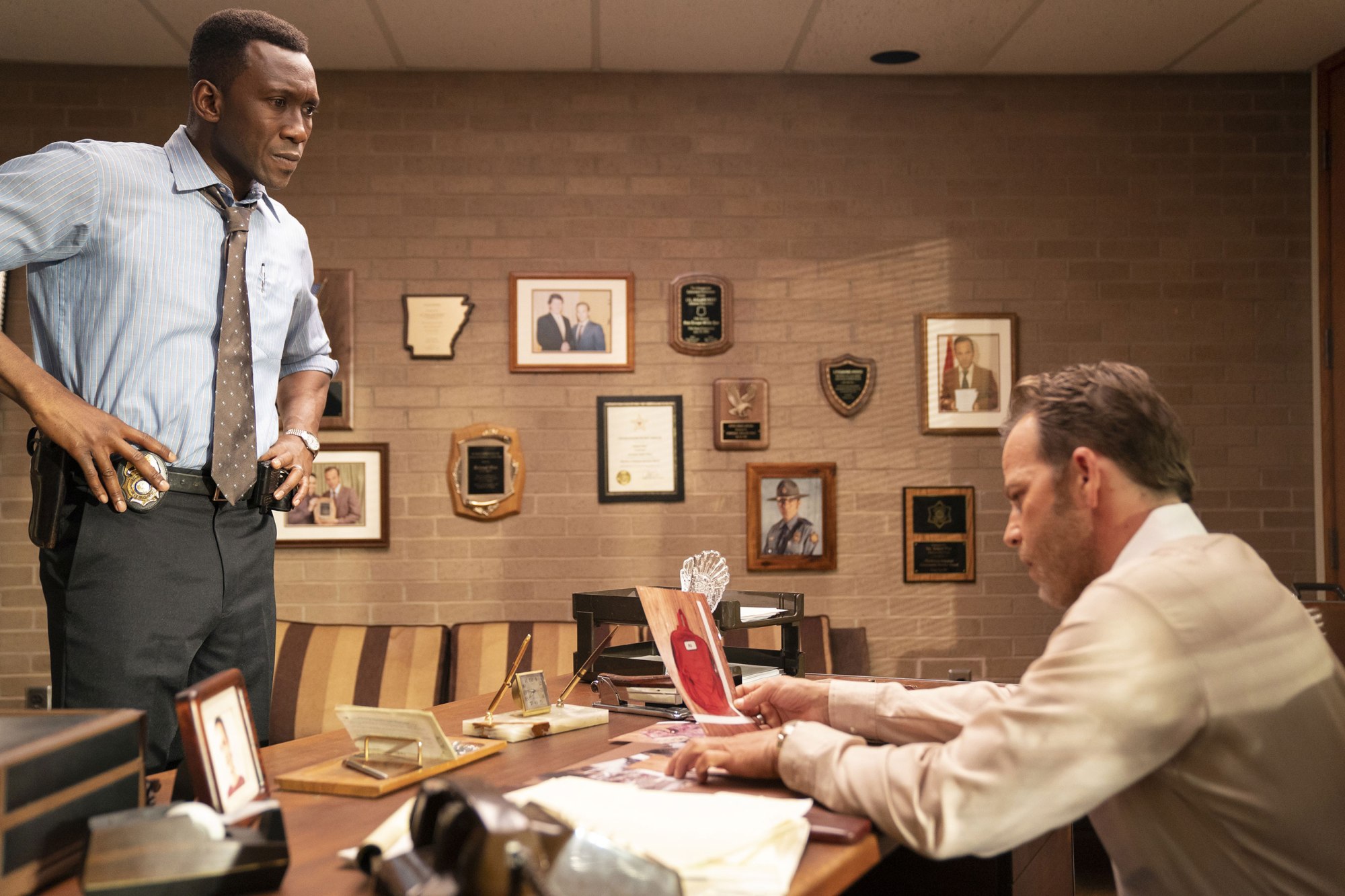 Obsessed fans of True Detective poring over the minutia of each episode, researching literary allusions, and meticulously combing through the Internet for answers to season three of the series might actually have better luck asking the show's creator himself, Nic Pizzolatto. Though he hasn't given many interviews since the premiere episode, Pizzolatto has been known to pop onto Instagram every once in a while to answer questions and dispel theories in his posts.
For instance, in one Instagram post, he conceded that a headline on a laptop about Rust Cohle and Marty Hart does put season 3 of True Detective in the same universe as season one, but he ruled out any other connection between the cases in both seasons, rendering a lot of effort in this otherwise fantastic piece from The Ringer moot.
Check his Instagram posts, and you'll see that Pizzolatto has also struck down any connections between season 3 and The Yellow King; he denies there's a Twin Peaks influence on season 3 (even if the show is the "true heir" to Twin Peaks); and he puts to rest any idea of the occult playing a role in season 3, despite the nods toward the West Memphis Three in the season premiere.

If readers are willing to scroll through all the comments on the below Instagram post, they'll also find that Pizzolatto was very quick to put to rest a theory that emerged after last week's episode concerning the sexual orientation of Roland West. It was called into question after it was revealed that he never married and he seemed to have an unusually close relationship with Tom Purcell, who we learned in the last episode has struggled with his sexual identity for much of his life.
In one comment, a_from_the_bay offers "Roland's Gay !!!," as had been speculated, but Pizzolatto quickly squashes that theory, responding with a terse, "@a_from_the_bay No."
Whether he was or not, however, never really played into the central mystery on True Detective. However, there is one popular theory that has been floating around since the opening episodes of season three: That Amelia is somehow involved in the murder of Will Purcell and the disappearance of Julie Purcell. Over a number of comments, Pizzolatto is adamant about that not being the case. One commenter suggested that Amelia's admission to Hays that she likes to pretend to be other people implies that she's up to no good.

"She said she's TWICE done that," Pizzolatto responds. "The reason being to escape the mundanity of her daily life. Like 'taking a vacation from yourself.' I don't know how you jump from that to 'child-killer.' If she was nefarious, why would she admit to pretending to be someone else in the first place? Such leaps don't seem very sound."
Pizzolatto also adds, in another comment, that Amelia "is who she appears to be" and in another that there is "nothing sinister about Amelia." In another comment, he even suggests that reading Reddit threads is unproductive while adding that the killer is "not Amelia, not Roland, not Wayne," and reiterating that there is "no connection to S1, no 'yellow king' etc."
Whether those theories are true or not (and clearly, they are not), and whether reading Reddit threads is productive or not, it's hard to argue with how much more engaging theorizing and yarn-walling makes True Detective. If anything, Pizzolatto should be proud that he's created a show that viewers care enough about to often spend hours dissecting. It's a true testament to the stories he's created and the phenomenal actors who bring those stories to life. On the other hand, no, nutters, the fact that the actors who play Amelia and Freddy were both in The Purge movies has nothing to do with the True Detective mystery.
(Via Instagram)