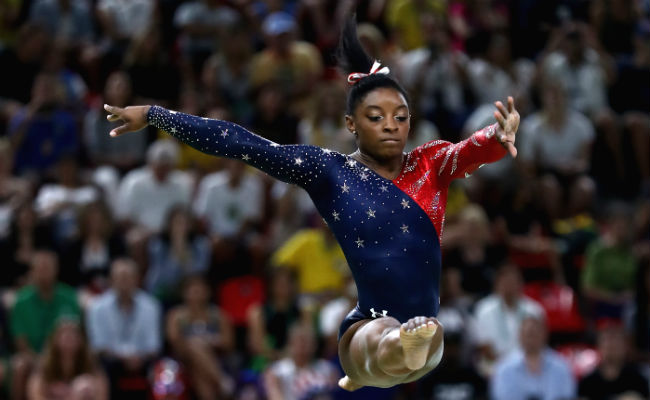 Olympics 2016 Primetime: Women's diving; women's gymnastics; swimming (NBC, 8:00 p.m.) — Katie Ledecky and Missy Franklin compete in the women's 200m free while Michael Phelps takes on 2012 winner Chad le Clos in the 200m fly. Also live from the pool, the U.S. men look for a fourth-straight gold in the 4x200m free relay; the women's 200IM final; and semifinals in the men's 100m free and 200m breast, and the women's 200m fly. But it's women's gymnastics that everyone really cares about tonight. The U.S. look to go for back-to-back gold medals in the team competition with 2012 Olympic gold medalists Gabby Douglas and Aly Raisman and all-around phenom Simone Biles leading the pack.
Bachelor in Paradise (ABC, 8:00 p.m.) — The women are given the power tonight (whatever that means). While a few couples work to establish their relationship, one bachelor returns to the show to steal his rival's lady.
Pretty Little Liars (Freeform, 8:00 p.m.) — Jason returns to Rosewood to warn Ali not to trust Mary just as the girls make a discovery about her and Mrs. DiLaurentis that puts their lives in danger. Meanwhile, Ezra gets a blast from the past and Noel Kahn becomes a prime suspect.
WWE SmackDown (USA, 8:00 p.m.) — John Cena, Dolph Ziggler, The Miz and WWE champ Dean Ambrose make appearances as we get even closer to SummerSlam.
Animal Kingdom (TNT, 9:00 p.m.) — Season one ends as Baz hunts down Catherine who's mysteriously gone missing. Elsewhere, J is caught between family loyalty and possible jail time as the police close in on the Cody clan.
Dead of Summer (Freeform, 9:00 p.m.) — We learn even more about Dep. Sykes' past as he hatches a plan to stop the attacks happening at camp.
Zoo (CBS, 9:00 p.m.) — Jamie discovers a shocking secret about Abraham as Jackson searches for his mother, who has gone missing in Africa.
Hard Knocks: Training Camp With the Los Angeles Rams (HBO, 10:00 p.m.) — The Rams move to Los Angeles and try to build a new roster and establish a new tradition in Southern California.
Scream: The TV Series (MTV, 10:00 p.m.) — After another murder, Emma and Audrey find themselves suspects in the recent killing spree.
Tosh.0 (Comedy Central, 10:00 p.m.) — In which Tosh shares something absolutely revolting with his fans.